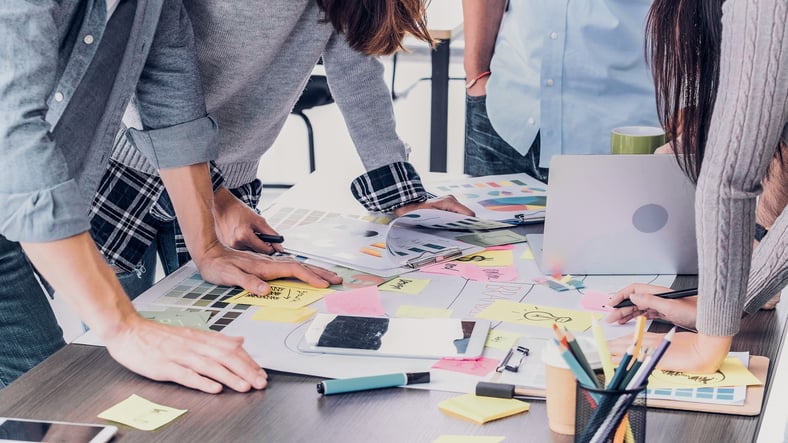 With a candidate-favorable labor market, organizations are facing fierce competition for talent. Talent acquisition practices that worked five or three years ago are no longer effective in hiring the right people, or getting them onboard fast enough.
Joe Marino, Senior Vice President with Hueman RPO, recently interviewed three talent acquisition leaders from different industries, company sizes, and geographical distribution to learn about their talent acquisition strategy. Here's an edited transcript of their conversation on common recruiting challenges and how each leader has positioned their organization to meet hiring needs.
Lotus Buckner, HR Director at Northwest Community Healthcare
I support approaching talent acquisition from a people, process, technology, marketing, and reporting perspective.
From a people perspective, the best advice when developing your talent acquisition strategy is to involve your operational leaders in that discussion. If you are not regularly meeting the team you are recruiting for, you can't understand their business, and if you don't have strong business acumen, you can't get the right candidates.
The reason why we recruiters aren't getting the right people is because we don't always have the best business acumen. Recruiters need to be trained on business acumen to really get them involved in the business so that they can understand what they are looking for.
One thing we have implemented in our strategy is meeting with the executive team. Each recruiter also meets with respective leaders on a regular basis so that the conversation is ongoing even when there are no open positions. This is key so as to continue learning what the client's needs are so as to support them more efficiently once they have an opening.
You need strong technology to support an efficient process and to automate so that your recruiters can focus on what's most important.
When it comes to marketing, what we are currently working on is our social media strategy. We've done a lot of work on that and continue to do so in 2020 to ensure that we have a strong social media strategy.
Targeting Candidates on Social Media Geographically or Demographically
There are a lot of tools that can help you do this. At our business reviews with each of our executives, we use dashboards on a regular basis. Depending on their skill, we meet with them either bi-monthly or quarterly to present them with all our recruiting data for their areas.
Nicolette Luckie, Director of Talent Acquisition and Development at CSX
CSX over the last two years has undergone a major transformation as an organization. We've had to look at our talent recruitment strategy and, in 2019, worked with our operational leaders to determine what they need from us and how we can recruit faster to find the best talent.
How do we go out and source prior to a position being open? We have created a pipeline and are able to identify talent even before there's a need. With this new strategy, we are focusing on four pillars.
1. Right Role and Right Number
Do we have the right roles in place? Over the last year and a half the organization has looked at every single department to determine if we have the right roles. If not, do we need to add additional roles to some particular areas? Looking at the workforce plan, do we have the right number of individuals to lead in the direction we're going? This requires partnership with our HR business partners. We also have to sit at the table with our clients.
Our talent advisors are meeting bi-weekly with our leaders to understand where the gaps are. What are we going to be looking for in the future? And really try to be proactive when it comes to the right number and right role.
2. Diverse Experiences and Skills
We are a 24/7 operation, and can be difficult to get talent that's willing to work 24/7. We are going after women in the workforce and identifying different talent needs to be able to move employees through the organization.
3. Well Compensated
This is another talent acquisition strategy we're working on. We're not just looking within, but we also have to look outside into other markets since we're shifting our focus to help organizations understand that you don't need to have rail experience to be successful in our organization. You can take successful sales people that have worked in many other industries and teach them rail.
4. Motivated to Succeed
We are doing a lot of work around culture. Are our employees engaged? If not, what do we need to shift that culture to increase engagement?
Do we have employees who are willing to go above and beyond? Our organizational strategy has helped us to create our talent acquisition strategy and focus on the four pillars.
It's been critical that as we work our strategy, we work with operations and understand if they re-align or shift their business direction; we need do the same so as to be extremely agile and flexible to be able to meet our future needs and not just being reactive for today.
It feels like you've really communicated this organization-wide to be able to drive and execute on them.
When we rolled out our new talent strategy, we used our HR business partners as they were meeting with their clients they were getting the strategy in front of their clients. We had already received buy-in, and we had operations help us build our talent strategy. We knew when we were going to the market that we had buy-in from the rest of the organization.
Cora Walker, Vice President of Human Resources at Omni Cable
One of the things that is part of our focus from a strategic perspective is the accountability from a hiring manager perspective. Your talent acquisition staff also need to understand the business. They need a level of business acumen to help them sit at the table and engage. They should be able to ask questions and be able to anticipate some of the needs. However, this becomes really critical and hard to do when that person isn't physically sitting in your location and isn't part of your team.
We have established a good relationship with Hueman and have integrated our recruiter in a very positive way. From a strategic perspective our main focus is on our hiring managers. It's our expectation that if talent is your top priority and if you're going to be critical on quality or time; Are you willing to hold the mirror and take a look at what you do or don't do as a hiring manager? This may help you understand why you may be frustrated in the process.
This operational partnership works both ways. You want to invite your talent acquisition team and you want them to be included. You also need to have a level of expectation on how your hiring managers perform. What they do to participate and contribute to a very positive experience since 9 out of 10 times your candidates spend more time with the hiring manager than the recruiter until they get into the pre-employment process.