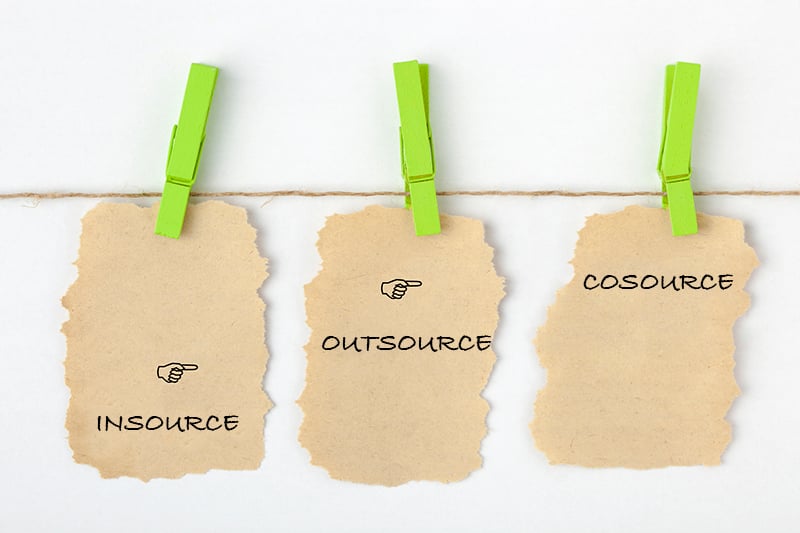 Talent acquisition is a topic all organizations are familiar with at some level. Choosing the right recruiting model that aligns with an organization's strategic objectives is a more difficult task. "Developing effective recruiting strategies will need to become an ongoing process — one that doesn't begin just when a new position opens up," according to HR Professionals Magazine.
Recruiting models
In a case study demonstrating the application of recruitment process outsourcing (RPO) to restructuring an organization's recruiting function, Jimmy Taylor, Co-Founder of Novotus, and Juste Turner, Vice President of Talent Acquisition at Novotus, share three recruitment models organizations can use to determine the best solutions to meet their hiring needs. These are:
Insourcing
An insourcing model is when an organization "decides to keep all their recruiting inside," explains Taylor; they handle all of their talent acquisition functions in-house by their internal team. The recruiting responsibilities may be split between individual positions, geography or departments, depending on the requisition load. Most large organizations have dedicated recruiting teams to work on sourcing, screening, interviewing, and onboarding thousands of new hires each year.
New to recruitment process outsourcing (RPO)? Download our quick guide to RPO.
Outsourcing
Some organizations might decide to handle all their recruiting through a third-party vendor, such as a recruitment process outsourcing provider (RPO). In this case, the RPO company provides the people, technology, metrics, and process required for the entire talent acquisition function. This model has many advantages including scalability and flexibility. Organizations can scale their RPO engagements up or down based on their hiring fluctuation. In addition, RPOs are subject-matter-experts and can bring additional value-add benefits such as improving employer branding and building a centralized candidate pipeline. In addition, RPO is known to provide higher candidate quality, reduce cost-to-hire and turnover, saving organizations money.
Sue Marks, Founder and CEO at Cielo, an RPO firm, states "Top recruitment teams use analytics effectively, learn from data, and create frameworks to make future decisions. Doing so requires a deep understanding of your talent pool and the ability to apply the information to your business."
Co-sourcing
This is when an organization uses a combination of Insourcing and Outsourcing models to build their talent acquisition function. For example, the internal team may handle the initial workload of requisitions and an RPO handles the overflow. If the organization has a large project approaching that requires extra staff, the RPO takes on this surge.
Utilizing this model in some cases is like having the best of both worlds. This model can be of great value to a start-up or a large organization. For example, the internal team can take on finding talent, while the RPO provides training for hiring managers on interviewing best practices or consults on technology selection.
How do you choose a recruiting model?
Prior to deciding which model is best for your organization, a cost-benefit analysis of each model should be performed. Organizations' budgets vary, so by analyzing which model will fit the business needs, you will be able to determine the right fit.
"Be prepared to own the outcome," Taylor said. "Have a game plan for success and be ready to move forward."
Another suggestion provided by Taylor and Turner is to evaluate pressures within the organization. There are internal pressures, corporate pressures, and external pressures. Here are some indicators of each of these three pressures:
Internal recruiting pressures indicators:
Operating with reduced recruiting staff
Difficulty managing increased candidate volume
No recruiting technology platform
Outdated recruiting/sourcing techniques/channels
Create/improve employment branding
Increased candidate satisfaction/experience
Need to create a consistent recruiting process across the organization
Need to implement metrics & reporting
No time to be strategic (too bogged down in tactical tasks)
High personnel costs
Corporate pressures indicators:
Increased strategic demand of HR
Need to increase the quality of hire
Need to achieve organizational diversity targets
Need to increase hiring manager satisfaction
Need to reduce time-to-fill
Need to reduce cost-per-hire
Need for scalability to meet fluctuating hiring demands
The justification for reducing department size
Develop a formal employee referral program
Increasing new hire retention
External recruiting pressures indicators:
Increased competition for top talent
Quickly changing sourcing landscape/channels
Ensure compliance with regulated activities
Changing economy makes future unpredictable
Lack of availability skills in the market
Also, you want to analyze the organizational alignment to corporate values. Determining the weight of these pressures will help determine the recruiting model that is the best fit for your organization.
"Do a deep cost/benefit analysis of each model," Taylor said. "Success in this space depends on coming up with answers to the right questions."
For more information on recruiting models and for a case study on moving from an insource model to an outsource model, view Taylor and Turner's 30-minute webinar: Transitioning your recruiting function from insource to outsource recruiting.
Article updates on January 23, 2019.