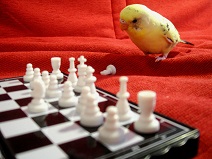 For effectiveness in recruiting, you need a strategy. But what should that strategy look like? How should it be implemented? How should your strategy prioritize goals and allocate resources? These questions and more are address in this week's RPOA Roundup, in which we selected some of the best recruiting and talent management articles to give you tips and strategies for recruitment process results in 2015.
Is Your Recruiting Strategy More Like Go Fish or Minecraft? – RPOA - @RPOAssociation
Go Fish and Minecraft are very different games. One relies on luck and repetitive actions to achieve a goal, and the other builds toward a goal with well-planned, carefully-executed steps. In this article, RPOA compares these popular games to the different ways recruiters can go about acquiring the talent they need. A "Go Fish" strategy is exactly like the game – you know your goal, but you rely on guesswork and trying the same thing again and again to get there. A Minecraft strategy, on the other hand, achieves its goal by careful, planned actions that build on each other. The article delves into how to apply a Minecraft strategy, and discusses how keeping the candidate's experience and the employment brand of your organization in mind can reap rewards in the long run.
The Secret to Optimizing Your Talent Acquisition Strategy – Yoh - @YohCorporate
If a company is having consistent problems filling available positions, it can hit productivity, retention, and eventually start causing panic. When that happens, it's best to call in outside experts. This article suggests four questions the Yoh Corporation asks when it is called in to assess a company's talent acquisition process. These include what the company's strategy is and if it's working, the volume of hiring relative to the resources put into it, how the company improves its recruiting effectiveness, and how the company measures their results.
Game of Content Strategy for Recruitment – ERE - @ERE_net
Content is crucial in the realm of recruitment. In this article, the author suggests six winning steps to develop an effective content strategy, drawing on the hit television show Game of Thrones for his imagery. These steps include describing your audience, listing the reasons candidates may change jobs, developing content ideas, creating a content calendar, and finding and writing content. The article then goes into each step more deeply, with real-world examples and metaphors pulled from Game of Thrones.
Develop a Total Talent Management Strategy, Forget the Hype – Staffing Industry Analyst - @execforum
A blended workforce, with both long-term and short-term talent working at a company, is a fact of life for many companies and other organizations. A current goal of in the recruiting and HR world is to find a single product, process or solution that will integrate managed service providers, recruitment process outsourcing, and other short-term talent solutions to leverage them as a single whole. However, there have been a number of challenges in the way of actually creating or implementing such a solution. This article proposes one approach to creating a total talent management platform, and suggests questions that such a solution might address.
The Most Common Misconceptions About Talent Acquisition Strategies – Yoh - @YohCorporate
Talent acquisition most often lands in the lap of HR, but that can cause real difficulties when HR is being pulled equally between the demands of managing existing employees and filling open positions. This article examines how to define talent acquisition and its role within HR, and provides a chart with "On the Right Track" on one column and "Room for Improvement" on the other that organizations can use to review the effectiveness of their talent acquisition strategies.
Related Articles:
How Company Culture Effects Recruiting
Tips for a Successful Recruiting Strategy