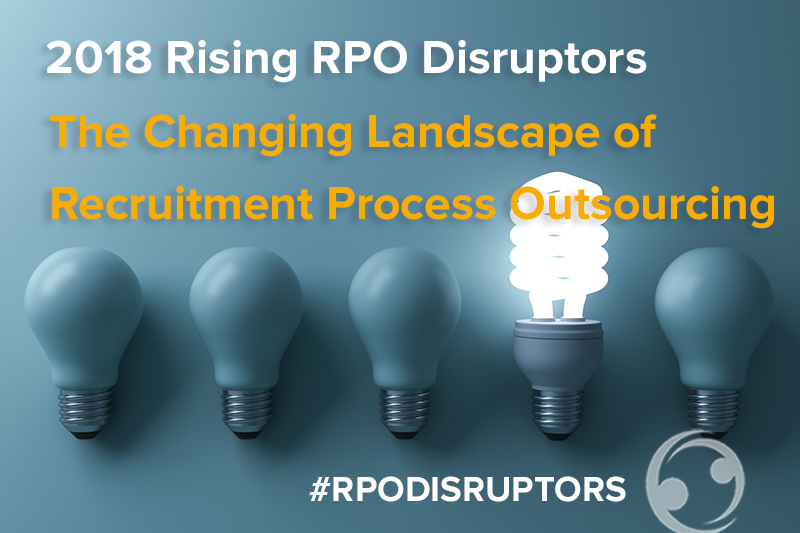 The increasing complexity of recruiting and the importance of top talent to organizations' strategic growth continue to create ripe conditions for those organizations to outsource their recruiting functions to external providers. And while currently dominated by big players – incumbents of the likes of ManpowerGroup, Hudson, Cielo, and KellyOCG – the RPO marketplace is being disrupted by providers reaching to new underserved markets with quality recruiting solutions.
How Recruitment Process Outsourcing Evolved
John Younger, RPOA co-founder, points to several market conditions that "drove the birth of recruitment outsourcing" including the economic boom and bust of 2000, the new recruiting tools pouring into workplace, greater budget scrutiny from organizations, and a greater clarity on core vs contextual functions.
According to Mike Mayeux, fellow RPOA co-founder, during the early years, there were two types of RPO providers: large RPOs offering high-volume, low-complexity hiring to enterprise clients, and grassroot startups who offered high-complexity, low-volume hiring to any client.
"We really had to make sure we could fill those jobs and it forced us to really drive our technology and ideas forward, have great processes, and hire smart people," says Mayeux.
Since those early days, Younger founded Accolo in 2000, considered to be one of the godfathers of recruitment process outsourcing. Accolo pioneered the fusion of technology with recruiting, and in recent years has been leading the movement of RPO from large enterprises to smaller organizations.
Mayeux meanwhile founded Novotus in 2002 along with Jimmy Taylor, which in 2016 was acquired by Orion International, one of the largest Military Talent firms in the United States. Cory Kruse, President of Orion Novotus explains the unique philosophy to its corporate culture: "We believe being 'good' is not nearly enough. What matters is that we get better at a more rapid rate than that of our competitors. This is in our DNA and we work to live it out everyday with our team and customers."
The Rise of RPO Disruptors
NelsonHall's Principal HR Services Research Analyst, Nikki Edwards, in Next Generation RPO: Good Things Really Do Come in Small Packages says:
"In 'next generation' RPO, smaller vendors have emerged with significant capability, allowing them to take on the traditional players."
While we agree with Edwards' views on the positioning of smaller RPOs in the marketplace, we argue that such disruptors have always existed. The real difference is change in buyer behavior, driven by the recruiting environment — a change that lead to the evolution of agile custom recruiting, or niche recruitment process outsourcing.
Today, recruitment process outsourcing is not only a recruiting solution for high-volume or difficult-to-find positions; recruitment process outsourcing became a strategic solution for organizations to improve their employer branding, improve candidate and hiring manager experience, create a centralized talent pipeline, and recruit for culture fit among other benefits.
RPO is also trickling down into the smaller and middle market domain as outsourced recruiting becomes applicable to these markets. As a result, smaller, agile RPOs are rising into the higher ranks of strategic recruiting partners and carving their unique niche in the talent acquisition marketplace.
Here are a few noteworthy incumbent disruptors that sprung into the RPO scene in the last two-to-five years.
Advanced RPO: Strategic Recruiting Solutions with Real Business Impact
Advanced RPO made its debut into the RPO scene in 2016 as a rebranding of its predecessor TriWorth, which was acquired by the Advanced Group in 2011 as the company's RPO arm.
With a new leadership team lead by seasoned RPO experts Pam Verhoff, Tim Oyer and John Hess, Advanced RPO created a laser-focused vision for serving the middle market.
Advanced RPO introduced recruiting solutions tailored and strategic to their clients. "Each client's business needs are unique and it's important that we develop solutions that address those unique needs," says Verhoff, Advanced RPO President
A key advantage in Advanced RPO's approach is their outstanding depth of experience. For over 20 years, Verhoff has helped Fortune 500 companies build effective recruitment solutions under well-known RPO brands including Aon Consulting, The Right Thing, and the Advanced Group.
Oyer and Hess, both seasoned RPO experts, joined Verhoff at Advanced RPO, and between the three of them, they share nearly 70 years of RPO industry experience.
Hueman RPO: An Award-Winning Best Workplace
Hueman RPO, led by company founder Dwight Cooper, has been providing world-class recruiting to the healthcare industry under the PPR Group brand. As the company introduced RPO services to their existing client base, Cooper recognized the opportunity and in 2016 moved into the RPO space with a new brand, Hueman, that brings its impressive Best Workplace practices to its clients.
Hueman offers what is called the "Hueman Touch." Hueman's leadership team built an award-winning culture during their twenty-one year tenure at PPR Talent Management Group, and was recognized by the Great Place to Work Institute as a best workplace in the U.S. for thirteen years in a row.
And as a team that Gallup calls one of the Top 35 Most Engaged Company Cultures in the world, Hueman knows exactly what it takes to recruit and retain new hires who truly fit a company's culture.
About Talent: Bringing Heart to the RPO Industry
Emerging in 2010 as a subsidiary of Roth Companies, About Talent believes it's natural for an RPO provider to champion and align their solutions with their client's unique culture.
To this end, About Talent has built proprietary cultural alignment methodologies into their RPO solution. These solutions include everything from conducting cultural discovery sessions during implementation, to introducing client culture into the RPO processes during solution design, to administering cultural assessments during the recruitment process.
"We believe that cultural alignment is the most critical element of the talent acquisition process," says Vice President of About Talent Ryan Baca. "It's something we've excelled at internally and we want to support each client's efforts to build their own thriving workplace."
Newton Talent: Creating Sticky Brands with a High Touch RPO Approach
Founded in 2015, Newton Talent is a subsidiary of Newton Consulting, a global consulting firm hosting a number of technological services. Despite a background that some would call highly "corporate," Newton Talent sought to provide a strategy-focused, high-touch RPO experience for a variety of industries.
The Newton Talent difference is a deeper involvement, one that includes client onboarding and support throughout the engagement, as well as expertise and strategy to accomplish the client's long-term goals.
Newton Talent provides a relationship-driven partnership, explains Director of Innovation Patty Silbert. "Everything about our business should build trust in our client's brand at this important juncture. Creating this highly personable candidate experience has a major impact in attracting that top candidate. It makes the relationship with the company's brand so much 'stickier.'"
"It's an approach that we have found continually out-performs the traditional, more transactional and technology-driven RPO services when it comes to creating a better engagement experience, and it continually exceeds our client's expectations," says Silbert.
TalentRISE: Flexible RPO Services Platform
A spinoff of Google Cloud consulting firm MavenWave, TalentRISE re-built its on-demand recruitment model into a configurable RPO services business in early 2016. Rick Gray, CEO and former Chief Marketing Officer at Hudson Global RPO, drove the strategy and transformation, rebranding the offering as FlexRPO. Jason Krumwiede, a former RPO executive at Aon Hewitt, joined TalentRISE as a partner to run and grow the FlexRPO business.
"While at Aon Hewitt, I recognized that clients' hiring needs were challenging, unpredictable and required flexibility to move on a dime," says Krumwiede.
Flexible recruitment process outsourcing (FlexRPO) delivers scalability, speed and quality, all synced with client's business strategy. Whether a short-term surge hiring, project-based recruiting, pipeline sourcing, or a longer-term, fully-outsourced arrangement, FlexRPO can address a myriad of corporate recruiting challenges.
Gray adds, "The TalentRISE services platform is designed to deliver agility and exceptional service for both hiring managers AND candidates."
Disruptive Innovative in the Recruitment Process Outsourcing Market
In a Harvard Business Review article, the authors explain disruptive innovation as "a process whereby a smaller company with fewer resources is able to successfully challenge established incumbent businesses." There are two main conditions for disruption: 1) it originates in low-end or new-market footholds, and 2) it doesn't catch on with mainstream customers until quality catches up to their standards.
As new agile companies bring recruitment process outsourcing to underserved markets and focus on quality of service, these rising RPO disruptors are challenging the incumbents described by HBR as "focused on improving their products and services for their most demanding (and usually most profitable) customers, exceeding the needs of some segments and ignoring the needs of others."