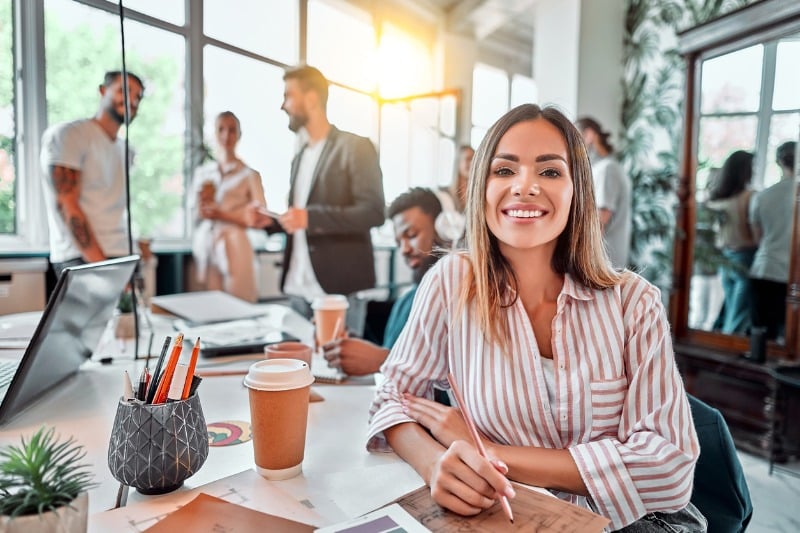 Recruitment process outsourcing partners (RPOs) can be a great ally for organizations in their workforce planning. The importance of workforce planning, and having the right people in the seat, can't be underscored enough. Jim Collins, scholar, researcher, and author of Good to Great and other best-selling business books said, "great vision without great people is irrelevant." Bill Gates said, "Take our 20 best people away and I tell you that Microsoft would become an unimportant company."
Workforce planning is a daunting task for most organizations and one that can be alleviated with the support of an outside expert, such as an RPO partner.
What is Workforce Planning?
Workforce Planning is a series of continuous and strategic steps that analyze, anticipate, and forecast talent supply and demand. During this process, HR and Talent Acquisition leaders assess talent gaps and determine how to ensure that the organization has the right talent with the right skills at the right place and at the right time to reach its business objectives.
Why Is Workforce Planning Important to Your Business?
Workforce planning can help build a successful future for your company and its employees. With a workforce plan in place, you can see and analyze what experience, knowledge, skills, and quality of talent your business needs to reach its goals. Workforce planning is helpful now during the pandemic and the economic downturn it's caused. It helps your company remain resilient and flexible. As a result, it can adapt quickly to fluctuating labor costs, changing customer needs, skill gaps while improving job satisfaction and productivity, and enhancing employee engagement.
1) Make Strategic Labor Cost Cuts
As mentioned above, workforce planning can help HR and TA leaders see how much revenue unfilled jobs cost their company. It can also help them inform CFOs where to cut labor costs strategically. During this pandemic, cutting labor expenses have become top of mind of business leaders. PWC's June 2020 COVID-19 CFO Pulse Survey showed that 67 percent of U.S. CFOs are looking to cut their labor costs.
Workforce planning allows business leaders to see the many options for reducing their labor expenses. These options include compensation changes, layoffs, condensing work schedules, and remote work. A well-enabled workforce plan gives all stakeholders a way to see multiple financial and operational elements together. This pandemic created a myriad of workforce scenarios, and the ability to find and think about them by helping decision-makers gain insights fast and make the right decision for the company and its employees.
2) Adapt Faster to Changes in The Needs of Their Customers
Customers' needs inherently change fast. In 2020, customer needs in January changed with a blink of an eye in March. Businesses switched to a work-from-home work model to meet those needs. And places like restaurants changed to curbside service, take-out, and delivery services to accommodate the new customer needs the pandemic created. Having a workforce plan enables HR leaders to pivot smoothly to abrupt changes like those the pandemic made.
A comprehensive workforce plan helps business leaders analyze conditions inside and outside the company to know the critical areas to employ their new remote workforce. Customer needs will change as the pandemic continues to unfold, and those changes in need will shape new business models in every industry. To pivot and remain flexible within those new business models, RPO leader Orion Talent and the research firm Gartner recommend creating and deploying a workforce plan now and in the future.
3) Anticipate Skill Gaps
Tied to rising labor costs is reacting to skill gaps instead of anticipating them. Deloitte has reported that reacting to skill gaps instead of anticipating them caused a 3 to 5 percent rise in labor-related expenses. Because workforce planning is a forecasting mechanism, HR and TA leaders can see the gaps between their current talent and the talent they'll need down the road. As a result, they can anticipate and pivot faster to fill those gaps and avoid unintended labor expenses.
4) Improve Job Satisfaction and Productivity
Fundamentally, workforce planning intends to have the right talent with the right skills at the right time and place to reach the company's business objectives. This intention doesn't always mean that an employee's skills match the job description's skills. Sometimes an employee's abilities exceed the required skills for the job. And if the company fails to use the employee's talents appropriately, their productivity and job satisfaction will fade. As a result, they'll find employment elsewhere.
HR leaders can use workforce planning to assess the company's internal labor needs and insert the most skilled worker(s) where the need is most significant. In other words, a workforce plan gives HR the ability to fill critical roles within the company with existing talent. And that creates a win-win scenario where the employee is satisfied and productive, and the company meets its business goals.
5) Enrich Employee Engagement
When employees are satisfied with their work, they're more likely to connect with the company and its mission. And RPO leaders agree that this kind of connection enhances company culture as well. Workforce planning uses analytical and predictive models to align company objectives with the employee's development goals.
Not all employees want to follow a managerial tract. Workforce planning helps HR leaders see which career path fits each employee's unique development objective. Perhaps a highly skilled Business Analyst wants to be a key contributor instead of a manager. Workforce planning gives HR the ability to set that employee on the right path. As a result, the company fully engages that employee.
How RPO Empowers Your Workforce Planning
When it comes to enabling a workforce plan, RPO firms have the workforce planning chops to help HR and TA leaders deploy an adaptable and elastic plan. The panel at the RPOA Talent Acquisition Transformed Conference 2020 talked about two focus elements RPOs bring to the TA table.
1) Focus on Specific Workforce Needs
When it comes to workforce planning, there are many moving parts. During the panel discussion, Jason Krumwiede, Senior Vice President of Client Delivery as BroadLeaf Results, commented that one of his clients told him that workforce planning is like the children's game whack-a-mole. As soon as one problem is solved, another one rears its ugly head. An RPO can quickly pivot from one issue to the next with quick and easy grace.
Krumwiede points out that he and his team can move quickly from one area of the workforce plan to the next. They can focus on a specific workforce need that's relevant to a critical role within the company.
One specific area RPOs are beneficial in is locating unseen skill gaps and resolving them fast. Companies that take advantage of this benefit of an RPO partnership see a reduction in cost per hire. In the report RPO and the Segmented Workforce, the research firm Aberdeen showed that 81 percent of best-in-class companies surveyed think RPOs help fill skill gaps. And 36 percent of those same companies reduced their cost of hire working with RPOs.
2) Help HR and TA Leaders Go Beyond The Usual Hiring Metrics
In-house HR and TA leaders pay attention to cost per hire and source per hire. John Hess, Executive Vice President of Operations at Advanced RPO, said that those metrics are important during the panel discussion. However, echoing Kruse's point of asking leading questions about what happens if jobs go unfilled, Hess said, "It's important to start having those conversations with leadership. … What is the number of key jobs unfilled, and what's the revenue per employee, and how much do they cost if you were not to fill that job? What's the revenue per your top performers?"
It's those kinds of questions an RPO partner will ask to help business leaders to look at Talent Acquisition as an investment instead of an expense. While the cost per hire and related metrics are important, they focus on the expense of recruiting and hiring. Hess's comments imply that taking a deep dive into talent acquisition's revenue aspects will show a real return on a company's talent acquisition investment. With that kind of measurement, companies will remain flexible and resilient to make wiser hiring decisions during recruiting and hiring challenges.
To Conclude
RPOs can be strategic partners in creating and deploying effective workforce plans. They have the knowledge to focus on the critical roles that are relevant to your organization. They also are the subject matter experts who ask the right questions to help you make informed recruiting and hiring decisions. During these difficult times, business leaders will need to adapt fast to talent acquisition challenges. RPOs are your strategic ally to conquer those challenges.
To learn more about how RPOs empower workforce planning and learn more about RPOs, please visit our RPO Academy for free resources.