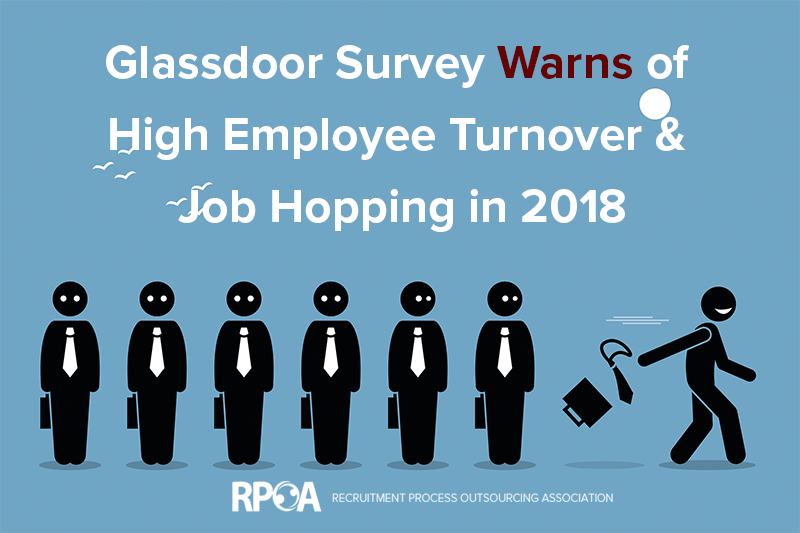 Keep an eye on your best employees this year – they might just be eyeing up their next opportunity. According to a recent Glassdoor survey, nearly 35 percent of hiring decision makers expect more employees to quit over the span of 2018 than they did in 2017.
The survey, involving 750 decision makers in recruitment, HR and other areas responsible for hiring, listed several factors for this exodus, including benefits, location, career advancement opportunities, with nearly half of those surveyed listing salary as the number one reason for employees leaving.

Other interesting findings from the survey include questions around salary expectations. Two-thirds of those surveyed indicated that they believe their organization did a good job of clearly setting pay and benefit expectations with job postings. Despite this finding, Glassdoor noted that their internal data showed fewer than one in ten online job listings actually include pay data in the job description, and more than one third of decision makers believed that retention rates would increase if new hires had been better informed of pay expectations during the hiring process.

Employers should heed a few takeaways from these findings:
Employers are losing employees. Since more employees are expected to quit, employers need to be careful of losing their top talent. As we've seen in 2017, the economy is performing well and unemployment continues to decline. Employees aren't leaving their jobs because of poor work environments – they're leaving because they've spotted a better opportunity elsewhere, which plays into the second takeaway below.

Top employees are already employed. All employers and talent acquisition leaders must understand that much of the top talent in the market is already employed. The classic approach to recruiting, such as job descriptions on boards (e.g. Indeed or Monster,) will not reach this level of talent. The top employees that are not actively looking for a new position but are open to the idea are known as passive candidates. It is these candidates that will become a major focus for employers in 2018.
More employees are "job hopping." Employees who frequently jump from one job to the next are referred to as "job hoppers," and their numbers are on the rise. According to recruitment process outsourcing firm Hueman, 42 percent of job hoppers will change jobs between every one and five years, a rise from 34 percent in 2016, and millennials change jobs even more frequently, roughly every one to three years. This job hopping is a direct result of the dissatisfaction employees are experiencing at work and a natural product of the fierce competition going on in the workforce.
High competition for talent could lead to a wage war. Though it might sound like employee "theft," the truth is an employee leaving a company to join one that provides better benefits or a more appealing atmosphere is natural in the course of business. Employers will need to invest in creating the processes and environment that top employees look for in their careers. And if the data gathered by Glassdoor holds true through 2018, employers may have to pay more attention to the salary they are offering for a given position. A CareerBuilder survey backs up this concern, with nearly 30 percent of surveyed employers stating they would be increasing salaries for incoming and existing staff.

Keep Hold of Your Talent

To hang on to the talent that is most important to your business, you want to make sure you hire the right person in the first place. Cultural fit isn't the single most important part of retaining employees, but it is still very relevant. More importantly, you want to make sure that the employee's skills and ways of thinking fit in with what the company needs, says Patty McCord, former chief talent officer at Netflix from 1998 to 2012. Her advice appears in Harvard Business Review (HBR) as a reprint from her book Powerful: Building a Culture of Freedom and Responsibility.

McCord suggests employers treat their recruiters as business partners. Since top talent plays such an important role in an employer's business, recruiters should be viewed as a key role in the success of the overall business. Recruiters should understand the hiring manager's responsibilities just as much as the hiring manager, so employers need to make sure recruiters are engaged.

A positive culture will help create and maintain the relationships that are irreplaceable through monetary means. McCord notes that one candidate she interviewed was hesitant to join Netflix because they couldn't bear the thought of leaving their boss. This sort of relationship isn't a perk easily communicated through the "benefits and compensation" field of your job description.

Along those lines, mentorship and coaching are both excellent ways of building relationships and increasing employee retention and growth, notes Sarah Yazinski, admissions counselor for University of Scranton. The opportunity for growth, as noted by the Glassdoor findings, is a crucial element of satisfying employees. Mentorship, positive feedback, and other opportunities for advancement, coupled with a strong internal hiring and referral policy, can do promising things for the reputation of your company.

Don't Fall Behind

With 2018 shaping up to be a highly competitive year for recruiting, talent acquisition leaders will need to zero in on not only the needs of their candidates, but how other employers are looking to attract these candidates as well. No matter how fierce the competition gets in 2018, we'll be providing the insight, tools, and best practices that will let you attract and keep that top talent.