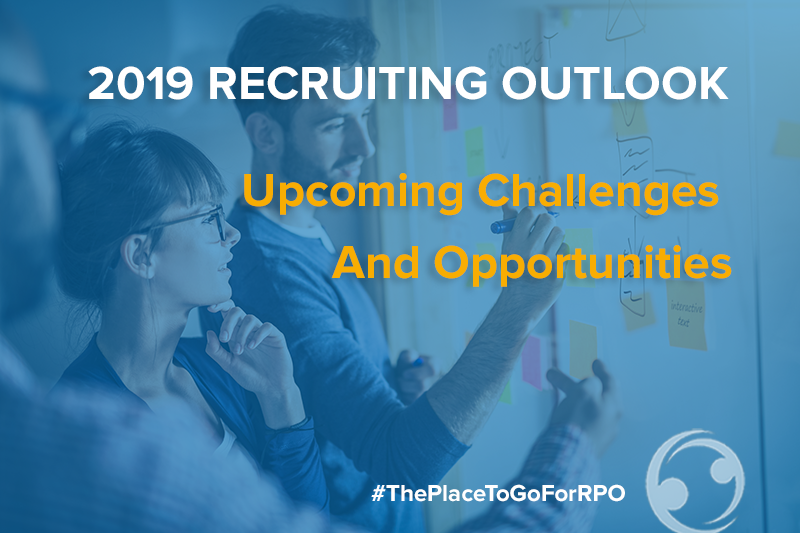 The talent acquisition space has undergone a variety of challenges within the last few years. Many of these challenges were brought by rapid advances in technology. Others emerged from an economy on the rise, with jobs increasing and top talent becoming more fiercely contested.
As 2019 rapidly approaches, the U.S. job market continues to thrive, and recruiters and HR managers can expect some old challenges to continue – along with new hurdles that might unfold in the very near future. Here are some of the forecasted recruiting challenges in the U.S. labor market heading into 2019.
In-house recruiting
Though recruiting in-house is not a problem in itself, many organizations have tried to move to in-house recruiting without having the knowledge or expertise in place to effectively perform the job. Many U.S. businesses are building these in-house teams under advice from consulting firms that are not actually providing optimal recruiting strategies, says Joe Marino, Senior Vice President at Hueman, an RPO company based out of Jacksonville Beach, Florida.
"They often provide suggestions to talent acquisition leaders which would not be a best practice for an RPO provider or a best-in-class talent acquisition department," he observes.
The decision to move recruiting back in-house that some organizations have taken is "shortsighted," opines Paul Meyer, Vice President of RPO at Alluvion, a Jacksonville-based talent acquisition company. He chalks this move up to a few bad experiences with inexperienced RPOs.
"Some inexperienced RPOs were not living up to the expectations they had set," says Meyer.
The result of these poor interactions make things difficult for the more experienced, highly-effective RPOs that are available on the market. "If they're doing what they should be doing, you shouldn't want to [recruit] in-house," he observes.
Recommended: Recruitment Process Outsourcing – When is RPO Not RPO?
Turnover
Job turnover in the U.S. was a concern in 2014, with monthly turnover rate of nearly five million workers. This issue continues to prove a thorn for businesses heading into 2019, with monthly turnover hovering just over five million as of August 2018 according to the U.S. Bureau of Labor Statistics. A major reason turnover will stay in the crosshairs for recruiters is because so many other recruiting challenges are tied to turnover, says Meyer.
The tight labor market is exacerbating the issue, with many organizations competing with one another for talent that are already working – the passive candidate base. These passive candidates are highly-skilled workers already entrenched in another job. Though they aren't actively seeking new positions, they are open to a strong or enticing opportunity if provided.
These passive candidates aren't easily won over: organizations are working hard to nab talent from one another and an old-fashioned post on a job board isn't going to do the trick to catch a passive candidate's attention.
This talent scarcity is widespread, notes Meyer: "There isn't a job role that isn't struggling right now."
Identifying the right talent
The number of job-hoppers (employees who frequently jump from one job to another) in the workforce have greatly increased in recent years. As of 2017, 42 percent of job-hoppers changed jobs between every 1 and 5 years, a rise from 34 percent in 2016. Millennials tend to change jobs even more often, with 46% of employed millennials changing jobs every 1 to 3 years.
With job hopping becoming a far more frequent occurrence in the U.S. labor market, identifying which candidates truly have the skills and experience an organization needs for a position is becoming more difficult, says Meyer.
Resumes in particular might prove too open ended and flexible to properly identify the skill set and depth of experience of a given candidate, he adds:
"A candidate can have tons of experience, but if it's job hopping, it might not be what you need."
While there's nothing wrong with "job hoppers," or employees who frequently change jobs, often every two or three years, such candidates might not necessarily have the depth of experience you need for a role. There's also the question of longevity: will your organization retain that candidate long enough to accomplish your goals, or will they hop away to the next opportunity before you can finish?
Recommended: Recruiting Technology to Watch in 2019
Recruiting analytics and data management
With the recruiting process changing greatly to accommodate new candidate desires, new recruiting strategies and new types of jobs (a particularly important responsibility, as 85% of the jobs that workers will perform in 2030 haven't been invented yet, according to Dell research), effective analytics and data management needs to be on the top of most organization's radar if they want to create an effective recruiting program in 2019, says Marino.
While metrics have always been an important part of recruiting and process improvement, the tighter candidate pool and growing importance of branding, candidate outreach, and talent communities has highlighted the sheer amount of information that organizations need to collect for improvement.
Most organizations are also increasingly reaching overseas for potential talent, meaning many organizations need to gather and possibly silo separate candidate data from another country, says Meyer. Strong and accurate data will be necessary to fuel other technological advances too, including automation and artificial intelligence learning, he adds.
Heading into 2019, recruiting challenges in the U.S. market from years back remain, including reducing time-to-fill and improving hiring manager satisfaction. However, some of the current challenges, such as wrangling data and identifying talent, may soon turn into answers for old problems. Stay tuned as we continue to monitor these challenges and highlight opportunities for meeting these challenges and surpassing them in the war for top talent.
Webinar: Top Recruiting Challenges