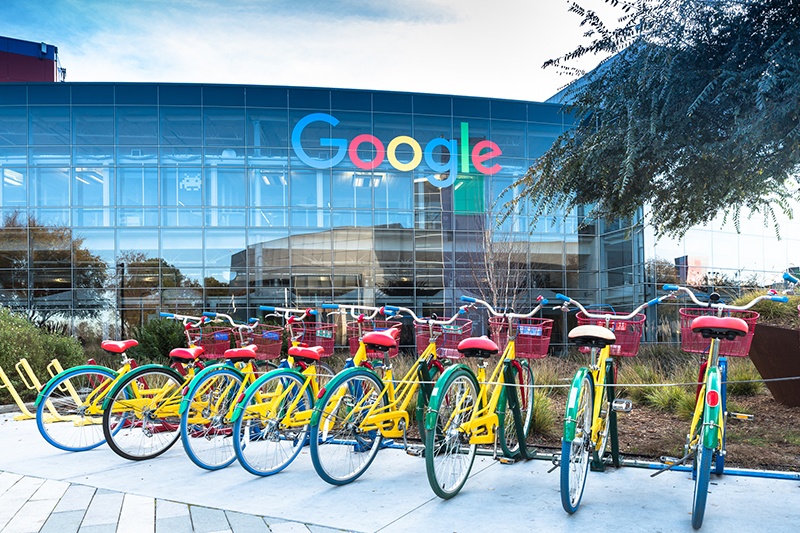 Technology has drastically changed talent acquisition over the past two decades and more changes are expected in the near future. "In the next 24 months, maybe sooner, the hiring and recruiting landscape is going to meet very meaningful thresholds," said John Younger, CEO of HireMojo, a hiring automation platform in San Francisco, CA. What's the impact of recruiting technology on talent acquisition professionals? The evolution in recruiting technology "is going to hit home, specifically for recruiters... recruiting firms will push harder for more tools to meet demands and stay competitive," commented Younger.
More companies are expanding their footprints into tech recruiting, offering everything from job boards to applicant aggregators and trackers.
It should stand as little surprise that Google has thrown their hat into the recruiting ring, especially as the company continues to expand its footprint in various technology avenues. This year, Google announced two initiatives for their recruiting space: "Google for Jobs" and "Hire."
Google for Jobs
Launched in mid 2017, "Google for Jobs" offers a job search functionality for job seekers, built on an API that utilizes machine learning to "understand how job titles and skills relate to one another and what job content, location, and seniority are the closest match to a jobseeker's preferences," according to Google.
The idea of Google for Jobs is very similar to job boards such as Indeed or Monster: the program accumulates and lists job positions that are currently available. These job listings are aggregated from job sites that have decided to partner with Google for this program and includes sites such as CareerBuilder, Monster, LinkedIn, Glassdoor, and Facebook, among others.
What this means for candidates is rather than logging in and searching through dozens of different job recruiting sites to find the perfect job, one need only search through Google for Jobs in order to find a robust listing.
Of course, Google for Jobs doesn't simply pull together the list of jobs. The search and its results are powered by Google's internal algorithms, allowing seekers to narrow results in a variety of ways, such as type of job, industry, company type, salary, keywords, and more. Other features include links to quick information such as company websites, job average salary, Glassdoor reviews, and job alerts that keep track of when new jobs are added that match a desired position.
Recommended: The Impact of Technology on Talent Acquisition
Google for Hire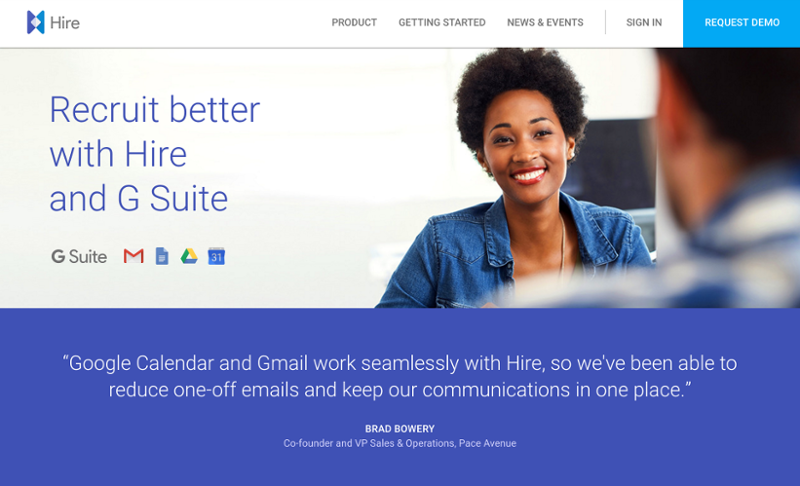 On the other side of the coin, Google launched "Hire" in July 2017, providing a candidate management software suite designed to allow businesses to better manage and track job candidates.
Part of this suite includes Google's own job board called "Hire." This job board is specially designed to work with Google search, but also allows easy posting of your job to the other job boards that have partnered with Google. Google tracks various data points associated with these job boards, allowing a recruiter to see which board is providing the most bang for the buck.
Hire also provides a robust candidate relationship manager that provides recruiters with a number of tools for contacting and keeping track of candidates, including email templates, groups for corralling top-pick candidates, and a reminder system that helps recruiters follow-up on leads.
Google Hire also works together with other Google programs, including Calendar and Mail, saving recruiters the additional hassles associated with planning, scheduling, and following up on candidate actions.
When considering the culmination of these recruiting tools, talent acquisition and recruitment entities can expect a recruiting process that feels like it is running itself.
Is Change Necessarily Bad?
Given the disruptive nature of technology on nearly every industry that it touches, there are fears that the introduction of Google could change talent acquisition as we know it.
Google's own hiring practices have shied away from the standard interview process starting in 2008 after internal review found that grades, test scores, a particular pedigree, and other attributes typically looked for in a candidate's past were not necessarily a good indicator of job success.
Instead, Google has turned to what it knows best for its hire systems: big data. Using algorithms to sort out the qualities if finds most indicative of career success - cognitive abilities, humility, the ability to learn, or the learning agility touted by Kim Ruyle, president of Inventive Talent Consulting, for example - Google has used this information to create a program that writes questions for the interviewer based on the applicant's information.
Deadly smart and far more automated. But the impending doom of talent acquisition? Not so, according to Tricia Tamkin, Partner at Moore eSSentials, a recruiting training and consulting firm.
"I think Google getting into recruiting is a great thing. They have phenomenal reach, they will eliminate the need for SEO, and are likely to make companies like Indeed and other job boards obsolete."
Interview: Tricia Tamkin on Talent Acquisition Technology
Art Papas, founder and CEO of Bullhorn, agrees. Despite having skin in the game as producer of an applicant tracking system, Papas feels that Google's sheer resources have the potential to solve a number of talent acquisition woes, including search function misalignment and standardization in job postings.
There will be an impact of course, says Pam Verhoff, President at Advanced RPO, a RPO company with over 20 years of experience. Companies such as Google and Facebook have a huge database of existing customers and recruiting partnerships between Google and existing players in the market will likely continue to grow, Verhoff adds.
"[It's] great news for us. It will provide more tools for us to use and make our sourcing strategies even more targeted and our recruiters more effective. Recruiters' roles will shift, but not be replaced with technology – especially in the professional level hiring."
Of course, the talent acquisition players that have decided against partnering with Google, such as Indeed, feel a little differently.
Will these initiatives upend talent acquisition for the better? For now, that answer lays outside the capabilities of an algorithm, squarely in human hands.
Suggested: Google Introduces New Recruiting Technology