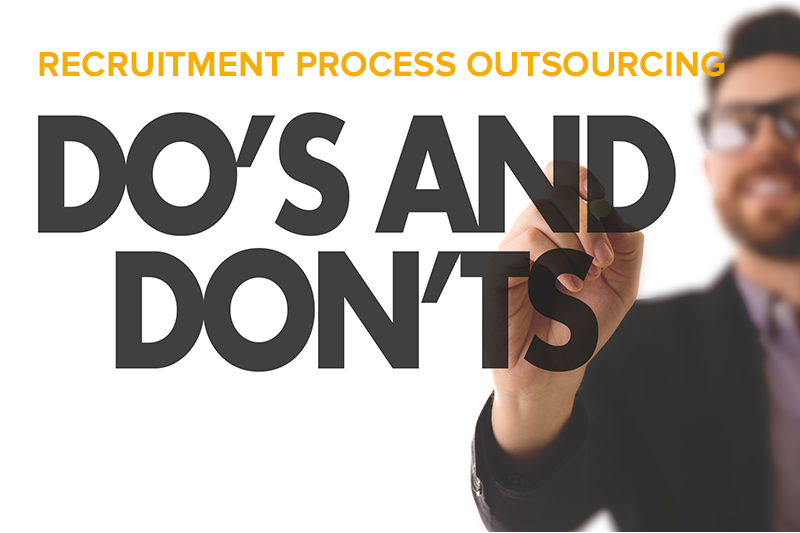 In today's evolving market, many organizations recognize the tremendous advantages that a recruitment process outsourcing (RPO) partnership provides and are eager to incorporate these advantages into their business. There is a danger in hastiness however – recruiting isn't one size fits all.
Those that walk into an RPO partnership without proper planning (or any outsourcing experience, for that matter) will find that success does not come easily, or worse, the partnership makes things even more complicated. We've asked the experts to offer their advice on what organizations should do – and shouldn't do – to make their RPO partnership a success.
Do involve leadership and shareholders
Sarah Palmer, VP of Marketing at Hueman, an RPO company based in Jacksonville Beach, FL, observes a common misstep for many organizations: a lack of leadership involvement in the early stages of the process. Without the involvement of leadership, getting buy-in from hiring managers and other employees within the organization will be a difficult endeavor.
Mike Palmer, Vice President of Customer Success at Accolo, an RPO company based in Plano, TX agrees. "If HR thinks it's a wonderful idea but the executives aren't part of the buy-in, you're missing out on that shared ownership. If something goes wrong during the partnership, you need that shared ownership to make it work again."
Sarah Palmer advises her clients to schedule monthly C-suite-level discussions to help maintain oversight of the partnership, including participants from both the RPO and client.
Don't forget to conduct internal rollout planning
It's tempting to treat the implementation of an RPO partnership as fire-and-forget, but a poor implementation plan can sink the effectiveness of your partnership before it can get off the ground, says Sean Frye, Global Solutions Delivery Manager at Pontoon, a global talent acquisition company.
"The most successful outsourcing implementations that I've experienced have included those where the provider and the sponsoring organization have continuous, open dialog about a few key topics," explains Frye.
Some of those key discussion points include:
The goals and objectives of the partnership. Concrete goals help give direction to the development of your program. Points to discuss include intended cost savings, time-to-fill, and gaining efficiencies in lacking areas, offers Frye.


Business forecasting and needs. "I believe that 'proper planning prevents poor outcomes,'" says Frye. "Often, the regular exchange of upcoming business requirements, as well as based business projections and historical trends, can help the provider prepare and strategize for such events."


Continuous change management and training support.

Ongoing management and training support centered around the onboarding process helps reinforce the adoption of the program, as well as set proper expectations between the recruiters, hiring managers, and stakeholders, explains Frye.
Sarah Palmer adds that without a proper internal rollout plan that involves all relevant parties, an organization could set themselves up for some internal bad blood. In some cases, the presence of the RPO without a proper introduction is taken as a direct threat to in-house HR and recruiting.
"Introducing our partnership, our role with their jobs, and the scope of our services allows for an easy implementation and optimized performance," explains Sarah Palmer.
Mike Palmer agrees and knows this danger from experience. "If you don't try to attack that from the get-go, things will happen negatively," he observes. "We've seen it before."
Suggested: Guideline to Selecting a Recruitment Process Outsourcing Provider
Do know what you're buying
With a large array of RPO providers that have various approaches to servicing your business, it can be daunting to choose an RPO that fits your exact needs. "It can feel like comparing apples to apples," observes Mike Palmer.
The mistake some organizations make is in valuing price over value, he adds. It's tempting to go with the lower priced package, but you often get what you pay for. A great RPO will bring in the top-of-the-line tech and people to accomplish your goals to the highest standards. "You might be saving on that RPO that charges $300,000 a year versus $400,000 a year, but you have to understand that the $300,000 RPO is going to lack some features," says Palmer.
Don't forget to create traceability documentation…
When entering into a partnership agreement, make sure that both parties involved work together to document business need requirements, including traceability, advises Frye. This keeps the established business plan on track and lets both parties trace back what program implementations were made and the business reasoning for doing so.
...and perform regular gap analyses
Another important part of partnership upkeep, gap analyses are necessary to measure the path from where your organization stands to your desired goal. Both parties need to be involved to understand what's working, what might need to change, and how to best accomplish your shared goals through the means available to your partnership.
Suggested: RPO Is More Than Recruiting – It's a Partnership
Do remember to define your key success indicators
At the beginning of partnership discussions, you and your RPO will discuss your goals in a macro sense: where you want to be in a year, what kind of candidates you want to reach, and how your recruiting strategy will be better than it was before the partnership. Remember though: you have to define what those goals actually look like when you reach them.
"Define mutually agreeable criteria and a measure for success," advises Frye. "Also, be prepared to establish a benchmark period to re-evaluate the criteria and fine tune expectations if required."
That means you have to define success at the micro level – the hard data of what has to happen before you and your partnered RPO can both say that you've accomplished your goals, says Frye.
Entering into a successful RPO partnership isn't a checklist of course. Each organization and RPO will have their own challenges and best practices for reaching success. Stay tuned for more best practices from the RPOA and its partners.