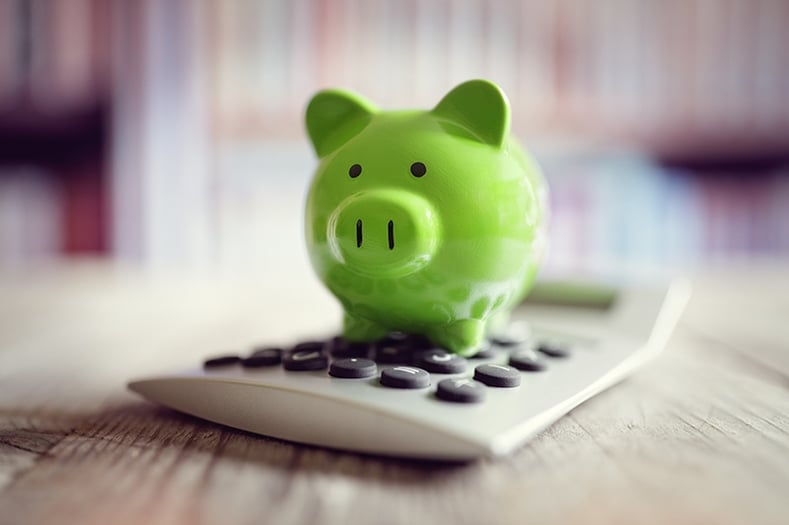 Given the amount of forethought, research, and manpower required to reliably bring top talent to your company, how do you make the case to leadership to start dedicating the resources necessary to take on that talent?
Sometimes it comes down to the numbers.
The difference in profit between a business that makes an effort to hire top talent and those that do not can reach the millions, explains Dwight Cooper, CEO at Hueman, a multi-award winning recruitment process outsourcing company. In order to make this profit your own, human resources needs to arm itself with a breakdown of how it stands to benefit from hiring top performers.
Do the Math
In a recent presentation on hiring top performers, Hueman Vice President of Marketing Sarah Palmer offered a sample breakdown of the profits available through hiring top talent: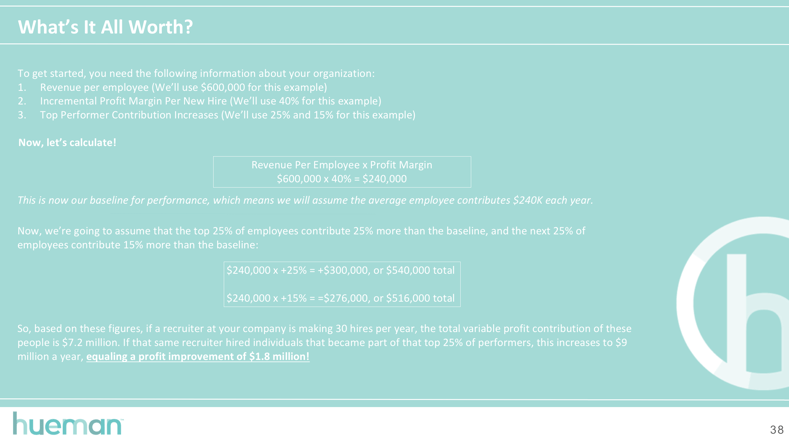 "As the HR manager, you get it. You realize the value in this because you live and breathe this management life every day. But you might ask yourself if your CFO gets it! And honestly, probably not! Not every CFO or CEO…is really willing to risk or stagnate revenue. As HR leader, it's your job to sell this initiative."
Making the Sell: Understanding the Audience and Their Motivations
Before making any sort of case to your CFO, you need to understand their motivations and goals in the company, explained Palmer. A CFO is often responsible for:
Developing your company's business strategy, including business forecasting, budgeting, and expected profitability.

Endorsing the financials and KPIs to achieve the devised strategies.

Funding the business as well as the strategies that are to be implemented.
This means that you have to be fully up to date on your company's strategy in order to understand what may or may not be possible within the current forecasted budget and business strategy. Part of this understanding is whether profitability is even considered a part of your company's success – if success is measured more on whether a particular goal is reached rather than monetary measures, you may have to adjust your selling strategy to better appeal to that goal.
Either way, it's important to clearly be capable of demonstrating a return on investment, explained Palmer, whether through improved profitability or greater efficiencies.
Build Your Case
When building your case to present before the CFO, you want to clearly define the return on investment in relation to the organization's business strategy. To help highlight this return, you want to touch on a few elements, including:
The payback period. This is the length of time it takes for an investment to make back the money initially sunk into the project.
The internal rate of return. This is the interest rate at which the net present value of all cash flows from a project or investment equals zero. This includes both positive and negative flow.
The net present value. This is the value of a sum of money at present, as opposed to the value it will have in the future after investment or compound interest.
The profitability index. This is the ratio of payoff to investment of a proposed project.
If you can clearly define each of these elements, your argument for hiring top talent will leave no questions asked regarding the profitability of the project. It also doesn't hurt to speak their language – using terms familiar to CFOs, such as "Stakeholders," "ROI," "Human Capital Investment," and "Fiduciary Responsibility" - can help you present your case "on their level," muses Palmer.
Make Your Time Count
Remember that a CFO has a lot on his or her plate, so your case is going to have to be realistic, succinct, and precise, advises Palmer. When you finally step in to the office to make your case, keep the following tips in mind:
Be ready to defend your numbers. You can be sure that a CFO will want to know the logic (and math!) behind your calculations.
Show benchmarks in the market. You can use these benchmarks to give your CFO an idea of how your organization ranks comparatively.
Include case studies of other organizations who have been successful at implementing a similar initiative.
Provide a realistic implementation plan. This has to include both the financial aspects of the implementation, as well as the manpower, such as the time involved to completion.
Be concise! You want to keep the plan simple and snappy, advises Palmer. "An executive summary goes a long way, and honestly, is sometimes the only thing they read!"
Through a greater understanding of your organization's goals, proper research into your hiring initiative's requirements for success, and a well presented argument, you can begin the process of bringing talent befitting of and complementary to your work culture. For more on creating a company culture that thrives on top level talent, tune in to our webinar "Culture Fit Disrupted."
Suggested readings:
How Best Workplaces Build Their Corporate Culture
Why Your Talent Acquisition Plans Should Include Passive Candidates