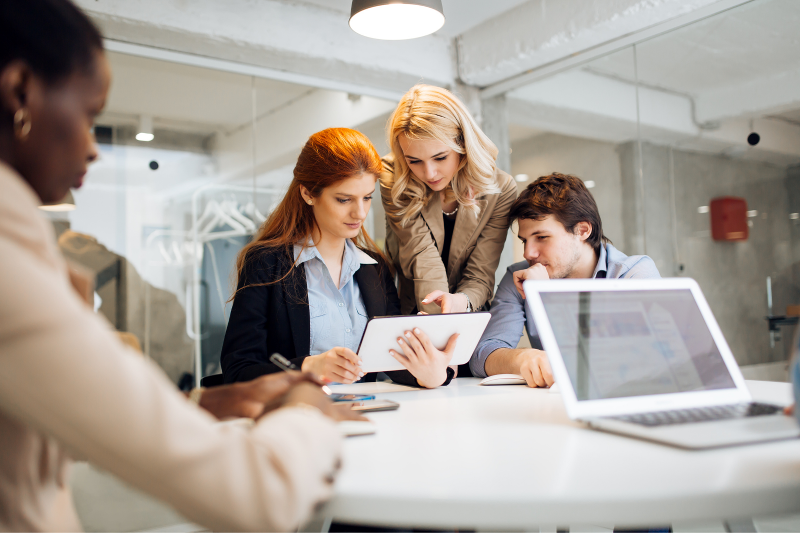 As talent acquisition continues to transform during COVID-19 and beyond, controlling cost per hire (CPH) will significantly maximize recruiting ROI during this enormous change. With the help of external partners such as recruitment process outsourcing providers (RPOs,) talent acquisition (TA) leaders can take command of their CPH and optimize their recruitment ROI.
It's common knowledge that CPH is an essential metric for HR and talent acquisition (TA) leaders to track. However, the coinkydink is that many of these same people don't follow their CPH. Spark Hire surveyed 750 hiring professionals for their report Making the Most of Your Hiring Budget: The Problems that Are Leading to Waste. The report showed that a quarter of their respondents said that they don't track their CPH.
Why is Tracking Cost Per Hire (CPH) Important
Tracking your CPH allows you to help leadership with budget allocation and set benchmarks to maximize your recruitment investment return. Setting standards can also aid you in adjusting your budget for sudden spikes and dips in hiring. If you don't gauge your CPH, you're bound to miss other recruiting costs that stop you from optimizing your ROI. Related ripple effects of not keeping an eye on your CPH are:
Stunts Growth

: No matter the size of your budget, not watching where every recruiting penny goes can cause you to spend

40 to 60 percent

of your budget on one hire. As a result, potential business growth drains out of your company.
Make Uninformed Decisions: Your CPH is not an isolated cost. It's tied to other internal and external recruiting costs. That means everyone on the talent team needs to understand the importance of all the hiring costs. As an HR and TA leader, you need to know the CPH to relay that information to other hiring team members, i.e., hiring managers. If your hiring manager doesn't understand the costs of their hiring decision, they'll make uninformed hiring decisions, and that can lead to bad hires.
Unable to Prove Return of Investment (ROI): Because CPH is tied to all other recruiting costs, not keeping track of it can blind you from seeing your return on your recruitment investment. Let's say you think your ATS is losing money and want to persuade your CEO to invest in a new system. You can't prove the ROI of new technology until you know the CPH the old technology creates. According to Spark Hire's report referenced above, 27 percent of their respondents said that proving ROI was the biggest obstacle to getting buy-in for new technology.
COVID-19 and Recruitment Investment
COVID-19 has thrust our economy into a recession and flipped the recruiting and talent acquisition space on its head, but it has allowed companies to reset. The pandemic has ignited companies to change. Business leaders and hiring professionals have a chance to take a step back to see where they can reduce CPH and other recruitment costs. As a result, they can shift recruiting priorities to areas that will get them a more significant return for their recruiting dollar and grow the business.
During the great recession between 2007 and 2009, companies shifted recruiting priorities to performance management, leadership, management development, and employee communication. During the coronavirus recession, business leaders are again moving recruiting priorities; but they're shifting to different priorities than they did in the great recession.
LinkedIn's COVID-19 edition of its Future of Recruiting showed that almost half of TA leaders interviewed said they expect their overall recruiting budget to decrease. However, the decreases show business leaders focusing their recruitment spend on areas necessary to help them grow. For instance, most TA leaders reported that they expect the recruitment spend to stay the same or increase in areas such as job postings, recruitment technology, employer branding, learning and development, and employee engagement.
In 2021, business leaders won't have an appetite to spend their recruiting money on some traditional recruiting methods. A majority of TA leaders from the report expect decreases in recruitment spend to happen in travel, recruiting events, and staffing agencies.
Shifting Focus to Talent Acquisition Metrics
As business leaders shift their recruitment investment priorities, many HR and TA leaders are shifting their focus to TA metrics. These hiring professionals are focusing on hiring metrics and setting their collective gaze on recovery. An informative HRO Today article, posted in June 2020, pointed out that hiring metrics' concrete measurements will play a vital role in the recovery stage. COVID-19 has allowed many TA leaders to evaluate their actual talent needs and recruitment operations to make sure they're running at an optimal level.
The article noted that five hiring metrics would play a vital role in optimizing recruitment operations during recovery. Those metrics are:
Source of Hire
Time to Fill
Time to Offer
Quality of Hire
Cost per Hire (CPH)

RPO Helps You Know Your CPH
But before a recruiting process can maximize ROI, HR and TA leaders need to understand where they stand with CPH. Often the initial conversation between an RPO professional and a potential client focuses on CPH. The RPO expert can make a quick CPH calculation and suggest a possible ROI because of seeing so many different scenarios and industry benchmarks. This step doesn't replace the deep dive into costs that need to happen to develop a concrete projection of recruitment ROI.
Most often, companies don't fully realize the hidden costs associated with their talent acquisition efforts. And then it becomes a case of "Digging pretty deep to try and find out where all their expenses are," says John Hess, SVP of Operations at Advanced RPO. "Because a lot of times, they'll look surface level, and they could be missing 50% of the cost that they truly have as an organization."
Once all the stakeholders understand all the costs associated with their hiring process, an RPO consultant can create a strategy to maximize your recruitment ROI. To take a more strategic approach to optimizing your recruitment ROI, it's essential to "Look at recruitment as an investment, not an expense," Hess says.
RPO Invests in Maximizing Your Recruiting ROI
It's important to emphasize that the mission of RPO is to maximize a company's recruiting ROI. An RPO provider will invest in a strategic hiring process that gets the optimal ROI that benefits all stakeholders. "We're building out programs that endure," Cory Kruse, President at Orion Talent RPO Solutions, said. "And sustain themselves for a long time. We make your teams smarter, and we make your companies better."
During the great recession between 2007-2008, companies began turning to sustainable RPO models. Those models maximized ROI then, and they can maximize recruitment ROI in 2021 and beyond.
How RPO Maximizes Your Recruiting ROI
RPO is a robust and vibrant recruitment model. There are many ways it can get more money from your recruitment spend. But here are some ways RPO can maximize your recruiting ROI.
Control of Your Cost Per Hire (CPH)
Controlling your CPH is the crucial first step towards ROI optimization. It's a vital step because it underpins the source of hire, time to fill, time to offer, and quality of hire. Without control of your CPH:
you won't know where to spend your recruitment marketing money efficiently;
you won't know how to streamline your process for speed;
you won't know which interviewing process gives you more bang for your buck;
you won't know whether you made a bad hire or a quality hire until it's too late.
When you don't control your CPH, maximizing your ROI will be like chasing the wind.
RPO providers match the right talent with your company using a repeatable model. This kind of model allows recruiters to use workflows that control requisitions and enable technology at the right time and place. As a result, talent pipelines fill up using less recruitment spend and giving you more control of cost.
Flexible Recruiting Process
Uncertainty still exists in the labor market. Hiring has slowed down but is slowly picking up. Eventually, hiring will become brisk, and companies will need a hiring process adaptive enough to meet abrupt changes in hiring needs. When economic conditions improve, the RPO model can produce an adaptive and efficient talent acquisition process that can rapidly expand to meet blunt spikes in demand for talent.
The adaptability of RPO solutions allows RPO firms to build out a process centered on any hiring need. If a company needs a hiring process focused on a single hire, that position will get filled at a cost 50 percent less than internal hiring processes.
Robust Talent Pool
"There is no faster way to hire than having a pool of candidates that are already interested, qualified, and available that you've identified, and you've engaged with at some point," said Kruse. Delivering quality talent means providing a company with employees that add to its bottom line.
The RPO model ensures a robust flow of quality candidates. As a result, HR and TA leaders can reduce the time to fill. The quicker a candidate is hired and becomes productive for the company, the more money your company saves.
Technology Optimization
With most companies keeping their recruitment technology spending the same and some companies increasing it, perfecting recruiting technology is vital to maximizing your ROI. With recruitment technology, firms will need to train the people using it. That training can increase recruiting costs.
To reduce those costs, HR and TA leaders can work with an RPO partner to come in and optimize their technology and not incur any additional recruiting costs. TA leaders can shift those savings into areas that will bring quality talent to the company, and at the end of the day, maximize ROI.
In Conclusion
Just like CPH plays a big role in maximizing ROI, maximizing ROI itself will play a vital part in thriving in 2021. And as recruiting priorities shift, keep in mind that RPO is a strategic model that works hand-in-hand with TA leaders to harness CPH and provide adaptive recruiting processes that optimize technology to develop deep talent pools. And this is only a small snapshot of the full capabilities of the RPO model.
To learn about the RPO model's full capacity and how it will boost your recruitment ROI, please visit our RPO Academy for free resources.