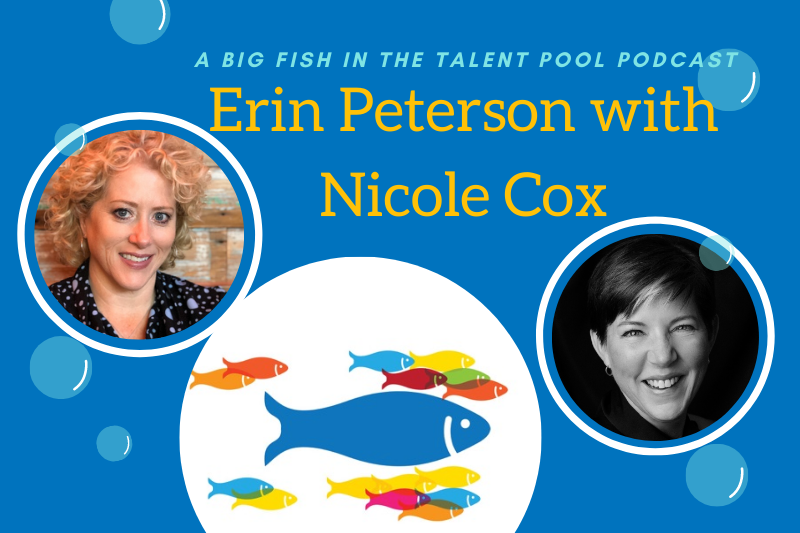 "All creative, talented people recognize the value of process, and have no concerns about revealing to others that it takes many bad ideas to obtain good ones." So says Scott Berkun, speaker and best-selling author of multiple books on design including The Year Without Pants about his time with Microsoft, and his latest, How Design Makes the World.
When Berkun first started at Microsoft, he was embarrassed to share (or even document) what he considered his bad ideas. But he kept a notebook filled with them and along the way discovered something that has served him well throughout his career: each bad idea revealed some other way of thinking about the problem. And eventually he learned being transparent about his bad ideas with others created a collaborative environment that encouraged good—or even great—ideas to emerge.
What do Berkun's design discoveries have to do with recruitment and talent acquisition?
PeopleResults' Erin McDermott Peterson hosts the popular podcast "Big Fish in the Talent Pool" where she interviews influential talent acquisition leaders on their lives, careers, and hard-won wisdom. In a recent episode she chatted with Nicole Cox, Head of TA at OnTrak, a leading AI and tech-enabled healthcare company.
Cox's guiding principle is "design what you want or deal with what you get." In this terrific half-hour exchange, Cox shares her perspective on what makes a great recruiter, why curiosity is key in TA leadership, and how seeking and giving feedback is essential for good planning and growth.
Plan Now or Deal With it Later
In Cox's own words, "Anyone looking to grow their TA career needs to focus on listening, observing, and partnering up with some really good mentors while continuously asking for feedback to improve." Every lesson Cox has learned and each step she has taken in her TA career can be traced back to this philosophy.
When asked what makes for a good recruiter, Cox doesn't hesitate to bring in how investing the right amount of time in design and planning plays a huge role in providing clients and candidates with the best results.
From a talent management perspective, Cox highlights a person's ability to:
Leverage technology

Ask the right questions

Source the right techniques
She also believes all good recruiters are naturally curious and "have a passion for follow-up." Good candidate experience is important, too, as is the willingness to step into uncomfortable spaces if doing so increases performance.
Cox believes that when a TA provider is willing to probe for more information, listen to and respond to what's being asked, and anticipate what's needed, they're better equipped to create a customized approach for their clients and candidates. A typical path to designing the ideal client/candidate approach includes:
Working with HR and other department heads to get a good understanding of the organization's culture, mission, and goals.

Building a team to achieve TA goals.

Spending upfront time outlining what's needed.
The "design" process of TA should also be done position-by-position and, if it's to succeed, must go beyond the job description. Surveys from both clients and candidates are used to help build a recruitment strategy that emphasizes and satisfies what's truly important. Only then can a TA begin their search for candidates who meet a client's requirements.
On a personal level, Cox suggests that those looking to advance their TA career "find a recruiter network and participate in discussions. Build a solid network so you can brainstorm with them." She understands that many TA specialists work remotely so recommends they maintain and lean on a network, especially when they're facing challenges. She echoes Berkun's conviction by stating "We sharpen each other and learn from each other's mistakes."
Learn what you always wanted to know about RPO, but didn't know who to ask
Career Advice
Cox suggests that for ambitious recruiters who want to be regarded as a go-to TA provider and leader, it's important to see their role as a strong partner who's there to give clients all the information they need to be successful. "Anyone looking to grow their career listens, observes, and partners up with good mentors," she says. Be open about wanting feedback from clients and candidates. Because the guards come down when you ask for criticism. "It opens up the partnership and you learn so much more."
Has there been any one big lesson Cox has learned along the way? Yes, and it stems from a big mistake she made early in her career when she didn't do her homework about a company. The client was lost but, fortunately, Cox's employer believed everyone should have the opportunity to learn from their mistakes. The lesson Cox took away? Have the self-awareness to know mistakes are okay and be willing to own up to them so you can become a better leader who's able to get in front of client and candidate concerns.
Final Words of Wisdom
The path to TA leadership is seldom a straight one. It veers left and right and encounters plenty of bumps in the proverbial road. Mistakes are made but feedback can lead to greater self-awareness and resiliency which leads to bigger and better opportunities. "Leveraging your network, building it if you don't have one, being available to them, it all sharpens your skills," says Cox. Finally, she encourages TA providers to embrace big data analytics, something many aren't particularly comfortable doing. But stepping into that uncomfortable zone is a must, for within that data there's a story "that will help you serve your clients better." And that's crucial to their success.