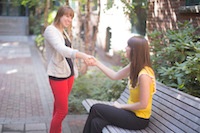 Talent acquisition is constantly evolving to meet the needs of changing job markets and incorporate new technologies. In recent years, talent acquisition and recruiting have evolved quickly and dramatically to reflect changing economic realities, an increasingly complex and competitive field, and the advent of the internet. Talent acquisition is different now than it was in the 1990s and 2000s, and the quick evolution is on track to continue in the face of lightning-fast innovation. This article, based on the RPOA webinar "Attracting The Talent Your Organization Needs" presented by Novotus co-founder Jimmy Taylor, examines how talent acquisition has evolved over the years to achieve its continuing purpose – finding the best talent for your organization.
Recruiting Changes in Response to Technology
Talent acquisition has become an increasingly complex and difficult process. Recruiting used to involve newspaper ads, employee referrals, and phone calls. Recruiters would have a Rolodex of potential candidates and places to source their hires. The internet has done away with this approach. The ability to contact large numbers of people in seconds created a bewildering array of ways to find job candidates. Social media, online job boards, company websites, and online search capabilities have all made the recruiter's job more complex.
Deloitte & Touche ran a study on the popularity of different ways to source candidates, and found that the following methods dominate, with the most popular first: job boards, internal candidates, employee referrals, the company website, professional networking sites, agencies and third party recruiters, search aggregators, college recruiting, and print and newspaper ads. Print and newspaper ads are the least likely method to be utilized out of those Deloitte examined, and of the top five, three (job boards, the company site, and networking sites) are conducted via the internet. Using the internet for your talent acquisition strategy is not optional, and any strategy that does not utilize the internet will not be very effective.
Recruiting Changes in Response to Economic Conditions
In addition to evolving to take advantage of new technologies, talent acquisition also evolves to reflect changing economic circumstances and changing employee markets. This is particularly relevant today, as we are moving from an abundance of talent to a scarcity of talent in a large number of sectors. The recession, high unemployment, and few available jobs meant for a while, talent acquisition strategies and processes focused on selecting the top talent from a wide pool of applicants instead of sourcing and enticing top talent. However, a recovering economy and steadily decreasing unemployment make these strategies no longer relevant. Additionally, the employee market itself is changing, as baby boomers retire and the millennial generation joins the job market. The retiring generation is significantly larger than later generations, so the employee pool will become smaller, creating a more competitive market for talent acquisition.
Recruiting Changes in Response to Big Data
Finally, the increased complexity of talent acquisition and more sophisticated tools have contributed to a new, data-driven approach to talent acquisition. Each method of sourcing talent needs to be analyzed and measured to ensure that recruiting resources are allocated effectively. Over the next several years, companies are going to begin expecting and demanding integrated talent solutions with very quantifiable results. New tools and resources will allow recruiters to identify the most fruitful avenues to pursue for acquiring top talent and where to most effectively concentrate their efforts.
Talent acquisition has dramatically evolved over the last ten to fifteen years, and it will continue to evolve to meet the changing needs of the day. While incorporating new technologies and approaches is very important, the best way to stay relevant in the face of change is to be flexible. Identify the changes as they are happening, and adapt your outlook and processes to reflect the new reality. Continuing talent acquisition processes that were tailored for a market that no longer exists will not reap the rewards of a process that is adapted to the current market. Evolving with the talent acquisition field as it changes is the best way to ensure recruiting success.
Related articles: