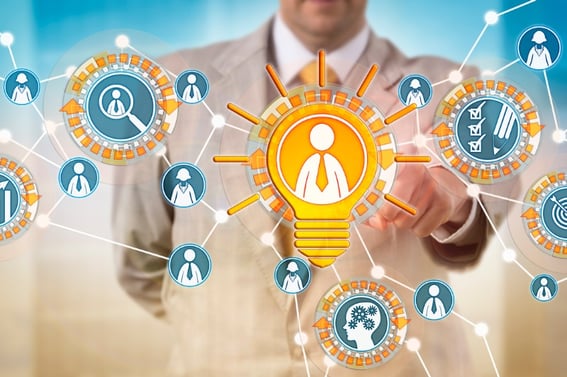 End-to-end talent acquisition technology is software that automates your entire talent acquisition operation from start to finish. It begins when you need to fill a new position and ends with onboarding your new hire. You optimize your recruitment outcomes.
In our latest 30-minute RPO Leadership Forum webinar, HR technology veteran and President of MapRecruit Swamy Sriperumbudur provided an engaging overview of end-to-end talent acquisition technology. This powerful technology will help RPO, and other recruiting providers enhance their recruitment outcomes. Below is a recap of his presentation.
Why Talent Acquisition Leaders Should Use New Talent Acquisition Technology
For decades talent acquisition (TA) leaders have relied on talent acquisition software that has been all about the applicant tracking system (ATS). But Sriprumbudur shared some compelling reasons why TA leaders should start using new talent acquisition technology.
Sriperumbudur said the ATS does not have a lot of AI. He added that there is far too much data entry because TA leaders only care about the data's insights. But in reality, a data entry-only system creates siloed data. He's seen some people use six to ten hiring tools to gather data. As a result, the data flow becomes clogged because each piece of data comes from multiple sources.
Beyond the data bottlenecks, Sriperumbudur observed a growing workload for recruiters. He argues that 80% of current employees are becoming employment explorers creating an increased workload for recruiters. These folks are only looking to see whether a different job is competitive with their current position. So in their exploration, they look at different salaries and the location of the job. The problem is that these "passive candidates" are not taking any faster steps to become the right applicant. And recruiters must still cull through their resumes because they need to work with every possible applicant, whether they are serious candidates.
And with this growing workload, Sriperumbudur said that the focus is now on the recruiter's productivity. He shared that they are spending so much time collating the data and operational data that increasing their efficiency has become essential.
As Sripeumbudur sees it, that is where new talent acquisition technology comes into play. He said that we need automation to enhance the recruiter's efficiency and eliminate bias.
He pointed out that shift workers end their shift at 3:00 am and might look for a new job when they finish their shift. So they want to find vital information about another job when they get home. He shared that in today's candidate-driven world, potential applicants want someone available to talk to at any time. You need to have a talent acquisition system that operates 24/7.
Why is An End-to-End Talent Acquisition Technology Ecosystem Important
End-to-end talent acquisition technology is a TA ecosystem that helps you with the whole process of finding and hiring new people. It automates everything, from when you first realize you need someone new to when the new person is working for you. This technology makes it easier to get the best results from your recruiting efforts.
Sriperumbudur emphasized that an end-to-end TA technology ecosystem is essential today because TA leaders are primarily concerned about outcomes. He shared that you might use a hiring tool that's helping you reach 50 people with a chatbot, but it doesn't enable a result for you.
But Sriperumbudur shared that end-to-end TA technology will show you your outcomes because it is fully automated -- it's entirely AI. It has end-to-end talent intelligence built into it. He added that end-to-end talent automation is valuable. When the hiring manager tells the recruiter to hire 50 people, the technology allows you to source suitable candidates, identify them, and engage them. It gives the user control over the hiring tasks. It can test for emotional intelligence and eliminate bias. And it takes the recruiter and the candidate through the whole hiring journey through to onboarding.
How to Evaluate End-to-End Talent Acquisition Technology
Sriperumbudur shared that in any technology, you need to see how sound is the foundation--deep learning and the neural network creating this foundation. You need to evaluate the tech's foundation to make sure it will understand the type of role you are trying to fill. If the technology doesn't know what kind of role you are serving, your job descriptions won't be good, you'll source the wrong candidates, and you won't get the hiring outcomes you desire.
He pointed out that your tech evaluation includes multiple factors. Some of the elements you need to pay attention to include:
Is the end-to-end technology outcome-based?

Is it solving your special or unique hiring needs?

Does it help you to become compliant with scalability issues, cyber-security, availability, or personalization?

Does it deploy an intelligent chatbot?

Does it increase the efficiency of the recruiter?

Does it decrease the candidate's work to apply for a role?
In today's war on talent, you need to quickly source and engage the right candidate to achieve your desired hiring outcomes. Without having the end-to-end recruiting that talent acquisition technology provides, you won't source and hire quality talent. This valuable webinar is now available on-demand, so check out how end-to-end talent acquisition technology can optimize your recruitment outcomes.