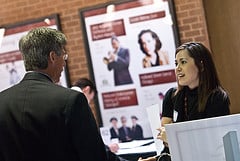 In Sales, the "ABC's," stands for "always be closing," meaning at every stage of the sales process – from first few seconds of a cold call through to negotiating contract terms – is an opportunity to "close" new business. Similarly, the success of your recruiting efforts can be attributed to a candidate's experience throughout the entire recruit-to-hire process – from resume submission to interviewing to offer negotiations.
While "closing" a candidate is done in the final stages of the interview process, the effectiveness of a job offer is dependent on the recruitment process as a whole - not just the job offer and subsequent negotiation. Though the components of the hiring package (salary, benefits, work flexibility, PTO, etc.) expectedly carry significant weight in a candidate's final decision, the candidate's impression of the company will also be instrumental in their decision. For example, how confident would you feel joining a company that took weeks to contact you after submitting a resume? Or, how eager would you be to join a company who dragged out the interview process for five grueling weeks?
In this candidate-driven job market, most talented professionals are feeling out their options and not hopping on the first job opportunity that's presented to them. Given these hiring conditions, recruiters can apply the same sales-minded "ABCs" when appealing to and "winning" top candidates.
Let's explore some of the best practices that will ensure your recruiters are "always closing" from the start:
Professional Job Descriptions
They say that you never get a second chance at a first impression and, with candidates, their first impression of your company is the job description. Like any outbound communication, your job descriptions should be concise, professional, informative and completely error-free. Just as many companies will reject a candidate for submitting a CV full of spelling errors, candidates will be skeptical of a job description with typos or unclear language. Even if they aren't put off from applying, this iffy first impression will cause the candidate to be on the lookout for other "red flags" during the application process, decreasing the likelihood that they can be "closed" down the line. While this may seem obvious, it is highly important. You want to inspire confidence in your company, not skepticism from the very outset of the application process. A compelling, professional job description that speaks to a candidate's aspirations and their particular passion is essential for beginning the candidate screening process on the right foot and, ultimately, closing great candidates.
Candidate-Friendly Screening Process
Once you've identified the candidates whom you'd like to interview, all that's left to do is schedule those interviews and wait for Mr. / Ms. Perfect to come walking into your office, right? If only it were that easy….Besides scheduling interviews, this is the point in the application process in which someone should be following up with the candidates who took the time to apply, but did not make the cut for interviews A simple mass-email expressing your company's appreciation for their time and interest will be sufficient. It is surprising how many companies fail to provide this small courtesy to candidates and, as a consequence, fail to establish good report with candidate pool. Though these applicants didn't make it to the interview stage, they can still be a valuable resource to the company. They could be a future customer, partner or even someone who could provide a stellar referral for a tough-to-fill position.
According to a recent survey from CareerBuilder, applicants who had a positive application experience would consider applying again in the future (56%), would tell a friend or colleague to apply (37%) and/or would be more likely to purchase products from the company (23%). On the other hand, candidates that had a negative application experience would never seek employment with that company again (42%) and would tell others to avoid applying (22%). Although you may not feel motivated to follow-up with under-qualified candidates, failing to follow-up with all applicants can hurt your company's reputation.
This is the information age and, with company review sites gaining traction, poor candidate impressions can spread like wildfire, damaging your ability to recruit top talent in the future. Failing to follow up with all applicants has the potential to alienate "fringe candidates," the ones who nearly made the interview selection criteria and might have been considered given a longer interviewing cycle or bigger hiring budget. These are the people that you want applying again in the future, and all it takes is a short email to keep those candidates engaged. By following up with all applicants at this stage of the screening process, you stand to gain much more from your applicant pool than by serving as a resume "black hole".
In the second part of this series, you will learn about two more tactics of closing your top recruiting candidates: interviewing and offer letter.
Article by
, a leading Recruitment Process Outsourcing solution, driven by patented Cloud Recruiting Platform with embedded social network recruiting and job marketing campaign functionality.