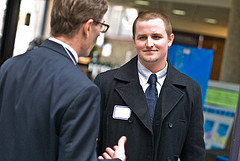 In the first part of this series, we covered two important tactics for pushing your top candidate down the recruiting process: job description and the screening process. Here we explore the next two steps in closing these top candidates: the interview and offer letter.
Interviewing and High-Touch Candidate Management
Once the rejected applicants have been informed of their status, the next candidate courtesy to consider how your company will handle the interview scheduling process. According to a study from MRI Network, it takes most companies an average of three separate interview cycles to extend a job offer. While due diligence is always valid, an unnecessarily long interview process combined with low-touch candidate communication can severely impact your ability to close top candidates. You must account for a highly skilled candidate entertaining multiple offers or counter-offers at once.
Due to this uncertainty, hiring managers should make it a priority to practice high-touch candidate management. What this means, mostly, is that hiring managers should be notifying candidates of their success in an interview as soon as possible. When a candidate isn't promptly notified of his or her status in the interview process, it leaves him or her free to doubt interview performance, get frustrated with the company and pursue the other job opportunities.
According to the same MRI network study, candidates are most likely to reject an offer at the same time that employers are ready to extend them, with most candidates rejecting offers that come after the 3rd or 4th interview or after 3-4 weeks since the start of the recruiting engagement. In order to close more effectively with candidates, companies should aim to interview as efficiently as possible. An inefficient interviewing process will leave candidates on the market for weeks or even months, allowing for the candidate to explore other job opportunities and lose interest in your company.
Extending the Offer
When it comes to extending the job offer, you should be aiming to appeal to the candidate on a personal level. Hiring managers should use any and all information at their disposal to present job offers that are tailored to the candidate they want to hire. If a candidate expressed interest in working from home, stock options, flex time or other specific perks, make sure that you best-leverage these candidate priorities in the extended offer. Besides giving the candidate the perks they've requested, a personalized offer demonstrates your company's interest to the candidate and trumps any "canned" job offers they have received. The offer should also be extended shortly after the final interview to prevent the candidate from being closed elsewhere.
The salary that is extended to the finalist candidate should also reflect his or her value to your company. The top two reasons that candidates reject job offers are: they take another offer (31%) or the salary/benefits package is lower than expected (26%). When you low-ball an offer, intentionally or not, it can offend top candidates, who view this as an under-valuation of their talent. At best, a candidate will try to negotiate a better salary, but this is if they aren't put off completely by a low-ball offer. Before extending an offer, make sure that the salary is competitive compared to both their past salaries and the average salary for the position in your region. Researching these regional averages can also show you what sort of salary your competitors are offering.
You Don't Have to Do it Alone
Managing candidate perceptions of your company can be difficult, especially at larger organizations that hire hundreds of people a year and receive thousands of applicants. In order to ensure that the applicant screening process is handled effectively, many of these companies have sought out Recruitment Process Outsourcing partnerships. Besides bringing methodology, metrics and expertise to the candidate screening process, RPOs specialize in developing candidate relationships and managing candidate expectations throughout the application process. Above all else, candidates value professionalism in a potential employer and the robust, high-touch candidate management services that RPOs provide can help to impress candidates from the very beginning of the application process.
With proven expertise, many RPO providers will take on the entire recruit-to-hire business function and will implement the "ABCs" approach. They will source candidates, communicate with them at all stages of the recruiting process, ensure quality treatment of any and all applicants, and develop job descriptions that are meaningful. RPO providers can also conduct research into appropriate salaries for the given position, the difficulty of sourcing candidates with the required skill sets and the heat map of where candidates with these skills reside across the county.
Article by
, a leading Recruitment Process Outsourcing solution, driven by patented Cloud Recruiting Platform with embedded social network recruiting and job marketing campaign functionality.