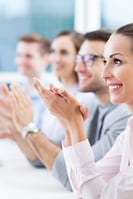 In recruiting, a bad candidate experience can get in the way of an organization getting and keeping the best talent for their positions. A bad process, therefore a bad experience, can be so powerful that candidates abandon the application process halfway through, in a move called "candidate abandonment." However, there are steps that organizations can take to make sure that they provide candidates with the best possible experience all the way through the recruiting and application process. In the RPOA webinar "Is Your Recruiting Strategy More Like Go Fish or Minecraft?" presenters Beth Miller and Richard Jordan suggest the following best practices for creating an exceptional candidate experience.
Go through your entire process as if you were a candidate, step by step. Identify any points that are difficult, frustrating, or unnecessarily complicated.

If you find something cumbersome, annoying, or off-putting, chances are the candidate will as well. Once you know some of the pain points in your process, you can begin to fix them.
Make it easy to for jobseekers to find you. Job seekers have a bewildering array of places that they can look for job openings, and it can be confusing. Post your job listing in as many places as you can, so that no matter where the job seeker looks, they see your opening.
Make it as easy as possibly for candidates to find out about your company. Most candidates spend a lot of time researching an organization before they apply. They want to know about the organization's culture, the employee experience, and how it operates. Put this information on your website. Making candidates hunt through Google, Glassdoor, and the Better Business Bureau for information on your company is off-putting, particularly if they're looking at another organization that offers this information up front.
Make it clear what opportunities you offer. What is the career progression at your organization? What benefits do you offer? Do you have any educational opportunities? Candidates need to know why they should join your organization. Make it easy for them to find out what you offer.
Make the application process as simple as possible. Can a candidate apply through your website? How many clicks does it take to get to the application? How long does the process take? Don't make your applicants hunt through a maze to actually apply. Make the process as simple as possible to give the candidate a straightforward, positive application experience.
Make the job description informative, to the point, and clear. Give the candidate enough information for them to know what the job entails, the major responsibilities, and why they want to apply, but don't bog it down with endless details. Job descriptions are more compelling for candidates if they can identify quickly from the description if they meet the requirements.
Give feedback. Even if you do not select a candidate, give them feedback on their application, and, if it went that far, their interview. It creates goodwill and even though the candidate did not get the position, it helps them walk away with a positive experience of your process.
Tell candidates where they are in the application process. Candidates not knowing where they are in the process or being left with radio silence after they have submitted their application are far too common. It sends the message that you don't care about this candidate or their application, and the candidate will hear that message and search for greener pastures.
As the worker pool shrinks and great talent becomes increasingly scarce, candidate experience can become a deciding factor in recruiting process. Don't wait to implement these practices until you find yourself racing to fill positions. Instead, implement these practices now and make sure your recruiting and application process is candidate-friendly before you're up against a wall. This will help ensure that if you ever do end up in a crisis, you will be able to source the talent you need quickly.
Related Articles:
Is Your Recruiting Strategy More Like Go Fish or Minecraft
3 Characteristics of Compelling Employment Branding
ABC's of Recruiting Top Candidates