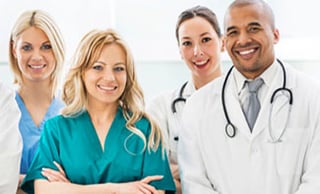 Continuing last week's conversation on the topic of healthcare RPO, in this edition of our #AskAnRPOExpert series we discuss trends, engagement types, and words of advice for organizations considering an RPO solution, with RPO expert Mike Muzi, VP, Managing Director of RPO at Taylor Strategy Partners.
RPOA: Can you talk a bit about the general landscape of recruiting in the health care space?

Mike Muzi: With healthcare continuing to grow at a rapid pace, and baby boomers exiting the workplace, the competitive landscape for experienced talent has increased significantly.
Are there any trends that you've seen emerging recently in the space?
Companies that are diversifying their recruiting strategies are winning. The days of posting and praying are long gone and relying on corporate sites is becoming less effective. Recruitment process outsourcing (RPO) teams must get creative with their strategies to attract new talent in this tight market by looking at all avenues at their disposal. The rise of social media and various technologies has increased the visibility companies can have in the market, and also allow it to showcase its employment brand more consistently to target audiences. As new grads are entering the marketplace, it's critical that organizations have effective internship programs in place to retain the talent they are helping groom for the industry.
Can you describe some of the engagements that are initiated within the scope of health care RPO?
An RPO can be leveraged by organizations in many different ways to meet its talent acquisition goals. We have been working with clients in various stages of its evolution, from established brands to those at the very foundational stage of its development. Whether it is volume hiring in fully outsourced recruiting functions or special projects like national sales build-outs, RPO's can be an effective solution to driving consistent results.
What does an ideal partnership look like between an RPO provider and a client?
The ideal partnership exists when both the client and RPO provider are aligned on expectations, with effective processes and timelines designed to define success.
Do you have any final words of advice to organizations considering RPO as a solution?
When considering an RPO, it's important to look past just the financial decision and focus on the value you get beyond filling jobs. While cost-per-hire is a core measurement, the relationship should first be built on trust. Viewing your RPO partner as an extension of your team and brand is vital to the success of the partnership. Having consistent and effective communication plans are key to driving results and establishing relationships across the organization at all levels.
About Taylor Strategy Partners

Taylor Strategy Partners is an Ohio base RPO and talent acquisition provider with offices in Boston, New York, Philadelphia, and Raleigh. We believe people are what drive a business forward, financially and culturally. That's why we work with clients to solve their challenges from a people perspective. For nearly 50 years Taylor Strategy Partners has had a history of excellence in the people business. With our breadth of services in RPO, Executive & Professional Search, and Consulting & Assessment and focus in healthcare and life sciences, we can personalize a solution that is right for your organization.