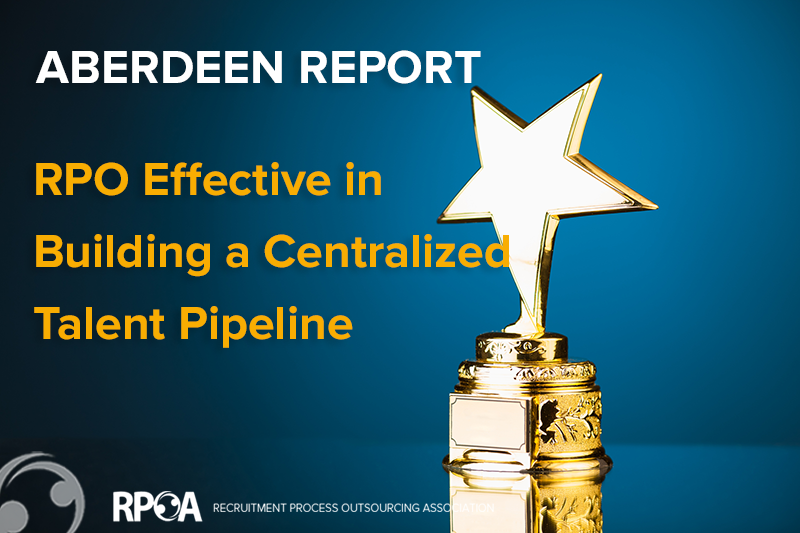 In a recent study titled,"Revisiting the Value of Strategic Partnership", Aberdeen found that Best-in-Class organizations are turning to subject-matter experts (SMEs) in building a centralized talent pipeline model to better develop and manage the resources needed for this new approach. In addition, the study found that organizations using a central talent pipeline model are reaching active and passive candidates by a ratio of 2.5 to 1 whereas All Other companies are at 9.7 to 1.
According to Bureau of Labor Statistics, employment increased by 138,000 in May 2017 and unemployment stayed unchanged at 4.3%. That means that much of the high-level talent you want working for your company will already be employed – a sector defined by Aberdeen's talent pipeline as "passive skilled".
The Advantage of Using a Centralized Talent Pipeline
Aberdeen notes that as of late, Best-in-Class companies were 2.1 times more likely than other organizations to centralize the talent pipeline when sourcing and recruiting candidates. We've covered the need for organizations to reach out and market to passive candidates, but Aberdeen's "centralized talent pipeline" refers to a more inclusive grouping. These include:
Active skilled: candidates actively seeking a new role and match the job requirements.

Active unskilled: candidates actively seeking a new role but do not meet the job or skill requirements.

Passive skilled: candidates who are not actively seeking a new role but meet or surpass job requirements.

Passive unskilled: candidates who are not seeking a new role and do not currently meet the job or skill requirements.
Pooling all candidate into a central pipeline allows employers to construct ongoing, populated talent pools, says Aberdeen, allowing hiring teams to reference these pools for pre-vetted talent when a job opens within the organization.
Aberdeen notes that companies that use the centralized model as a best practice reach active and passive candidates by a ratio of 2.5 to 1, compared to 9.7 to 1 of other models.
Roughly 75% of candidates fall into the passive category, says Sarah Palmer, Vice President of Marketing at Hueman, a recruiting process outsourcing (RPO) provider in Jacksonville Beach, FL. "This pool will continue to get larger as jobs increase," noted Palmer. To land top-talent, employers must make sure their recruiting efforts are covering both the active and passive talent pool.
Aberdeen's study predicts organizations will be 68 percent more likely to shift to a centralized talent pipeline model: "by focusing on early-stage candidate sourcing (regardless of job openings) recruiters, hiring teams, and HR can better strategize around the long-term potential needs of the workforce – before the company needs to source top talent."
The Fall of Reactive Recruiting and The Rise of Candidate-Centered Strategies
"The key challenge that all organizations face regardless of their size is the fact that they're being reactive to the recruiting needs of the business units they serve, rather than proactive," Patty Silbert, President of Newton Talent said in a recent interview for the Recruitment Process Outsourcing Association.
Aberdeen's research shows that even by mid-2017, organizations were recognizing the need to start recruiting proactively rather than reactively. From 2016 projecting into 2018, the percent of companies recognizing the need for proactive hiring grew 108 percent.
Silbert explains this reactive behavior: "Talent acquisition (TA) groups continually lag in their ability to be forward-thinking; most recruiting teams continue to concentrate on filling for a need, rather than the business unit's goals. This mindset keeps them from evolving from a transactional TA function into the consultative recruiting powerhouses that their businesses need them to be."
To change this mindset, recruiting teams need to be refocused and re-skilled, and receive periodic training so they can improve their skills continually as technologies and the hiring landscape changes, says Silbert. "They need to develop stronger business acumen, and learn to act as an advisor, not an order-taker."
In addition, a prior Aberdeen study noted that organizations that rely on a job-centric formula for talent outreach and acquisition typically lose out on hiring the most qualified candidates for a position. Fewer jobs along with more requiring specialized skill sets means the existent talent pool is in far greater demand. Aberdeen notes that the average active-skilled candidate has more than four job offers to choose from at a given time:
"Candidate-sourcing channels that touch only the active workforce, and that fail to make a good impression on the applicant, will consistently fail to attract top talent."
Company Branding Grows in Importance
As we head into the future, we've seen more organizations make efforts to improve their employer branding to help their recruiting prospects and Aberdeen's research supports this trend: as of the beginning of 2018, 52 percent of organizations felt they suffered from weak employer brand awareness and that it was harming their recruiting process.
To that end, Best-in-Class organizations are making several adjustments in their recruitment marketing: talent and career branding, social media marketing, and campus recruiting are on the rise at an increase of 92 percent, 40 percent, and 29 percent respectively.
On the other side of the coin, use of career sites and job boards, employee referrals, and recruiting events are falling, with a decrease of 13 percent, 2 percent, and 33 percent respectively.
For Staci Johnson, VP of Marketing with Roth Staffing, the answer lies in the marriage of HR and marketing. Organizations must "continue to 'recruit' existing employees" just as much as you recruit external candidates. In order to do that, organizations are going to need to take a look at both their HR and marketing departments and understand where the two meet.
Organizations that have an effective employer brand have put intention and strategy behind it and typically reap the benefits. According to Glassdoor, most candidates look at online reviews, social media conversations, and LinkedIn profiles of staff before applying for a job. However, employer branding is not only about attracting candidates. As a matter of fact, Johnson argues that attracting candidates should only be 10% of your employer branding strategy. The other 90% should be spent on hiring and onboarding, and employee engagement and retention.
The Value of RPO Partnership
Recruitment process outsourcing companies were among the first to recognize and adapt to these changing market conditions and organizations have been quick to notice. RPO partnerships are within the top three features found within a Best-in-Class organization according to Aberdeen research. Since 2017, RPO partnership has grown 97 percent in such organizations, falling behind only automated candidate nurturing systems and marketing channel analytics in adoption rate.
A prior study by Aberdeen, "Recruitment Process Outsourcing: A Lifeline in the War for Top Talent," found that hiring an RPO dramatically improved the odds of hiring top talent that was also a cultural fit for the organization. The reason is simple: RPO firms, unlike staffing and recruiting firms, help engage clients to build an overall strategy that supports the business and hiring needs of the organization. As Sarah Palmer explains in the RPOA-hosted webinar "Culture Fit Disrupted," ideology, a mission statement, and core values are the foundations of a strong business culture that keeps people around for years.
How big a difference does an RPO make? In the RPO study, Aberdeen found that organizations that do not partner with an RPO provider are nearly 83 percent more likely to fail at establishing a health and populated centralized talent pipeline than those organizations that organizations in such partnerships.
And as we've covered, an RPO works with organizations directly to understand their culture and branding so that these facets of the organization come to bear in attracting the right candidate. For organizations that want to stay ahead of the curve when it comes to gathering top talent, staying abreast of the latest RPO can offer will prove an invaluable part of their business strategy.