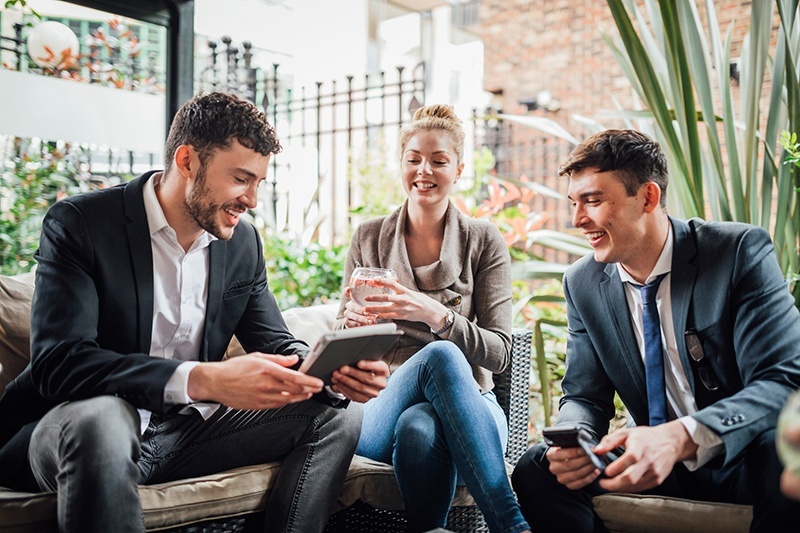 Recruiting strategies need to change with time to attract a new workforce. They also need to adjust to the needs and goals of this workforce, which could be a challenging thing to achieve sometimes, especially when you want to attract millennials.
Millennials actually make an impressive percentage of the whole U.S workforce: one of three today's workers is a millennial. They are also very different from a previous generation - and so they require a new approach.
If you find yourself wondering how exactly could you attract and engage millennials, this article could help you. Here are 7 strategies that you could use to reach this generation.
Optimize your job ads for mobile searches.
According to the statistics published by Indeed blog, 78% of millennials used mobile devices to find a job in 2016. This number is probably even more impressive by today.
At the same time, only around half of job applications and postings are mobile-friendly - and that what makes them so hard to view. If you want to attract millennials, you need to make sure that your job ads can be easily viewed on their phones.
Make the most out of social media usage.
The millennials use social media a lot - and do it not only to keep in touch with their friends and family. They follow the brands and companies they like on social media and they often look for open job positions on social media as well. If you do want to attract more millennials, make sure to post your job ads on social media too - and incorporate social media into your recruiting strategies in general.
Remember that a company culture matters.
It's always easier (and less expensive as well) to make the existing employees stay than to hire new ones all the time. In order to achieve that you need to understand what makes the employees satisfied with their work.
According to the 2017 research conducted by Execu-Search, 76% of millennial name professional development opportunities as one of the most important elements of company culture. They also need opportunities for both personal and upward growth, as well as more challenged at their existing roles.
So if you plan on not only hiring millennials but also keeping them with you for a long time, do your best to provide those opportunities. Also, don't forget to share this philosophy with them during the recruiting process.
Show them that their job would be meaningful.
Sure, millennials are interested in money - but they also want their job to be meaningful, and sometimes that's even more important than salary (which still should be competitive). Therefore, it's important to show that a job (and a company's business model in general) has a purpose and to demonstrate that to the candidates.
Maintain the work/life balance.
According to the 2016 Deloitte survey, 95% of millennials say that work/life balance is very important to them. Moreover, this work/life balance is no more about the number of hours spent on work but rather about how productive you've been during the day.
The approach to work/life balance has changed because the line between home and work has become blurred these days. People do not always need to go to the office to work and so they want to ensure that they'll still be able to maintain the balance. So it's important for the employers to do their best to achieve that balance as well if they want to attract millennials.
Emphasize flexibility.
As these days we have more opportunities to work from everywhere, it's natural that millennials expect more flexibility from their jobs. They want to have an opportunity to work in a way that suits them best - and so if you are willing to offer them such opportunity, it's important to emphasize that.
These days many companies still stick to a more traditional working routine that is considered less flexible and outdated by many millennials. So if your job offer is different, there's a big chance that it would look more appealing to millennials - and so you shouldn't pass an opportunity to mention that.
Be competitive.
Of course, what was mentioned above was without a doubt important - but your performance and financial shape matters as well. The millennial workers are indeed looking for the best opportunities for them and if you do offer such opportunities, you can focus on attracting the right people and have more options to choose.
As millennials are now occupying a massive percent of the modern workforce, it has become especially important to learn how to reach them, attract them, and engage them. Of course, this still might not seem easy for you, but as long as you'll be incorporating these strategies and looking for the new ways to attract millennials, you'll be able to remain appealing to them in today's job market.
Suggested:
Winning Top Talent with RPO and ATS
9 Simple Steps to Writing a Compelling Job Advertisement to Attract Millennials
About the Author:
Richard Nolan is a professional educator and team building coach, sharing his experience in spheres of writing, blogging, entrepreneurship, and psychology. Currently, Richard works as an editor-in-chief for EssayWriterSite. Follow him on Facebook and Twitter.