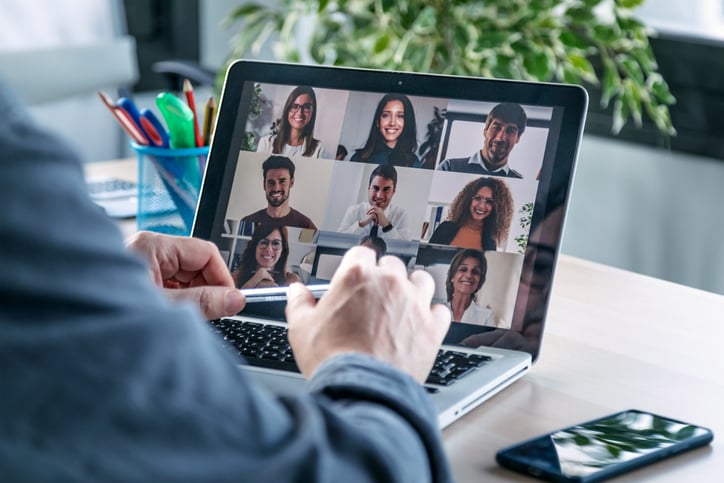 As we move into the fourth quarter, we see glimmers of hope despite the coronavirus still impacting lives and the economy. The unemployment rate has fallen from 8.4 percent to 7.9 percent. The economy is showing signs of recovery. A sign of this recovery is the ISM Manufacturing index. This index measures purchasing managers' behavior to find out data about the production, shipment levels, and inventories. Based on that data, it creates a monthly numerical rating. A rating of 50 or above shows economic growth. The ISM has been above 50 since June of this year. Dr. Sime Curkovic, professor of management at Western Michigan University's Hawthorne School of Business, said that if this trend continues, the American economy could recover fully in the third quarter of 2021.
With the slow recovery, companies are restarting to hire and bring back their workforce. As companies begin to open for business, a new element of work has emerged: remote work. Most companies, for safety reasons, shifted their office workforce to a remote workforce. And after five months or so working remotely, some employees want to stay working remotely. A new study shows that 33 percent of workers expect to remain working remotely post-pandemic. So it looks like remote work will become a permanent part of the workforce.
Some companies have fully embraced remote work and switched to 100 percent remote. At the same time, other companies have created a hybrid work environment where some of their workforce is in the office, and the rest work remotely.
This new work environment has created recruitment challenges for companies and leaders in Talent Acquisition. Recruitment Process Outsourcing (RPO) leaders are a great resource and alley for organizations to figure out new recruiting strategies that fit the new workforce landscape. There are many variables at play when recruiting in such a dynamic environment. However, any recruiting strategy's foundation is its Employer Brand and Employee Value Proposition (EVP).
Winston Churchill once said, "Never let a good crisis go to waste." That's so true because now is a good time to reassess your company's Employer Brand and make sure your EVP still aligns with all of your workforce. As a result of not doing so, your employees could stop engaging with the company, lose their sense of purpose and sense of belonging. That can ultimately lead to them ditching you when job opportunities start increasing.
Reevaluating your employer brand and EVP today will help you hire new talent and retain existing talent tomorrow. An RPO partner is your strategic partner in looking at your Employer Brand and EVP from a different perspective. As RPOs adjust to the transformation of the talent acquisition space, they offer keen insights on keeping your Employer Brand and EVP relevant in the age of remote work. This post explores some of those insights.
Focus on All of Your Employees
During the recent RPOA Talent Acquisition Transformed Conference, RPO Leaders Michele Krier, Senior Vice President at ClearEdge Marketing, Patty Silbert, President at Newton Talent, and Joe Marino, Executive Vice President at Hueman RPO stressed that now, during COVID, is the time to step back and reassess your employer brand and employee value proposition(EVP). They highlighted the importance of staying focused on knowing what all of the employees want. Silbert said that during this crisis, your "EVP is being tested, and [employees] are asking what is the experience I have in front of me today in this hybrid or remote work environment."
Whether you're fully remote now or a mix of remote and in-office workers, it's important during this time of crisis that business leaders commit to paying close attention to current staff's values and measure the engagement of their employees. "Regardless if you're 100% remote, you're a hybrid… there's a lot of work that probably needs to be done to make sure that you're listening, you're talking, and as a busy leader sort of take that step back and HR needs to really encourage leaders to take that step back to really get a sense of, you know, where are we with our employees and how engaged, are they," Silbert said.
Engage Your Remote Workforce
A new but vital part of keeping your Employer Brand and EVP relevant with your current workforce is engaging your remote workforce. As mentioned above, remote work is here to stay, and how companies react to the remote work landscape will affect how employees align themselves with your Employer Brand and EVP. During the Talent Acquisition in the Hybrid Workplace session, Krier relayed a published story in Bloomberg about VMware cutting the pay of its remote workers who choose to move out of state. This situation caused Krier to ask, "How can companies really know and not guess if their EVP still has meaning, and if employees are still aligned to it when they are doing things like reducing pay because employees now choose to live in other parts of the country?"
When talking about this situation, Marino noted that from an EVP point of view, a company would have folks who want to work remotely and decide that they can work anywhere in the country. So there will be trade-offs between working remotely and working in the office. He stressed the importance of surveying your employees to understand those trade-offs. "To me, you've got to understand exactly what your employees want. So I'm a big proponent of sort of surveying your employees figure out what they're looking for. And actually closing that 365 loop or 360 loop with them to make sure you're giving them that feedback after you've taken in that information and then assess," he said.
When asked whether companies should ask their current remote workers specifically where they think they fit into the company's EVP, Marino said that yes, a company should ask, but go about it with a plan. He said that companies could go about it in one of two ways. They could take a general survey of everyone to get a broad view of things. They could conduct focus groups to drill down to see what the remote folks want and need from the company based on that gathered information.
Alternatively, he said that companies could get all their remote workers together and have a dialogue to find out what they want. "It's almost like a six sigma approach, like, why do you want to work from home? Why do you like the flexibility? and sort of drill down to see what is, what are they really looking for," Marino said.
Silbert suggested, "Ask broader questions around remote or hybrid or something like that, because then you'll be able to pick out some of the themes or insights that are coming from those responses…, but ask the same question of the entire employee population, so that you can really get an even kind of response." Silbert points out that from this approach, business leaders can find out the benefits people get from working at home and the benefits these workers don't get from working at home.
The Dark Side of Remote Work
The ability to see the two sides of remote work is important in order to understand the struggles remote workers face. When discussing the different ways to survey remote workers, Marino mentions that when finding out what remote workers need, leaders will discover a flip side to remote work. He said that another side is burnout. As the rise of remote work increases, the number of cases of burnout has increased. Forbes has reported that 62 percent of adult employees work from home, and 69 percent of those employees have reported experiencing burnout. As a result, productivity and the health of the entire workforce is declining.
Marino sees that surveying remote workers will help employers understand where the burnout is coming. The ability to drill down to see what they like and dislike about remote work will help leaders determine whether they can go 100 percent remote or create a hybrid work model.
Weave Purpose in Your EVP
Silbert observes, "It's really important that leaders, think about that EVP and tying purpose together for it." Infusing purpose into their EVP to Silbert comes from asking, "How much purpose are [the employees] getting from their work today?" And "Because when you think of all the influences that are happening in an individual's life both on the home front, as well as what's going on inside of the organization, it's really important that leaders think about that [EVP]," she said.
Silbert emphasizes that the EVP is what employees get in return for what they bring to the table. Leaders must understand that their employees give the organization their time, effort, experience, and ideas. And the employees get in return a mix of tangibles and intangibles that can include compensation, good location, flexible schedule, and a good mix of work and life.
When leaders understand the gives and gets of their employees, they and their employees, Silbert says, "Work together in order to achieve purpose." The bottom line is that employees desire to work for a company with a value proposition that says this is our purpose, and that purpose matches their individual purpose. And Silbert pointed out that employees "Having a feeling of purpose and a sense of purpose and the work that they're doing will help to strengthen that EVP more so now as they get back into where we're headed."
In Conclusion
RPO providers work hand-in-hand with their recruiting partners to strategically shape their Employer Brand and EVP. When you have an effective Employer Brand and EVP that engages your entire workforce (remote and in-office staff,) you help all your employees feel they belong to something grand. If you haven't begun to reassess your Employer Brand and EVP, now is the time to do so. Your bottom line and your current and future employees will thank you.
To read more about keeping your Employer Branding and EVP relevant and learn more about RPOs, please visit our RPO Academy for free resources.