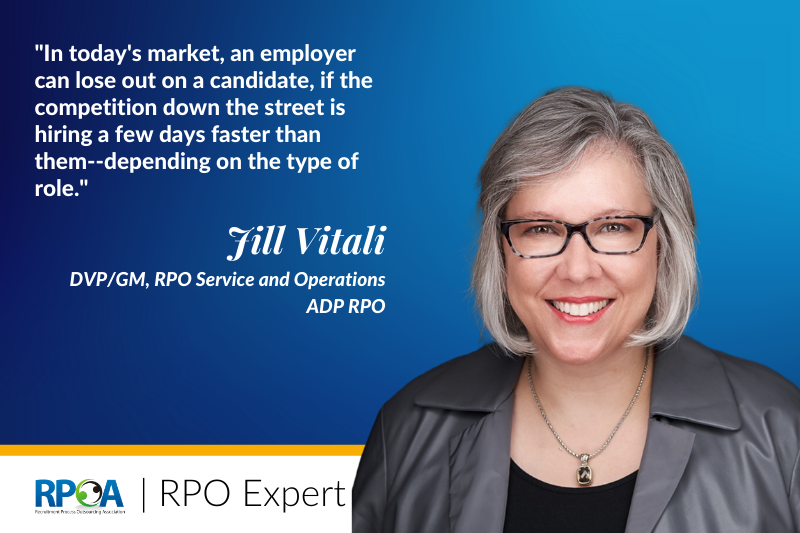 The RPOA recently talked will Jill Vitali, DVP/GM, RPO Service, and Operations at ADP RPO. In part one, Vitali answered FAQs on recruitment process outsourcing. The following is the second part of an edited version of this conversation where Vitali talks about recruitment technology and recruiting practices that help talent acquisition leaders.
RPOA: What are some examples of recruitment automation or innovation that is improving your customers' performance?
Vitali: One of the trends we're seeing is clients are requiring more flexible technology. API-enabled best-of-breed solutions work well with clients today. And we have our ADP Marketplace. It's the largest HCM marketplace that provides a digital storefront, providing clients with choice and flexibility to select HR solutions that work best with their technology stack.
For one of our clients, we instituted a proprietary capability where we automated the recruiting process to get candidates scheduled quickly on hiring manager calendars. And we have this quality component that prioritizes candidates based on how they answer pre-screen questions. We can turn the quality component on or off, depending on how quickly they need to drive candidate flow based on the seasonality of the business. So depending on the type of role, and the candidate profile they're looking for, leveraging some of this automation to get candidates through the process quickly helps. Amongst the bottom quartile of roles by pay, the competition is fierce. There are not enough candidates to fill these roles, so speed makes a difference today.
How does the ADP Marketplace work?
The ADP Marketplace is a world-class digital HR storefront. We have over 800 hundred solutions globally. If our clients need help with an assessment tool, they can go to the marketplace to see what solutions are available. Clients can explore, try, buy and event implement their solutions right from the marketplace or their ADP dashboard through single sign-on. Many of our solutions provide a free 30-day trial with no obligation to purchase. . Solutions on the marketplace are pre-approved and go through a rigorous security process to ensure they are secure. The solutions are fully built using ADP APIs which means that clients don't have to go through a lengthy development process or custom integration, all the work is done for them. so clients can enjoy a seamless, modern HR experience that they can activate almost instantly. All clients need to do is go to the marketplace to purchase their solution so they can easily connect and share data across their HR platforms.
Could you briefly talk about the ADP Research Institute?
We leverage the ADP Research Institute's deep data and insights to help employers better understand the complex dynamics of the world of work. Key to recruitment and talent acquisition, our labor reports and extensive employee engagement research and insights empower our clients with a better understanding of the workforce. The ADP Research Institute gives employers the data to help drive decisions and tackle those questions that maybe they didn't have answers to before the pandemic.
ADP Research Institute delivers data-driven discoveries about the world of work led by our chief economist, Nela Richardson, and head of People + Performance Research, Marcus Buckingham. Leveraging ADP's extensive data set, ADP Research Institute issues data reports on the labor market, as well as comprehensive employee sentiment studies. In addition, Nela Richardson maintains a weekly blog called MainStreet Macro that outlines the macroeconomic trends affecting "Main Street" and small businesses, the business community, its workers, and the consumers it serves rooted in newsworthy topics of the week.
What are your top tips for RPOs to attract and retain talent during a tight labor market?
First, I always start with table stakes. So, do you have your basics covered? Are you paying competitively? And do you have an optimized recruiting process for the type of candidate that you're bringing in? In today's market, an employer can lose out on a candidate, if the competition down the street is hiring a few days faster than them--depending on the type of role.
Secondly, make sure that we understand how your employer value proposition (EVP) is showing up in the hiring process. Candidates today want to make sure that they're working for an employer who's more than just a paycheck. How did they take care of their employees during COVID? What mental health benefits do they have? What flexibility do they have?
And then how can we bring flexibility into your work based on the type of role. Flexible work and remote work arrangements, certainly remote work, or hybrid work is top of mind for many candidates. But remote or hybrid work may not be appropriate for all employers. Maybe you're an employer who is in manufacturing, and you need people to come in and work in the factory. So working with our clients to understand how can they bring flexibility into those environments? Can you be flexible with your shifts? Can you have part-time workers? How are you supporting daycare or transportation? These are the things that will help employers compete.
What post-COVID recruitment practices are you seeing stick?
Recruiting with virtual technology. At ADP we use Vidcruiter, which has been a great enhancement for our phone assessments. It's all about meeting the candidate where they're at. They can do the assessment at their convenience. We like to leverage that platform wherever it makes sense because it helps clients hire faster in today's candidate market.
Maximizing the talent pipeline by eliminating barriers, streamlining processes, focusing on EVP flexibility, and figuring out how you can bring it into your process or even into your hiring profiles is important today.
What is the current state of job fairs? Are you seeing a bigger shift towards virtual career fairs?
We have leaned heavily into virtual job fairs. They have been helpful to drive good candidate flow quickly. We've started to do some on-site, but for the most part, virtual is the lead. Everyone's more thoughtful about spending money these days. Two years ago no one wanted to be on camera or do things on video. And fast forward to today, people don't think twice about getting on getting on camera. Video recruiting is a lot more acceptable today.
How did COVID affect your implementation?
During COVID, we kept to our standard implementation process of 12 weeks. But more clients were coming to us with urgent hiring needs due to the labor shortage. And so, we would introduce solutions to help clients meet their immediate needs, while we were working through standard implementation. Whether that was a recruiter on demand, or whether we would help them with some key roles that they needed filling, such as an executive search, we've been flexible to address their most immediate needs.
With all that being said, going through standard implementation is really what sets us up for success in the long term. But we found ourselves doing more stop-gap support during COVID.
Related: Free webinar on-demand describes organizations partnering with RPO providers to shift to an effective virtual recruiting strategy.
.