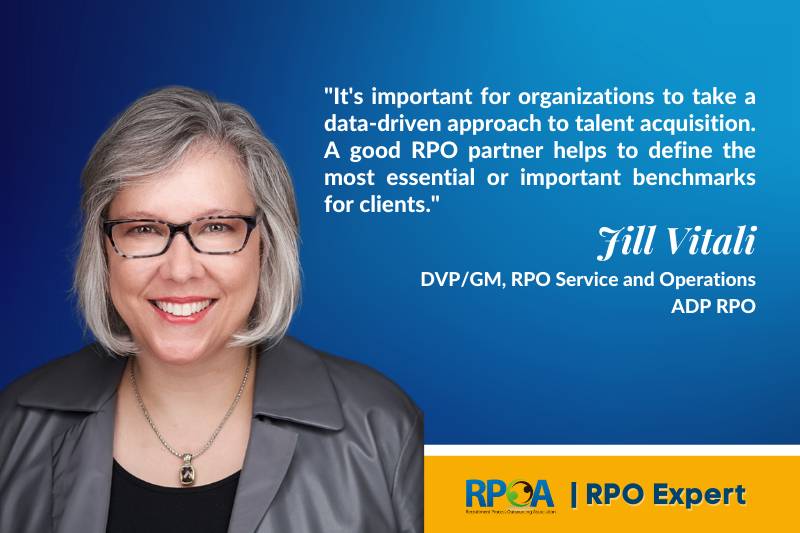 Jill Vitali is an accomplished business leader with deep operational expertise. With 27 years of ADP service, she has held numerous service and client onboarding leadership positions across multiple ADP business units. In addition, she has successfully driven enterprise-wide strategic initiatives as part of ADP's Corporate Business Transformation team. In her current executive role, she is responsible for RPO Service and Operations, with accountability for client delivery and satisfaction, process improvements, and business results.
As a member of the RPO Expert Series, Vitali shared her insights with RPOA's Executive Director, Lamees Abourahma, on what talent leaders should know about recruitment process outsourcing (RPO). The following is the first of a 2-part edited version of that conversation.
RPOA: What should talent acquisition leaders know before considering an RPO Solution?
Vitali: First and foremost, RPO is a partnership. It's a partnership where the client transfers ownership of all or part of the recruiting process over to their RPO partner. Buyers can think of it as their branded recruiters. And it's best optimized when it's a long-term partnership (typically, two to three years). RPOs act as an extension of a client's business; selling the organization, its culture, and its value to potential hires. We curate talent pools that are specific to the organization's needs. So unlike agencies, RPOs don't share candidates across multiple clients. Our recruiters spend a lot of time learning the culture and the brand, so they can hire the right candidates for the organization.
RPO teams and processes are designed for efficiency and scalability. So, in addition to having recruiters that interact with hiring managers, you've got an extra recruiting team. At ADP, we have back-office teams and processes that allow us to scale up and scale down as needed. So it can be different than a typical end-to-end recruiter or in-house process.
From a buyer's perspective, it's important that buyers articulate their expectations of the recruiting partnership. They can do that by drawing up a list of what are the must-haves? What are the nice to have, or what are the things they don't need for now? These things might be an intuitive and integrated applicant, applicant tracking system; it might be a need for talent consulting services, or maybe they need a partner who also provides background checks and medical screening services. Another item to consider is scalability. Do they need a scalable support system to support peaks and flows? Do they have competitive wage and compensation data? Answering all of these questions at the beginning of the RPO process helps clients find the right partner for them.
How would an employer know if RPO is right for their organization?
It's important to look at your people, process, and technology. Look at the challenges where you don't have enough recruiters, or you can't keep recruiters staffed to handle your hiring needs; do you have seasonal labor demands? Are your recruitment costs high? Or do you not know what your recruitment costs are? Do you struggle with compliance? Those are things buyers can look at to help them know if RPO is right for their organization.
But an RPO is more than just a plug-and-play process. The clients who work best with an RPO are those who are open to change and will work with us, so we can take all of our recruiting insights and improvements and match them with what clients need. We are very focused at ADP on helping our clients improve their results, not just bringing candidates in the door; but, bringing in the right candidates. So they'll stay with the organization for the long term.
Get more insights: Tina Tromiczak of ADP Shares In-Depth Insights on the State of Talent and Outsourced Recruiting
How would RPO buyers know which specific RPO is right for their organization?
There are a couple of things to consider when finding a specific RPO partner. Is the RPO a good culture fit for your organization? Do you have some of those same shared values? Are they trustworthy? Are they consultative? How do they handle data security and confidentiality? you know, that kind of thing. So finding a partner where you've got some shared values is important.
And the other thing is the RPO doesn't have to be an all or nothing. It can be customized to your needs to meet where you're at as an organization. I mean, maybe you're a large, complex organization that wants to use a hybrid model, maybe you've got an in-house team, but you're challenged in this specific industry, and you don't have that industry expertise. And so you want to bring in an RPO partner for that part of the business. RPOs [providers] and RPO [solution] can work very well in a hybrid model as long as there are distinctions around who owns what work. So, it doesn't have to be an all or nothing, it can be customized, and it can grow with you as you change.
What are your best tips to start a successful RPO program?
Embracing and trusting the partnership is important. RPOs are outcome-driven, and we focus on optimized processes and hiring results. So we design our processing teams to deliver the right hires for our clients. So it's common, especially for first-time buyers, who might not be used to a flexible model not to understand that an RPO may have different levers we can pull to deliver timely and quality-oriented services.
And having that openness to change and understanding that all positive change does include an upfront investment is important. For example, we go through a thorough onboarding process with our new clients. And it's focused on, not only designing an optimized processing team, but also helping that organization manage through change management; change management with their hiring managers, and making sure people understand what's coming with the RPO partnership.
Leaning into data and leveraging insights is the next tip. We help our clients understand benchmarks and who they're competing with. Who you're competing with today, as an employer, could look different than who you were competing with two years ago, especially with people changing industries and jobs. So at ADP, our data gives us more HCM insights than any other RPO provider. And we work to empower our clients with this information. So they understand how the market is evolving. And we can stay close to those changes together and in real-time.
What are some important drivers for a successful RPO partnership?
The first driver, a good RPO partner helps their clients answer questions about the future of work, not just the past. Because today employers and hiring managers have to answer different questions like, what are you doing to support my work-family balance? What's going on with the labor force? How are worker expectations changing?
It's important for organizations to take a data-driven approach. Organizations need to understand how they stack up against industry standards, be it compensation or flexible work. And a good RPO partner helps to define the most essential or important benchmarks for clients.
You can never rest on your laurels because things are constantly changing. So regular evaluations are essential. Recruiting and talent acquisition is dynamic. So we need to evolve, we need to stay in tune with what's going on in the market and with our candidates' needs. We do monthly scorecards, and we provide data-driven insights, but we also do quarterly business reviews where we're educating our clients on what's going on in their market, and what's going on in their industry. What was working, for you six months ago is not working today. We may need to change a sourcing strategy. We may need to change a candidate profile. Quarterly business reviews are so important, because not only is it an opportunity to look back on operational results but also to have strategic discussions. Strategic discussions like, what's changing in the company, how do we need to evolve as their partner to better match their needs?
The last driver is joint accountability. At ADP, we believe to deliver the best results for our clients and for our clients to get the best candidates for themselves, we need to have collaborative, constructive conversations with joint accountability. So having constructive, collaborative, and sometimes tough discussions ensures we're driving that joint accountability to deliver results.
What should buyers know about RPO prices today?
First, RPO is a great way to measure and monetize your recruiting expenses. Many clients come to us and they don't have an understanding of how much they spend. So making sure that you understand how much you spend and getting those expenses under one umbrella is a great way to measure and monetize.
We do find that most clients prefer the cost per hire model because it allows them to ramp their expenses up and down based on their hiring volumes. But RPOs focus on better matching the recruiting throughput with higher quality candidates because they're matched to fit your organization's needs. So over the life of a contract, we do believe, based on our expertise, our scalability is a more cost-effective model than the in-house recruiting process.
With that being said, we know pricing is very susceptible to market changes. For example, there's a national worker shortage, specifically for recruiters. The labor shortage is driving increased cost and turnover so there's real value for employers leveraging RPO to keep their recruiting going and keep their team staffed.
When it comes to increases in recruiting costs, do talent acquisition professionals fully understand how RPO saves them money amidst the rapid changes in the market?
It depends on the buyer. We do a lot of education because we're data-driven, and we have real-time insight into what's going on with compensation. And so as we bring forward all our data and analytics to help educate clients about pay, and costs, some clients are surprised at the cost because they want it to be cheap and fast. But the reality is if you lean into the data, if you look at wage growth, you'll see why we price things the way we price things. And again if you think about the expertise and efficiency RPO brings to the table over the lifetime of the contract, we believe it saves money in the long term.
Why is it important to renegotiate RPO contracts in the RPO space?
It is important to renegotiate your contract for two reasons. One, your needs grow and evolve with your RPO partner. When RPO buyers first come to us, they're just trying to get candidates, it's all about candidate flow and making sure that they can drive hires. But as they mature, they may need, more extensive DE&I consulting, talent consulting, or different services we provide to better meet their needs. RPO buyers have to make sure that what you've hired your RPO to do still makes sense for where the business is at today.
Secondly, recruiting costs to change over time, and they're affected by changes in the economy and in the labor market. and so you know, the price points that you negotiated in your initial contract may not make sense for the current environment.
Suggested webinar on-demand: Shifting to a virtual recruiting strategy