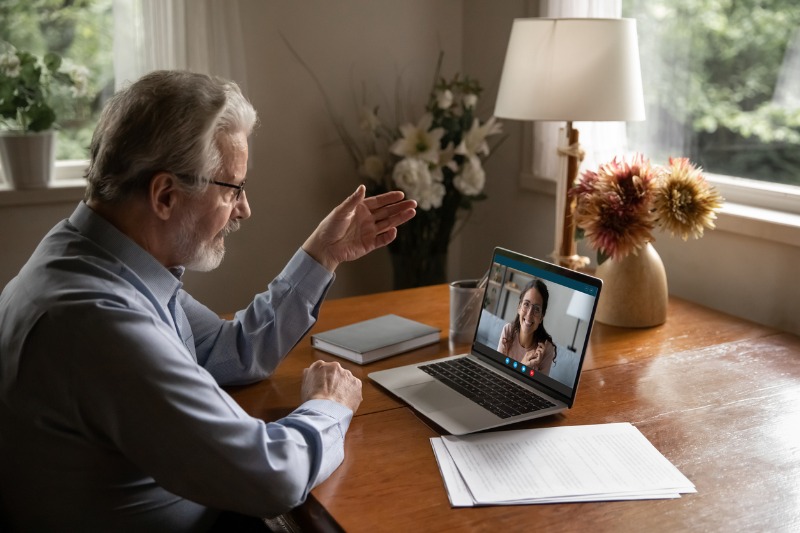 The pandemic caused enormous changes in the way talent acquisition (TA) professionals recruit and hire talent. Companies stopped in-person interviews, and cut from their TA budget, money for travel, career fairs, and hiring events. As a result, hiring managers and recruiters shifted to virtual recruiting. Companies also refined their employer value proposition (EVP) to let candidates know it's safe to come work for them.
The RPOA invited to our RPO Leadership Forum webinar Matt Thomas, Director of Recruitment Operations at ADP RPO, and Joe D'Antonio, Account Manager at ADP RPO, to discuss the best practices for successful online interviews and hiring events. They also discussed the importance of having a safety-conscious brand and the future of the recruitment market. This article is a recap of that discussion.
Watch the webinar: Shifting to a Virtual Recruiting Strategy
How to Have a Successful Online Interview
Less face-to-face recruiting events and in-person interviews have forced companies to use video for their interview processes. "Companies have learned they can use video to replace certain parts of the pre-screening process or the interview process in itself," Thomas said.
Thomas suggested that there are four things TA and HR leaders can do to have successful online interview processes. Those four things include:
Let the candidates know upfront that they're going to be virtual.
Ensure the candidates will be able to use the set platform or technology on one of their devices.
Think professionally, treat it like a regular face-to-face interview, dress professionally. Be sure you're visible and presentable on camera.
Have a contingency plan for any technical issues that might arise in the process.
How to have Successful Virtual Career Fairs and Hiring Events
Research shows an increase in career fairs and hiring events moving to virtual. To illustrate this point, Thomas said, "A SHRM study showed events have grown from around 100 pre-pandemic to an astounding 300 to 500 events per week. And 83 percent of in-person hiring events had been canceled, postponed or moved to virtual events."
Companies can learn a lot about successful virtual career fairs and hiring events from university recruiting. Thomas showed that companies could create a successful virtual career fair using the best practices the University of Nebraska uses in its virtual recruiting. Those best practices include:
Get to your ideal candidates quickly, early, and often.
Make sure you perfect your employer brand before reaching out. Here's why that's important. Thomas said, "There's a lot of studies out there that show candidates will research a company before deciding to apply. That's not just before accepting an offer, but before they'll even complete a job application."
Candidates need to understand your complete employee value proposition (EVP). Thomas said that candidates need to feel safe in the new environment. And because it's a tight candidates market, candidates need to know your company's EVP represents safety.
Identify answers your target audience wants and needs to know and empower your early talent.
Use the virtual hiring event in a positive force to break down the barriers that might arise during in-person events. For example, Thomas said that being virtual provides the flexibility to bring in somebody from HR or the hiring manager or a VP or director to talk to candidates. As a result, decision-makers interviewing the candidates make a "good lasting impression."
Know that those qualified connections and your top candidates stay connected with decision-makers early and often. Thomas said, "It's highly likely they're communicating with other companies and that type of market and might even have other potential offers."
Safety-Conscious Brand
Because of the pandemic, candidates are concerned about safe workplaces. Joe D'Antonio said, "Traitify recently done a survey of job seekers on what is most important to them when looking for a new job. And companies following safety protocols was number one."
Therefore, D'Antonio points out that it's important to have a safety-conscious brand. There are numerous ways to represent a safety-conscious brand during virtual hiring. D'Antonio's said, "Exhibit branding pictures showing employees wearing masks and ensuring that the company website's branding shows you're following safety protocols. Emphasize that your business is open and following all the safety protocols will drive home to the candidates that you are safety conscious".
Where Does the Recruitment Market Move From Here
Currently, there's a lot of uncertainty in the recruitment market, but D'Antonio highlighted four essential points regarding where the recruitment market moves from here. Those points were:
COVID-19 has accelerated the way business gets done. And companies will need to be relevant, sustainable, and stay ahead of the game. "You can be different, you know, and everyone's had to choose to be different. But you can't just be different, you have to be thinking two steps ahead. Is what we're doing different going to be relatable to the market. And is it something sustainable," he said.
"There is going to be a cost that's going to be associated with that," D'Antonio said. "When quite frankly, in order to reach those folks that we can't reach right now you're going to have to think of different ways and unfortunately it does come with costs. Hiring and talent acquisitions are becoming more digital, and there's a cost associated with the move to digital. You just have to pick the best provider for the best cost to fit your budget."
An RPO provider is a viable and valuable partner to consider when making that switch to digital. RPOs make good digital partners because they bring expertise, the ability to grow at your pace, and innovation to your TA processes.
Virtual methods of talent acquisition are here to stay. The pandemic "has accelerated the need to think how we touch people that, you know, are available, but aren't looking for a job," D'Antonio said. "A recent Appcast survey showed that there's 50 percent more job seekers right now than during pre-pandemic. However, there's about 35 to 40 percent less people actually searching on Google looking for positions because these folks have concerns."
As the advent of online interviews and virtual hiring events increases, the RPOA hopes this discussion helps you successfully implement these virtual recruiting methods. Please join this discussion and others like it to gain the knowledge you need to get the most out of your virtual recruiting.