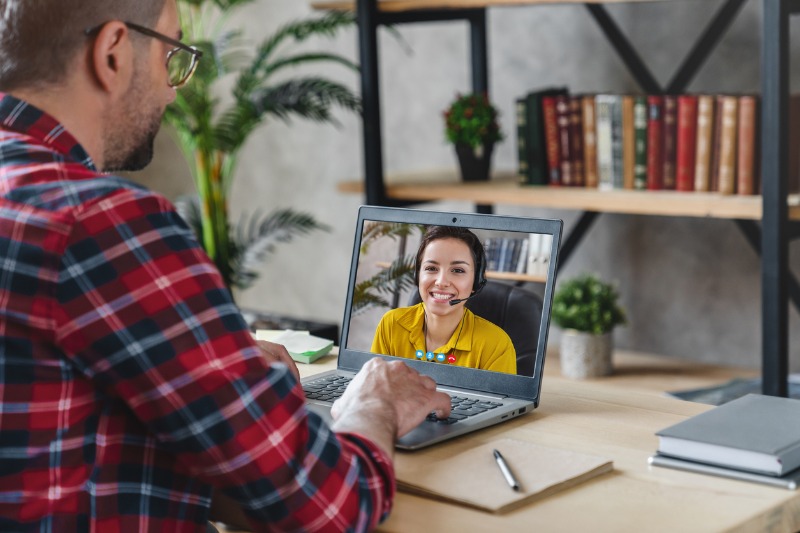 Talent Acquisition (TA) is at a turning point. The talent market was changing pre-pandemic, and it has dramatically shifted during and post-pandemic. "The pandemic has thrown gasoline on that market where it has been an accelerator," Matt Thomas, Director of Recruitment Operations at ADP RPO, said during RPOA's RPO Leadership Forum webinar. In addition, the coronavirus created uneasiness in candidates and a candidate market where demand has outstripped supply in most industries. All of these changes have caused TA leaders to shift to a virtual recruiting strategy.
During RPOA's monthly RPO Leadership Forum webinar, Thomas discussed how TA leaders can successfully shift to a virtual recruiting strategy. This article recaps that discussion.
Watch the webinar: Shifting to a Virtual Recruiting Strategy
Data Shows Companies and TA Leaders are Shifting Towards Virtual Recruiting Processes
Current research shows companies have started to shift money towards virtual recruiting processes and that many recruiters have pivoted to using virtual hiring methods. Thomas said, "Ernst and Young reported that 90 percent of companies are prioritizing an increase in capital towards digital transformation initiatives. And Jobvite has reported that 84 percent of recruiters are adapting hiring processes for remote exchanges. And then 58 percent of those are actually using social media to connect with potential hires."
Recruiters and HR leaders are also turning to video conferencing to screen and interview candidates, and they're utilizing AI and chatbot technologies for texting and connecting with candidates. "Aptitude reported investment in chatbot technologies has jumped over 500 percent in the last year alone. And a Capterra survey showed 94 percent of HR professionals say using recruitment software has positively impacted their hiring process," Thomas said.
Transitioning to Digital Recruiting Harder for Some Companies, Easier for Other Companies
While there's been a dramatic shift to a digital recruiting method, adapting to this new recruiting method has been difficult for some companies. In contrast, the transition has been easier for other firms. "The change-over to digital has been harder for companies that rely on the traditional way of recruiting. However, it's been an easier transition for companies who already had some sort of digital methods in place," Thomas said.
How to Shift to Virtually Finding and Recruiting Talent
Despite the difficulties of shifting from traditional ways of recruiting to using technology for sourcing and recruiting talent, Thomas laid out five elements that will help you make the switch from analog to digital smoother. Those elements are:
Stay Proactive: Companies will need to go where candidates are in their job search. To do that, they'll need to use their branding and marketing to initiate and control the engagement with candidates. "Companies need to meet candidates where they are. To do that, companies will need to think proactively in regard to branding, marketing, and going after the talent," Thomas said.
When companies recruit proactively, they find candidates who might not be looking for a new job. "According to an SHRM study, 75 percent of potential hires are not actively searching for a job but would be open to fielding good solid opportunities," Thomas added.
Have a Digital Mindset: If staying proactive means meeting candidates where they are, you have to know where they are. To do that, Thomas says that you need to think digitally. Thomas believes it's vital to "think digitally to stay competitive in this market." Hiring and talent acquisitions are becoming more digital, and there's a cost associated with the move to digital. d in the 21st century, the majority of candidates live in the digital world. "Pew Research reported that 69 percent of American adults use at least one social media site. And Glassdoor reported that 79 percent of candidates use social media in their job search," Thomas said.
Differentiate Your Offering: Having a digital mindset is important, but Thomas emphasized that companies also need to differentiate themselves because candidates use digital tools to look at them more closely than in previous times. "Companies need to differentiate themselves in their market. The candidates are savvy in today's market, and they have a lot of tools to do their research," Thomas said.
Stay Relevant: To transition smoothly from analog to digital, win the war of talent, and remain competitive, Thomas observed, "companies need to use the relevant tools, processes, branding, and other methodologies."
Remain Sustainable: To remain sustainable, it's important companies have digital processes that are fast and efficient. Thomas said, "It's extremely important that the processes and the platforms are mobile-friendly, and the application processes need to be fast and efficient. The need for speed is as important as ever to remain sustainable."
As talent acquisition transitions to digital, the RPOA hopes this discussion helps you gain insight into successfully shifting to a digital strategy that helps you adapt to a rapidly changing recruiting environment. Please join this discussion and others like it to gain the knowledge you need to plan your virtual recruiting strategy.