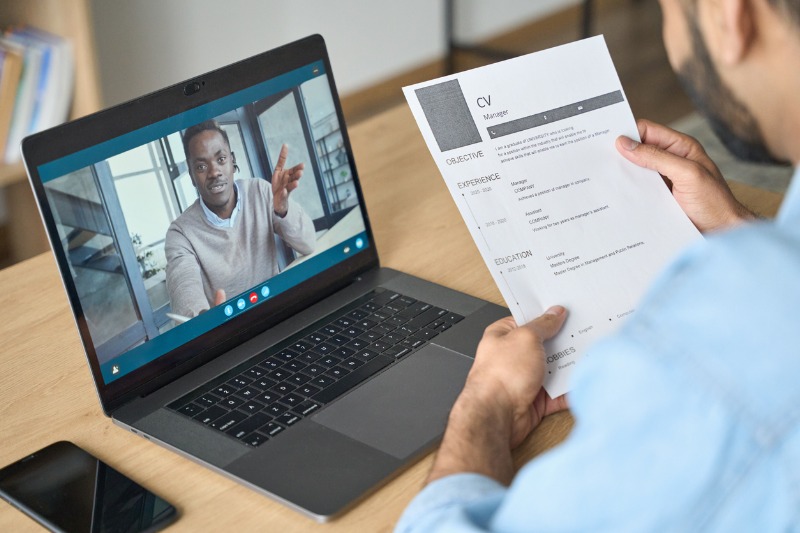 Recruitment Process Outsourcing(RPO) and Talent Acquisition(TA) leaders are engaging with building effective recruiting strategies in a new hiring landscape. It's clear to Joe Matar, VP of Marketing at Brazen, that virtual hiring events have become "a must-have overnight." Matar said that he has seen Brazen's clients use virtual events "to stay connected, to get engaged, to open up, and to increase their geographic footprint and bring in top talent."
In the newest edition of RPOA's Leadership Forum webinar, Matar uses what he has seen at Brazen to help RPO and TA leaders level up their recruiting strategy with virtual hiring events. Brazen is a DC-based software company offering virtual event platforms to help connect, engage, and hire top talent.
Matar begins his must-see presentation talking about research pointing to the future of recruiting. He then lays out nine best practices of virtual hiring events. Mater then wraps his presentation up nicely with insights into what to look for in a virtual event platform.
His presentation aims to show organizations and RPO leaders how to better connect with top talent using virtual hiring events.
Watch the webinar: Level Up Your Recruiting Strategy with Virtual Hiring Events
Virtual Recruiting and Hybrid Recruiting
Matar started his presentation by saying, "Everybody's asking right now like, okay, there was this urgency to go virtual when the pandemic hit 14 months ago. But as the world opens back up, what is this thing called hybrid recruiting," Because of these concerns, he said that Brazen talked to recruiters, talent attraction professionals, employer branders, or proven marketers to find out what they see as the future in recruiting. "We use that as a little bit of a benchmark about where everybody's going," Matar added.
Matar said that Brazen surveyed nearly 300 TA professionals and asked:
What does hiring look like for 2021 the rest of the year?
Are you going to be using virtual, even when there is an option to do in-person events?
And then, if yes, to what degree are you going to use virtual?
What degree are you going to use in person?
Matar put the research results in their proper context, saying, "that the issue isn't that we've got all of these open positions but that there isn't a supply of candidates to fill those positions. So we're kind of back to where we were before the pandemic hit. And in this kind of candidate-driven market, the war for talent is as fierce as it's ever been." So Matar and Brazen wanted to know, "what are recruiters saying as far as the solutions, the strategies they're going to use to continue to connect with talent or try to find that really great talent."
Matar said the research showed, "96% of TA leaders say that virtual recruiting is here to stay, even beyond the point at which, in person, is feasible once again."
But what about hybrid recruiting? Matar said, "it's trending, it's top of people's minds." And he said, "We asked to what degree will you continue to use virtual?" The research showed that 83% of respondents said that 50% or more of their events would remain virtual. Matar observed that the 50% or more response could mean TA leaders will use virtual events for half or all of their hiring events. But he said that the majority of TA leaders, 83%, are saying that at least half of their events will remain virtual.
So Matar shows that the research points to the fact that virtual recruiting events are here to stay and that most TA leaders will use a mix of virtual events and in-person events as part of their talent acquisition strategies to win the war of talent.
Why is Virtual Recruiting Here to Stay?
Matar wanted to know why TA leaders thought Virtual Recruiting is here to stay. Specifically, Brazen asked 1,000 plus job seekers and 257 TA leaders, "what is the benefit that you are getting from virtual hiring events?"
Matar said that the top benefits the respondents pointed out are:
It's more convenient for the candidates, the job seekers (83%)
It saves them time and money (80%)
Matar said, "If you're a recruiting team, a campus recruiter, an experienced hire, whatever, and you've got to travel to go meet with candidates or bring candidates to you, there's a real hard cost to that. Time, money, swag that you bring to in-person events, whatever it may be. So there's a cost-saving there."
Removes geographic restrictions (75%)
Matar said, "Virtual events are a great way to open up your reach. And again, if you're trying to fight, and find talent for your open reqs and you're having a hard time and you've only been looking in that kind of same geographic area that you've always been looking for. What better way to open up your options than by going virtual and extending that reach."
Supports DEI Hiring Goals (55%)
"Whether it's the LBGT plus pride community, whether it's black engineers, women in technology, virtual recruiting is a great way to help you diversify your pipeline. And ultimately with the goal of bringing in more different perspectives, to help you add value to the organization," Matar said.
Reduce Carbon Footprint (51%)
"We see and hear in the news all the time now about how organizations like Fortune 500 companies, universities, or just across the board are really thinking about how they can reduce their carbon footprint," Matar said. "What better way to do that than to not have to have your people travel, fly all over, print off all of those marketing materials that you bring to an in-person event. And then have everyone throw it away and not get recycled. So a bunch of different factors here for why folks are continuing with virtual."
Matar summed up all the research saying, "You know this virtual or hybrid event strategy helps you connect with candidates in a remote world. You know, again, everybody's been working remotely over the past year. Some companies are going back in person 100% of the time. A lot more companies still haven't figured it out, but in all of the research that Brazen's been doing and what we're hearing is that the increase from before the pandemic to now, after the pandemic, like remote work is going to be much more ubiquitous within the workforce. And so you will have to have a way to connect with a remote employee, and virtual events are a great way to do that."
Best Practices for Virtual Hiring Events
Matar next jumped into the nine best practices for hosting virtual hiring events. This part of the presentation aimed to help RPO and TA leaders get the most out of virtual recruiting.
1) Promote the Event
Matar used the famous line from the movie Field of Dreams to contrast what is needed to have a successful virtual hiring event. The favorite line is, "If you build it, they will come." Matar said, "Unfortunately for virtual events, just because you built the event, doesn't mean that they'll come. And so, promotion is definitely one of the most important points." Matar said that he encourages all of his clients to give considerable thought to how they get candidates to attend the event and how they will engage with the candidates. He also said that it's essential to consider how you plan to communicate with your candidate and assess and qualify candidates.
Matar also said that you need to meet the candidates where they're on social media and their career path. "Are they on LinkedIn, or are they may be an entry-level position, a gen-Z, millennial that you're hiring for. And therefore they spend most of their time on something like TikTok, Instagram, or Snapchat," he said. "Promotion is so important to driving, folks, candidates to your virtual events, and thinking about where do my candidates hang out, and then putting together the appropriate messaging and promotional materials to connect with them through those different channels."
The last thing about promotion Matar talked about was promotional messaging. He stressed that it's important to have compelling messaging on the different social media channels. "If you think about comparing reaching out to a candidate on LinkedIn and just saying, 'hey we've got this job opening, come apply or submit your resume' versus; 'hey, we are going to have our recruiting team and our hiring managers attending this virtual event. We think that you would be a great fit for the role that we have open. Our team is here to talk to you to answer questions that you might have,'" Matar explained. "Human-to-human interaction goes a long way," he said. "We always see a huge increase in conversions, just by using the virtual event, and using the fact that you're bringing and putting your people forward as a great kind of draw for those candidates."
2) Segment Out Your Booths
Because each candidate will navigate your event based on the type of job, Matar recommends that you segment out your booths. In other words, he said, "Cater your booth content to your ideal candidate types based on the positions you're actively hiring for." When your virtual event is for hiring specific jobs, Matar said, "Make sure you lead with that information, it helps those candidates navigate the events, get into the booths, and check out the information that's specific and relevant, and personalized for them." He also said that catering the different booths to specific job types will ensure that each candidate talks with the hiring managers tied explicitly to their desired job. In other words, everybody matches up correctly.

3) Send Reminder eMails
Matar emphasized the importance of sending reminder emails. He said that promoting and engaging candidates doesn't end with the candidate signing up for the virtual event. "You have to continue, endlessly nurture those registers, all the way up into the moment of a reminder that the event is happening," Matar said. "Certainly make sure you provide options for them to get it on their calendars and remind them to come attend the event when it's taking place." He said that when you send reminder emails, you'll "see a boost in the attendance rates of those virtual events."
4) Enhance Your Employer Brand
An important best practice for virtual hiring success is enhancing your employer brand. Matar said that it's wrong to think of virtual events as merely a Zoom call. "The greatest opportunity for you as an employer in a virtual event is to enhance and highlight what makes your brand great," he said. "Like, why should people come to work for you? Why is your company a great place to work? What do other people have to say about your company? Leverage the virtual event experience to promote what makes you great."
Matar pointed out that the competition for candidates to attend your virtual event is tough, so you need to highlight the greatness of your employer brand. "The great thing about a virtual event is that a lot of times it's a way for you to get more mileage out of that amazing content that your team has already created," he said. "So again, those employee story videos, the testimonials, the Glassdoor reviews, the FAQs. All of that can live within the virtual event, and unlike an in-person event, where, you know, a candidate may be waiting in one line for one employer, you know, resume in hand, staring up at the ceiling of the lights, sweating, waiting, and not doing anything. But a virtual event, it's like this wide-open space for them to explore. To touch and feel. Get exposure to all the different employer brand content that's out there.
"The companies we see doing the best are the ones that spend the time to get their booths prepared beforehand with all of that great content. So that when candidates are coming before the event, during the event, and after the event, because a lot of times these events have a life beyond just when the event happens; they get to really immerse themselves in what you have to offer, and that's like one of the greatest parts about this."
5) Be Prepared to Use Multi-Channels
Matar recommends using video, but to be prepared to use chat and audio. He said, "Make sure that your team is prepared to use whatever channel the candidate is comfortable and able to use." Matar added that you want to make sure you're as accessible as possible for candidates with different abilities and disabilities. He stressed that your team should be prepared to use all the options available to communicate with the candidate so that your team is giving everyone a fair chance. For instance, Matar said, "Make sure that if you know video isn't an option, that you give candidates a text-only option. If text only isn't doable for them, then there's an audio or video option."
6) Get a Complete Picture of the Candidate
said that virtual events are a great way to get a multi-dimensional look at candidates and that four areas help a recruiting team get this complete picture of the candidate. Matar said the first three areas that recruiting teams can use to get a complete picture of the candidate are video chat, registration data, and the candidate's resume.

The fourth area is the transcript. Matar reminded the audience that virtual events are text-based conversations and these conversations turn into transcripts. "If you're thinking about virtual versus in-person, you're probably going to do both at some point in the next year. But you know all of your conversations in a virtual space like there is that transcript that becomes this really valuable, high-quality data that your team can always go back and reference something that you don't get in person," Matar said. "If you're having this conversation but also saved for later as you might need to do some additional assessment."
7) Staff the Right Number of People
When it comes to staffing the virtual event, "having at least one person for every 10 signups," Matar recommended. "And so if you have 100 candidates that are signing up for your event. You're going to need at least 10 people on your team to be there to have the meaningful conversations, the high-value conversations," he emphasized. "This isn't AI, this isn't robotic conversations happening; this is your team having high-value conversations with these job seekers and so you want to make sure that you have the appropriate number of people there to staff those virtual booths."
8) Effective Follow Up Strategy
Matar talked about a follow-up strategy. "Before your team enters into that virtual event, well before your team enters into that virtual event, you've got a very clearly articulated documented strategy for what your team is going to do next," he said. "Many of these platforms out there today will have options within the platform to easily send a candidate to a hiring manager, schedule an interview with a candidate that you had a great conversation with, or pipeline for later."
"The other thing about these virtual events is that every candidate is going to be right for moving to the next step. But they might be great for a role that you have an opening up in the future or maybe they need a couple more years of experience or something else," Matar added. "But you want to keep them engaged and so pipelining them and using the tools offered to you with the virtual platform is a great way to keep that conversation going."
9) Target Specific Job Openings
Matar's last best practice is targeting. "You don't want to just open up a virtual event to every role that you're hiring for in your organization," he said. "You're going to have a much more effective event, a successful event, if you can start to create themes and targeted events, and that's gonna attract the right candidates."
What to Look For in a Virtual Hiring Event Platform
Matar wrapped up his presentation with the five things you should look for in a virtual hiring event platform. He did remind the audience that he does work for a virtual event platform but that the key here is that you want to work with a partner that's thinking about your goals from a higher level. He said that you should seek out a partner who:
Works with you to support your recruitment and retention outcomes.
Has strong customer service, training, and customer education.
Possesses a full-feature virtual event platform that includes recruitment marketing tools, immersive in-event experience, customizable to enhance employer brand, and robust follow-up features.
Provides self-service
Supplies data privacy and security
About Brazen
Brazen helps employers succeed in the new all-virtual world by giving recruiters a variety of virtual recruiting tools like virtual hiring events, virtual career fairs, text, audio, and video chat, live video broadcasts, and more. By providing more options for candidates to connect with recruiting teams other than the traditional 'Apply Now,' Brazen is converting candidate interest into quality hires at twice the industry standard and in half the time. Brazen's virtual hiring event platform is designed specifically for talent acquisition and is used by the world's most respected companies including CVS Health, Starbucks, and KPMG. Brazen has been the leading provider of virtual hiring event software since 2013.