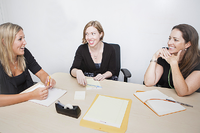 Are we approaching recruiting, interviewing, and development all wrong? Not if we follow the tips in these five great articles, which include tips around recruiting – how to hire for results and improve social recruiting – interviewing – five must-ask questions to find a great fit – and development – cultivating passionate employees and changing our overall approach to staff development.
Three Steps to Better Staff Development – Method 3 - @method3 – With staff development stuck in one-year appraisal mode, Millenials expecting swift, relevant feedback on a continual basis, and the cross-department teams becoming more common-place, it's time to rethink how we approach staff development. Managers need to start doing three basic things: 1) building relationships to better understand and help their team members tackle challenges; 2) building development around a clear set of values that are simple and enduring; 3) evaluating your performance management system to make sure it's working.
Survey: Why Your Social Recruiting Tactics Are Wrong – The New Talent Times - @NewTalentTimes – HR technology review firm, Software Advice, found that a whopping 91 percent of employers use social networks to screen prospective employees, and it may be causing hiring managers to overlook or dismiss top candidates. Recruiters and business owners said that a job seeker without a social media presence raises a red flag, but only 66% of job seekers use social media. Likewise, a full 44% of job seekers don't keep their LinkedIn profiles up-to-date because it's just not a priority. This causes a mismatch between resumes and online profiles, another red flag for recruiters and business owners. The takeaway: Be careful of eliminating great job candidates for the wrong reasons.
Passion At Work Is More Important Than Engagemen – OfficeVibe - @Officevibe – When a company talks about happiness at work, they tend to talk in terms of engagement. Well, as it turns out, passion is more important than engagement in terms of not just happiness, but productivity. A recent report from Deloitte found that 88% of employees don't have passion for their work, and so they don't contribute their full potential. Wow! How do you create more passionate workers? Encourage your employees to work cross-functionally; pursue side-projects; network with people in their industry; engage with customers; and use collaboration tools both inside and outside the company to make a bigger impact.
The 5 Must-Ask Interview Questions to Determine if Someone's a Fit – Entrepreneur - @EntMagazine – Craig Cincotta is the author - @craigcin – One of the best ways to hire is by looking for a good fit with your company culture. Generally, you want to ask questions centered around values and team work. Here are 5 specific questions you can ask during interviews that can really determine a good cultural fit: Why do you want to work at this company and what are your expectations? Who inspires you and why? What's your superpower? What motivates you to come into work every day? How do you rely on others to make you better?
Let's Fix It: End the Talent Shortage by Hiring for Results, Not Skills - Lou Adler -@LouA – Are we hiring all wrong? Adler argues that we are, because we write job descriptions based on what skills a person needs to have, not on what they need to do to be considered successful in the job. As it turns out, top performance is not directly correlated with "the perfect skill set." We have all met top performers who do not have all of the skills and experience but who can get the job done anyway – and that's what's important. When you write your job descriptions, list all of the things that person needs to successfully accomplish in the next 6-12 months, and you'll quickly fill your team with top performers.