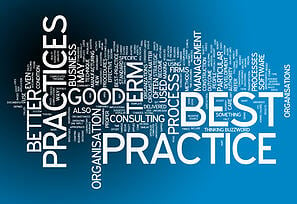 The most successful RPO providers help organizations with more than just recruiting processes. They help their clients meet business strategies with recruiting solutions and become true business partners in a tricky economy. One of the best ways RPO providers do this is by changing recruiting from a fixed cost into a flexible operating expense that businesses use to respond to business needs.
The big challenges companies encounter in business today are narrow margins, compressed business cycles, and skills and talent shortages. These can be addressed with recruitment process outsourcing best practices that help them execute long or short-term recruitment strategies to attract, develop and retain the right talent to gain a competitive advantage. RPO providers who understand the economy and global trends and the forces that drive them, and have in-depth industry knowledge, are in the best position to be strategic business partners.
Best practices in recruitment process outsourcing include using the most current and innovative recruitment technologies, being a strategic business partner rather than just another vendor, using rigorous metrics and reporting standards, and offering tailored RPO solutions.
Recruitment Technologies
RPO providers help employers quickly implement the best recruiting solutions with recruitment technologies to save time and money. The best RPO providers use the most current and most recruitment technologies to access and leverage data from various sources to aid the best decision making.
For instance, an RPO provider that has a full staff of experienced recruiters using advanced tools and resources like LinkedIn Recruiter, Google Hangouts, SwoopTalent and TalentHook can more quickly and easily source and reach out to the quality candidates their clients need.
Employers who work with RPO providers with innovative recruitment technologies can focus their business activities on key strategic initiatives rather than be diverted with costly recruiting resources.
Not a Vendor Relationship
Recruitment process outsourcing can be used as a replacement for just one or two recruiting activities to take the pressure off of overwhelmed recruiting and HR staff. But best practices in RPO include creating a real strategic partnership rather than a vendor relationship. Particular hiring challenges may still require simple transactional processing, but the real value in RPO services is effective process management to build the talent management function. Integrating RPO into the corporate culture as a business partner that understands the business and industry challenges creates sustainable value in recruiting, employer branding, and company culture management.
Ideally, organizations create the best results with RPO when using it as an extension of their own operations within the company. When RPO is assigned to an influential leader in the company, integrated into recruiting and employment marketing, and given the attention needed for successful operations, it creates a competitive advantage that transactional processing just can't.
When RPO providers are given clearly defined business and recruitment goals at the beginning of the relationship, they are able to develop strategic solutions that add real value. Whether it's just a single recruiting transaction or a full-cycle recruiting process that's required, when RPO providers act like strategic partners rather than vendors, they understand clients' business better and produce better recruitment results for them.
Rigorous Metrics and Reporting
RPO best practices include established rigorous metrics and reporting practices. RPO providers that use key effective metrics are better able to add value in a strategic role. They can make recommendations on business changes based on current data and see gaps or costly overlaps in recruiting processes. Companies will save money and get better service with metrics that analyze quality of hires and the impact on clients' sales or service, or that shed light on hidden costs. RPO providers that use rigorous metrics and reporting can help businesses and employers gain valuable insight into their recruiting processes and build their employment brands.
Tailored RPO Solutions
Tailoring RPO solutions at the outset is another valuable best practice. Focusing on clients' recruitment and hiring problems and creating a plan to address them specifically rather than offer an ala cart menu of recruitment services or an all-or-nothing approach creates streamlined solutions aligned with business strategy. For example, if a client is anticipating adding new business in the coming year and needs to quickly ramp up its workforce, a plan to source candidates in social media, use video interviewing, and coordinate with employment marketing to promote the culture and employment brand will provide critical recruitment success.
When considering RPO providers and services, look for best practices that will add value while growing your workforce and building a talent pool.
Author: Andrew Greenberg has over 17 years of experience in Talent Acquisition. Industry-educated with a Master's Degree in Personnel Psychology, Andrew draws upon a background that is rich with experiences from both Corporate and Agency staffing environments.
He is the founder and Managing Partner of The Recruiting Division, a leader in U.S. based RPO-style recruitment solutions. Learn more about The Recruiting Division.
Related Resources
More effective recruiting with satisfaction surveys
Types of recruitment engagement: Point-of-service RPO
Looking for an RPO provider to help with your recruiting needs? The Recruitment Process Outsourcing Association offer the RPO Buyer's guide, a non-paid for play, searchable list of verified RPO providers. Access the RPO Buyer's Guide.