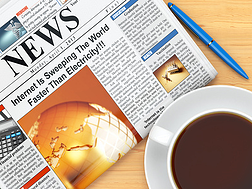 This week has been a little slow when it came to the latest HR trends and news. However, we do have a few nuggets this week, like the big disruptions to expect in the RPO industry this year, or what companies are (and aren't) doing to bridge the skills gap in their organizations. Even for a slow week, we still have a few cool HR current trends and news that you need to know about.
Reach Out and Train Somebody: How Two Companies are bridging the Skills Gap – The Hiring Site – This article emphasizes two organizations that are making an effort to bridge the skills gap, and it's not even the skills gap within. Staffing firm Randstad is creating a series of videos to encourage people to pursue certain degrees, degrees in stable industries that are in desperate need of qualified talent. Education services company, Learning@Cisco, created a Cisco Certifications program to provide technological training and certification for networking professionals.
Is Groupon's Problem Talent (or Recruiting)? – The Seamless Workforce – Groupon just fired its CEO of four years, and whether or not he was a good leader is someone else's question to answer, this article argues that perhaps the daily deal site did not have the right talent in place to move the company forward. Talent and recruiting is just as important as leadership, if not more important, in pushing a company in the right direction and staying as an industry leader.
New Survey Shows What Employees Really Feel About Working Today - TLNT – Half of all employees are frustrated about work, and that probably means that your employees are frustrate dour work. According to the new survey, America's Workforce: A Revealing Account of What U.S. Employees Really Think About Today's Workplace, some of the culprits include a lack of understanding the company's vision (or knowing what it is), irrelevant training, and a lack of a big picture contribution. That already offers a few places to make meaningful changes to employee engagement.
Trends and Retention – Staffing.org – The title is vague, but the article is about trends in retention metrics and offers 10 reasons why retention is now an accepted HR metric. Among those reasons are validation, survival, and company culture. How well your company retains new hires, and whether or not these new hires remain fired up and productive after their first year, is key to business operations.
RPO Services: 4 Big Disruptions This Year – The RPO Hub – The recruitment process industry is changing, so the services RPO providers are offer are changing as well. What are the big changes to expect in 2013, if they haven't happened already? This article discusses four trends that both providers and customers need to be aware of, as these disruptions affect how services delivered and even the types of services that could (or ought) to be available.
Related Links
Top Hiring and Recruiting News: Process Recruitment and Sourcing
Hiring and Recruiting News: Employee Engagement