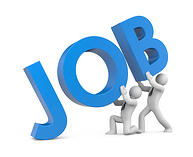 We're already a month and a half into the New Year, where some of us may have no problem hiring, while others are still struggling to fill a position or two. If you're in the latter group, perhaps you're encountering some of the big recruiting challenges that are affecting many employers. Here are the four recruiting challenges you'll have to overcome this year:
Challenge 1: Candidate Sourcing is Changing
Sourcing and recruiting may be two different things, but the average recruiter spends 15 hours a week sourcing great candidates, so something is going on here. Perhaps there's a better way to spend that time, either with a dedicated sourcer or by using other methods to increase the speed and quality in candidate sourcing, especially since there are more candidate sourcing points than ever before. This should make sourcing great candidates a breeze, since there are now more great candidates in more places. But, this does mean candidate sourcing is changing since it's now about selling a possible candidate on the position and the company instead of just getting people to apply.
Related: Why sourcing isn't recruiting and the impact on hiring.
Related: The end of sourcing is near... the remaining recruiting challenge is selling
Challenge 2: New Technology
There are two new types of technology that will have a huge impact on hiring and recruiting this year: applicant tracking systems and recruitment marketing platforms. Applicant tracking systems will be more important than ever as they become the core solution for all sorts of tracking and recruiting needs i.e. compliance tracking, candidate-relationship management, talent networks, social collaboration. Previously, incorporating technology into the recruiting process has been disparate, involving a number of different technologies. This year, they'll be an increased need to consolidate.
Recruitment marketing platforms are about reaching potential candidates in places you didn't know they visited and using analytics to determine what attracts people and what doesn't. Hiring and recruitment has taken on a marketing aspect, utilizing tools such as SEO, email, social media and landing pages to market open positions and the organization as an employer. This approach also includes current job candidates as well as future candidates and people who may refer candidates.
Related: How to choose an applicant tracking system (ATS) for recruiting
Challenge 3: Bridging the Skills Gap
When is this ever not a recruiting challenge? Even so, this problem isn't getting any better, especially when only 17 percent of employers are finding candidates that have the skills needed in open positions. It makes you wonder what sort of problems the other 83 percent are having. To fix this problem, a good place to start is with your job descriptions, making sure they are accurately portraying the skills and qualifications necessary for the position. Try to emphasize the day-to-day tasks and skills necessary to do the job and to accomplish goals for the company instead of looking for a certain amount of education and experience. Also make sure that you're not asking for something that's nonexistent, such as 10 years social media marketing or mobile marketing experience, both of which haven't been around for 10 years.
Of course, another great way to find great candidates is to source internally, taking the time to train them for the open position or to recognize a great employee for their hard work and dedication. Granted, this trades one open position for another, but the new open position could be easier to fill, and you have the outgoing employee to tell you what's really needed to be successful in the old position.
Related: The 3 biggest hiring challenges in 2013
Related: Overcoming the biggest challenge in hiring and recruiting
Challenge 4: Creating a Candidate Experience
Part of marketing positions and creating an employment brand is delivering on the promise, and that promise is in the candidate experience, ensuring that they have a good experience from the moment of seeing a job opening to the end of the onboarding process. This involves creating content to engage both active and passive job seekers, and providing an application process that takes less than 10 minutes to complete. It also means eliminated the "black hole" the break in communication when a candidate is no longer being considered for a position. A 2011 Candidate Experience Awards Survey of 8,500 job seekers found that their top complaint was an employer's failure to communicate their status.