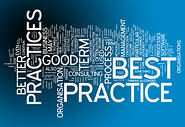 Hiring an intern should not be considered as any different of a process as hiring an employee. Even though this person is short-term, low-paid or unpaid, and not as experienced as others in the organization, the best practices for hiring should still apply. Here are the six best practices for hiring an intern, and following these practices will make the experience a good one for both the company, and the intern.
Highlight What's In it For Them - Especially for low-paid or unpaid internship positions, its critical to emphasize what's in it for the intern when going through the hiring process. If all this person is going to do is coffee runs and answer phones, then it might not be worth it for someone who's looking to gain experience. Just like with any position, it's a best practice for hiring to make sure the potential candidate is perfectly aware that he/she is receiving benefit by working for your company.
Keep a Consistent Pipeline of Candidates - This is important if your company always has an internship program running, or is looking for interns regularly. Creating a pipeline where good candidates are always on file is best practice for hiring interns, particularly because internships are short-term. In some cases, you may be able to rehire an intern, but most of the time they leave as soon as the internship is over.
Be Clear on the Type of Person You Want - It's important that the intern is able to do the job as well as fit with company culture. To prevent someone from leaving a week or two into the position, be clear on the type of person that fits with your company culture, whether that's a social butterfly, formal/informal, or someone who's into community service.
Have Someone Specific to Work with the Interns - Just like how good onboarding is a one of the best practices for hiring employees, part of what makes good onboarding for interns is having someone specific to work with them and answer their questions. Understand that interns have little professional experience, and could end up lost and confused if left to navigate your corporate structure on their own. Someone specific, whether it's an internship coordinator or a department manager, will help the intern learn how to do things and what's expected of them.
Offer Something If It Can't Be an Hourly Rate - With internships, the top candidates will likely receive multiple offers, and will most likely accept one that pays. If you are unable to pay an hourly rate, then consider payment in other ways. Academic credit is the most common, but also consider things like gift cards, reimbursements, a small stipend at the end of the internship, or the possibility of an internship renewal or a paid position at the end of the internship. This will make it easier to attract those top candidates.
Of course, don't forget to consider those best practices for hiring anyone, such as a clear job description and being mindful of the impression your company makes on potential candidates. Just because this person will be an intern doesn't mean the hiring process should be any more confusing than with your full-time positions.