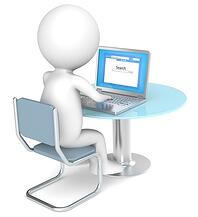 The job description is the starting point of recruiting. It's what candidates see first, and what recruiters use to find the perfect fit in their recruiting. How can you make your job description more effective in recruiting the right kind of candidates?
Here are three simple tricks that can give you better results with your recruiting:
Use present tense, action verbs: Verbs like "use" and "perform" don't paint a very clear picture of the skills necessary to do the job. If the job description doesn't deliver a solid idea of what it entails, and how the necessary skills are applicable, then no candidate worth hiring would consider applying in the first place, and no recruiter will be able to find someone who can fulfill the position.


Describe a "typical" day: Illustrating a typical day in the job description allows the candidate insight into the necessary skills as well as the social aspects of the position. Stating requirements such as "two plus years experience in x," "knowledge of y expected," say very little about what the person would actually be doing on a day-to-day basis. Without a good job description that discusses what the person daily tasks will be, then the candidates that come through your recruiting will be too general to highlight what they can bring to the position.

Describing the typical day also explains what a candidate will get out of this position, which is key to attracting young talent, according to HR Analyst Jennifer King. Millennial candidates want to know what skills they would gain and what professional connections they will make.


Outline the goals: No one likes a dead end job, so end the mystery by putting the goals to achieve right in the job description. Once a candidate is hired, that person will be expected to go for those goals. So, why not let candidates know outright what those goals are, and maybe attract candidates that might actually be able to achieve them? It gives candidates something to highlight in their applications, while giving recruiters something to discuss in the interview and a benchmark to use when selecting someone to hire. Outlining goals also tells the candidate why the position matters to the company, encouraging the best of them to apply.
Recruiting starts with the job description. If it's not going well, then take a look back at the words you used to describe your open position. Communicating what you need clearly could make all the difference.