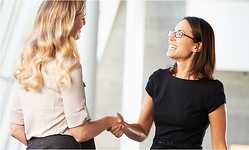 The most successful partnerships between recruitment process outsourcing (RPO) providers and their clients are not one-off deals. Rather, they are ongoing, long-term relationships, where the client trusts that the RPO provider will understand and meet their recruiting needs and larger business needs. In this week's RPOA Roundup, we take a look at the best tips for a successful RPO relationship, from picking the right provider and why you should trust them, to how providers can ensure the client gets their best work as well as strategies providers can use to meet increasing client demand for RPO services.
Winning Top Talent with RPO and ATS – RPOA – @RPOAssociation
Using recruitment process outsourcing (RPO) providers and applicant tracking software (ATS) can streamline your recruiting process and make hiring the right talent a breeze. This article introduces recruitment process outsourcing, describes its history, and identifies organizations that can benefit from using RPO. The article then goes on to introduce ATS, how it's used, and how ATS can be combined with RPO for the complete recruitment package.
Five Keys to Selecting an RPO Provider – Yoh - @YohCorporate
Outsourcing your recruitment processes can save you time, money, and manpower, but you need to make sure you select the correct RPO provider. This article explains what RPO is and what it can be used for, and introduces the five most important elements of selecting an RPO provider. These include understanding your process, knowing why you're selecting RPO, knowing what questions to ask a potential provider, committing to an RPO strategy, and planning for the long-term change that will come with outsourcing your recruitment process.
5 Reasons You Can Confidently Outsource Recruiting – Yoh - @YohCorporate
Your recruiting function is central to the long-term success of your business, and being hesitant about trusting this function to an outsider is understandable. This article presents five reasons why you can be confident about your decision to outsource recruiting. These include that your RPO provider has the same goals that you do, that you won't lose control over the process, that your current recruiting strategy may not be enough to fulfill your business needs, that your RPO provider can be as flexible as you need, and that providers have knowledge of best practices that they can apply to your business.
The Best Advice for an RPO Consultant: Immerse Yourself in your Client's Business – ERE – @ERE_net
To be successful recruiting for a business, you need to know the business, its needs, the state of the industry, and what the competition looks like. Knowledge is power, and the case of RPO relationships, this power will let you be an effective and valued partner for your clients. This article suggests that the best way for RPO consultants to succeed is to immerse themselves in their client's business and learn it inside and out, preferably early on in the relationship. It suggests areas to focus on, and recommends sources and techniques to use in the information crawl.
The RPO Twist – Staffing Industry Analysts - @execforum
All industries and business services change as their product or service matures, and RPO is no exception. While early RPO providers created unique solutions for their clients because clients were scarce, increased recognition of RPO as a strategic tool and increased demand has made it difficult for RPO providers to keep up with demands for unique solutions. This article examines how this evolution took place, and suggests solutions to keep up with customer demand. These solutions include introducing holistic workforce management, implementing service models that are both flexible and global, and using reporting and analytic data that match client needs.
Related Articles:
Added Value from RPO Engagement
Recruitment Process Outsourcing Best Practices