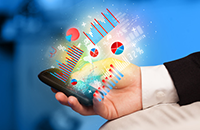 The labor market has been very challenging this year from a talent acquisition prespective. Employment numbers in 2015 started very strong and stayed strong month after month. In fact, according to the U.S. Bureau of Labor Statistics, October jobless rates were down in 32 states, payroll jobs up in 40 states, unemployement rate is at 5.0%, and Employement Cost Index (ECI) increased to +0.6%. While this is great news for the U.S. economy, what does it mean from a talent acquisition perspective? In our series of interviews with recruitment process outsourcing leaders we explore the state of recruiting and hiring as we conclude 2015 and going forward.
Reference: Regional and State Employment and Unemployement Summary
The Recruiting Market
According to John Younger, co-founder of RPOA and Accolo, 2015 saw an "incredibly aggressive recruiting market." Unemployment is at its lowest since 2008, and a more candidate-driven recruiting process means that more employees feel comfortable leaving their jobs. Average time-to-fill to open positions has increased, and Younger emphasized that this is due to "simple supply and demand." He cited the healthcare sector as an example of an area with increased time-to-fill, due to increased demand for services, particularly as the baby boomers retire and experience the greater healthcare demands that come with old age.
The State of Recruitment Process Outsourcing
The current state of the recruitment process outsourcing industry, according to Younger, is "robust, for lack of a better word." Due to the aggressive recruiting market, RPO acquisitions are up, and the industry as a whole is seeing more deals happening faster. Younger cites three distinct trends in RPO development that he has seen in his role at Accolo: first, deals are closing faster, inside of four or five weeks; second, deal size is getting larger, and companies who were unsure about engaging an RPO firm are embracing pilot projects as a way of experimenting with the benefits of RPO; and third, companies are asking for multi-country support, instead of solely focusing on recruiting within the United States. Following the third trend, mergers and acquisitions that Younger has seen are mostly multinational. As an example, he cited Career International, a company based out of China that is acquiring companies in multiple countries.
Predictions for 2016 and Beyond
When asked about his predictions for the recruiting industry as a whole, Younger said that 2016 will see the current trend of certain segments heating up and slowing down continue. Specifically, the tech sector will likely continue to heat up in terms of the number of companies looking for the same talent to fill positions. He also predicted that companies are going to see capital tighten up, which will probably translate into a slowdown in accounting, management, and any area that could come under "general administration." This venture capital and lending slowdown will also affect employee confidence in changing jobs, as Younger predicts that people will get more cautious about shifting jobs in the later part of 2016.
In the RPO industry, Younger believes that RPO companies with differentiating elements will be more successful in the future. Differentiators can be either functional or vertical, but it is the companies who position themselves to be at the forefront of innovation who will come to dominate the industry. Additionally, the increased emphasis on multinational deals and the tendency of companies to have offices in multiple countries means that RPO companies will need to find international partners or develop international capabilities to meet the recruiting needs of client. Younger concluded with a warning for the RPO sector that as more deals appear, it's essential to maintain deal flows that are within the RPO provider's capabilities. The worst thing that could happen, Younger says, is for multiple RPO providers to bite off more than they can chew, because that can hurt the whole industry.