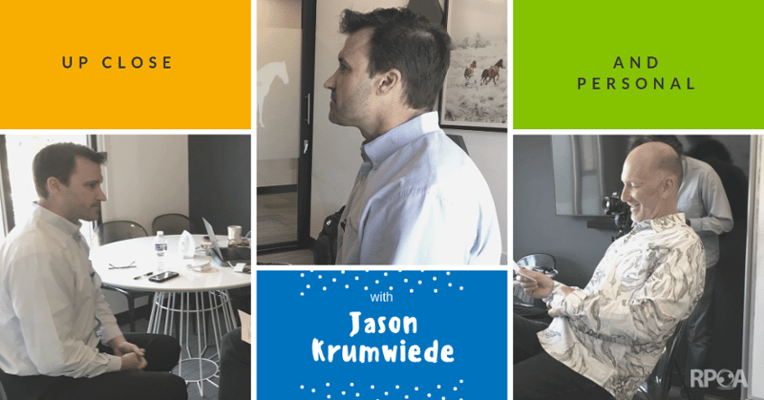 For over 20 years, Jason Krumwiede has built and led recruitment process outsourcing (RPO) firms, technology startups, and talent acquisition functions. He helps clients achieve their goals by integrating proven recruiting and workforce solutions to attract talent that meets all his clients' unique hiring needs.
Currently, Jason is the RPO Practice Leader for Broadleaf Results, Inc., a talent and workforce management company within the Aleron Group of brands. Prior to Broadleaf, Jason worked for TalentRISE, a Chicago-based RPO firm which was acquired by Aleron in February 2019.
As the leader of Broadleaf's RPO business, Jason is a steadfast advocate for RPO. He recently joined the Advisory Board of the Recruitment Process Outsourcing Association (RPOA) and is leading new initiatives for the organization that deliver on their vision of educating the marketplace on RPO's numerous benefits.
Jason was recently interviewed by fellow RPOA Advisory Board member, Cory Kruse with Orion Novotus, and he spoke candidly about his work, life, and career in RPO. The following is a transcript of their conversation.
Watch the video for the full interview.
Cory: What is RPO?
Jason: We define RPO, or recruitment process outsourcing, as a turnkey corporate recruiting solution. It's a solution that we can plug into the HR or Talent Acquisition process.
We can handle the whole end-to-end process or pieces and parts in between. It's really a strategic element of Talent Acquisition and we're seeing especially Talent Acquisition leaders nowadays, really, how they integrate RPO solution into their overall Talent Strategy.
I'd also say Business Leaders are integrating pieces of RPO into their businesses.
Q: What would you say RPO is not?
RPO isn't a temporary staffing solution. It's not a Contingent Search firm solution where you throw out a job requisition to an individual recruiter and then see what candidates that they can come up with and throw them over the fence.
So those are kind of the two primary things that folks (clients and prospects) think that RPO is but it's really not; it's a strategic Talent Acquisition solution designed for that company to really go after and attract talent that's going to drive the business results of their organization.
Q: Why do you think RPO isn't as well known among some business and talent acquisition leaders?
I think it's probably the acronym. I think it hasn't been fully adopted-- RPO. A lot of Business Leaders refer to it as staffing or recruiting or hiring. A lot of Business Leaders, in particular, refer to it as Staffing, which I'm okay with.
I think especially nowadays with Talent Acquisition leaders when they're thinking about scaling their internal recruiting function to meet the needs of the business, RPO has to be part of that strategy.
Larger clients- and even midsize clients- need a partner that is really more than a contract recruiting solution or a bunch of search agencies that are trying to identify talent for the firm and throwing it out there. So when we sit down with our clients, it's really around, what's the business value proposition? How we can impact their business and what does it mean and what does it look like and feel like so it's very much a strategic decision- not only at the HR level, but also at the business level.
Q: Why do RPO engagements sometimes fail?
I think a lot of it has to do with unrealistic expectations.
There's businesses that need staff extremely quickly and they're unrealistic in terms of timing that they can bring those folks on board in the volumes that they require.
Sometimes you want to be optimistic, you want to share best practices and watch-outs, but just managing those expectations with the business as they try. It's impacting their year and many times they need to add people and talent or staff to the equation to hit their business goals and they haven't set themselves up to hit those goals. So now they're reacting to something that, let's say Q1 was off a bit, and now they've got to make things up in Q2 and that puts exceptional pressure on the Talent Acquisition and that falls down to the RPO solution.
Q: How long have you been in the RPO space?
I've been in the RPO space 20 plus years, about 25 years.
I first got my kind of the first foray into RPO really during the dotcom boom. What I recognized, and started a firm to address, is that many of the dotcom startups are getting Venture Capital funding and they just had a very disjointed Talent Acquisition strategy and felt that there is a full-service solution that can plug into these new organizations and be their de facto Talent Acquisition group.
Q: How do you describe your work to your mom or dad?
First, I've described it several times to her- and my dad. Typically, I leave the acronym or RPO to the side and I described it as I said earlier, a turnkey corporate solution or oftentimes I'll just say we're an executive headhunting business, but we just do it at the staff level. So we're hiring, you know hundreds of employees for our clients across the country for corporate jobs, for call center jobs, and I generally refer to it in that vein.
Q: Tell us about someone who had a significant impact on your career.
So someone who's made a significant impact in terms of my professional career and how that relates to RPO is actually one of my business partners, Jim O'Malley.
Jim brings a level of passion and excitement to the recruiting business.
I worked for Jim about 20 years ago at Deloitte and we've just stayed in touch ever since. I think what I've learned about Jim- and through Jim- is really getting a deep relationship with that client that's built on trust and the confidence that you can come in and execute. Then also the six degrees of Jim; the ability to make that three degrees and connect with people on a regular basis and form those relationships has made an impact on me.
Q: Complete this sentence: "If I wasn't in the RPO space, I would be…"
If I wasn't in the RPO space I would be a coach. I coach my girls in basketball and I have for several years. I think the ability to influence young people and teach them about teamwork, how to strive and win together with all the elements of coaching young kids and doing it. Well, I would love to do that as a profession going forward next time.