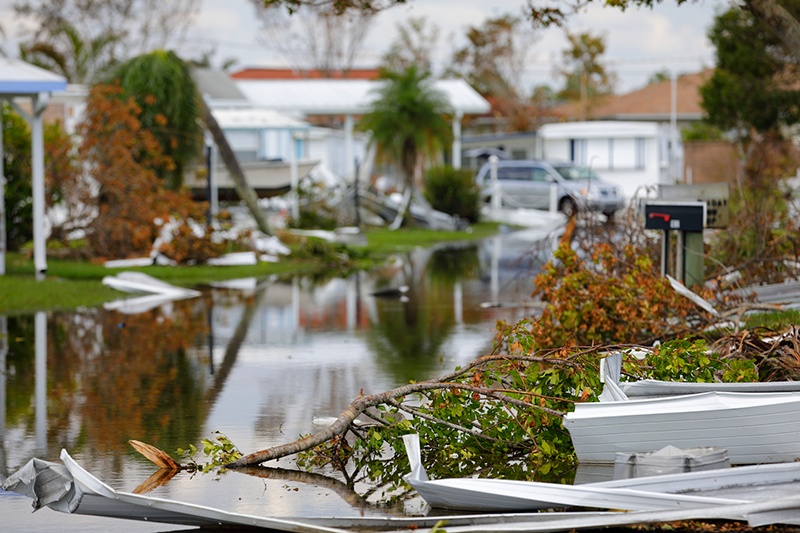 During our last coverage of disaster planning and management, we heard from People Science on their encounter with Superstorm Sandy and how business had to continue on, despite several weeks of change. In this article, we look at another RPO's brush with Hurricane Irma and offer some advice from the experts on keeping your company (and clients) afloat during a natural disaster.
From Harvey to Irma

Only weeks before, the offices of Hueman watched as Hurricane Harvey bore down on parts of Texas, dumping 9 trillion gallons of water on Houston and its surrounding areas. The storm, which lingered over Houston for days, is speculated to have caused between $150 and $180 billion in damages, and recovery efforts are slated to go on for many months.

For Hueman, it was Hurricane Irma that now threatened the area. With Harvey fresh on the minds of staff, Hueman prepared in whatever ways they could.

"Our team at Hueman was as prepared as we could be for Irma," says Sarah Palmer, Vice President of Marketing at Hueman. "It's difficult to ever feel – or be – fully prepared for a natural disaster. We were focused on the safety of our employees and their families foremost, and then commitment to our business partners."

Nonetheless, Hueman took a number of actions to keep business moving uninterrupted as much as possible, including multiple meetings by the leadership team prior to Irma in order to review and understand each and every scenario that could happen, and make sure they had an appropriate response plan.

"We have a disaster relief plan that is referenced for all hurricane or related events, and the leadership team reviews and expands upon it each time [there is a new event]," explained Palmer.

Text messages, email messages, and social media were all part of the layered communication plan in place to provide updates about the office to clients and staff, and to receive updates from staff and clients about their safety.

There is Always Room for Improvement

Even with thorough planning, you can never be fully prepared, and Hueman learned a few lessons in the aftermath of the storm.

"Next time, we'll use more sandbags and wood panels to protect our office," mused Palmer.

Despite the sandbags placed along the office doors to keep the office from flooding, water managed to seep up to 15 feet beyond the office entrance into office grounds, necessitating several days worth of cleanup and drying to prevent mildew and mold. During this time, recruiters were moved to other areas of the office to escape the noise created by the industrial strength fans used for drying the halls.

Staying Afloat: Hueman's Advice in the Wake of Irma

Given the frequency of hurricanes and storms in 2017 – and the question of whether we can expect more of this cadence moving forward, it's prudent to prepare for the worst now so that you can minimize damages to your offices and your business. Follow this advice from those who have stood in the line of fire to help prepare:

Prioritize the safety of your employees and their families.
Remember that your people are most important to your business, advises Palmer. Your employees have families and homes as well, and pushing your employees to the office can have consequences, particularly as traffic and other travel delays mount due to the storm.
Prepare for all scenarios.
During a hurricane, flooding and loss of power are typical for areas affected. However, preparing only for the common outcomes will leave you vulnerable to unaccounted for issues. For example, recruitment company People Science found itself without cellular services during Superstorm Sandy, meaning cell phones were of little help for reaching out to employees or clients.
Protect your assets.
In addition to placing sandbags along the doors of the building, Hueman also elevated all of their standing desks to the highest levels and covered all technology with plastic bags for protection. All electrical cords were also unplugged from their sockets to minimize risk of shortage or fire, says Palmer.
Communicate clearly and often to employees and business partners.
Hueman prepared messaging to send to all business partners to keep them updated during the storm, and created a text alert system to communicate important, up-to-date information to all internal employees. People Science employed similar methods, relying on social media, landlines, and multiple internet providers to keep clients and employees in the loop.
Remain calm.
"Understandably, stress levels are high in times of crisis," says Palmer. "It's important to stay cool and focused on safety and preparations. Do all you can, but follow your best judgment and remain calm."

While keeping your business running during a natural disaster is trying, maintaining your client relationships during these difficult times can be just as difficult. Check out our article on communication during disasters to make sure you stay connected in times of duress.