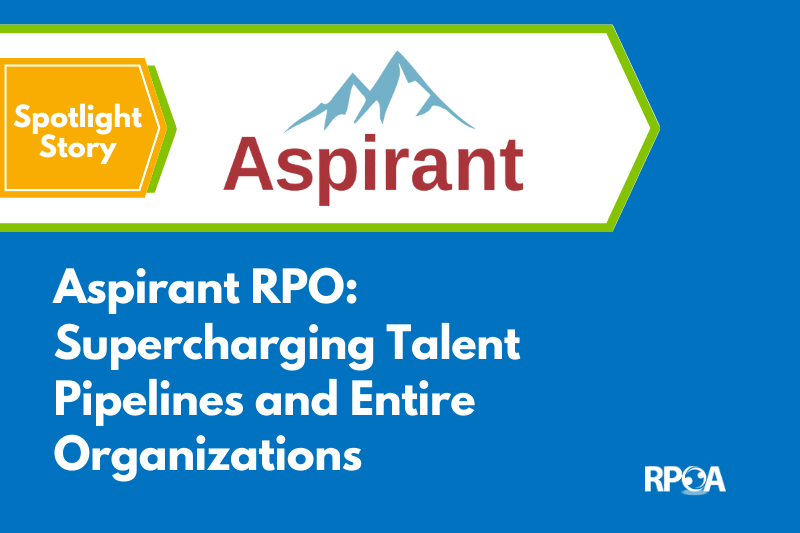 A major regional grocery chain in the eastern U.S. needed 10,000 matching talent profiles in two weeks. It was the holiday hiring season of 2021, the pandemic was still with us, and the holiday rush was fast approaching. The grocery chain's recruiting team needed the profiles to fill 3,000 jobs covering five states. If the jobs weren't filled, the chain would need to shorten store hours and ask the current staff to work double duty. The communities the stores served would feel the most significant impact. Without the correct number of employees, the stores couldn't provide the food their customers needed for the holiday season and everyday living.
Despite the high unemployment rate brought on by the pandemic, it was difficult for the chain's recruiting team to fill the roles. The grocery chain didn't have the in-house resources to create 10,000 profiles and fill 3,000 jobs in such a short timeline. It turned to Aspirant RPO for help.
After assessing the chain's current talent strategy, the Aspirant RPO team employed its Powersoucing® platform to increase the candidate flow of the hiring process. Powersoucing® is a proprietary recruiting platform that researches, identifies, generates, and engages qualified candidates.
With the grocery chain, the platform verified each qualified candidate's contact information, conducted outreach, generated interest in the chain's most vital roles, and sent the new leads to its career site to apply. As a result, the Powersoucing® platform generated 15,000 verified talent profiles on time, and the chain filled the 3,000 roles in time for the expected holiday rush.
The Aspirant RPO Difference
Completing RPO projects, such as the one for the regional grocery chain, is an everyday occurrence for Aspirant RPO because it has the in-house expertise to complete the job. "It may only be for a particular project, where there's a beginning and an end date in mind. The client has to research particular sources, and probably do a cost justification. We have this expertise in house. Project RPOs like the [grocery chain], we handle with regularity. Our ability to turn it on and turn it up is innate to what we do every day," Executive Vice President Patty Silbert said.
Aspirant RPO can tap into an enormous network of expertise because it's part of a global management and technology consulting firm, Aspirant, which is located in Pittsburgh, PA. Being part of a global consulting firm differentiates Aspirant RPO from other RPOs. It can collaborate with innovative subject matter experts in strategy and transformation and organizational effectiveness. As a result, Aspirant RPO uses a consultative and innovative approach to offer creative and true end-to-end RPO solutions that positively effects talent pipelines and the future of entire organizations.
Aspirant RPO was first formed as Newton Talent in 2008 to provide talent solutions to clients working within Newton Consulting. Newton Consulting rebranded itself as Aspirant in 2017, and later, Newton Talent became Aspirant RPO.
Silbert has led the RPO practice team at Newton Talent and Aspirant RPO since 2016.
Sharing Knowledge and Deploying Resources Quickly
As an RPO leader, Silbert understands that talent acquisition is an expansive landscape of people and technologies, which lends itself to a large opportunity to educate. "I like the opportunity to educate and help organizations use data and insights to make the right decisions about the way their talent organization should be structured and the ways they attract and engage potential candidates," she said.
Aspirant RPO is always ready to share knowledge and deploy resources quickly for organizations in various industries such as grocery, insurance, and healthcare. In sharing its knowledge with employers, the Aspirant RPO team can uncover hiring challenges from employer branding to sourcing strategies and onboarding.
"Our ability to scale in times of rapid change allows us to be fully ready to deploy resources and start a project very quickly versus somebody internally having to build the business case and ask for resources to hire," Silbert said.
As a result of the Aspirant RPO's quick deployment of resources, it helps employers solve complex hiring challenges that arise from short hiring timelines, highly competitive talent markets, or inadequate sourcing resources.
The Aspirant Impact on The Community
As a commitment to raising awareness of and preventing domestic violence, Aspirant uses its abilities in strategic planning, app development, and organizational improvements as part of Aspirant's Connection of Hope. Launched in 2017, this campaign spreads awareness of and helps prevent domestic violence throughout Pittsburgh.
In 2018, Aspirant and the Women's Center & Shelter of Greater Pittsburgh (WC&S) released a new version of the RUSafe mobile app and other life-saving resources. The free interactive RUSafe app assesses the potential for domestic violence and harm in a dangerous relationship.
By answering a few simple questions about the relationship, RUSafe helps people understand possible threats they may face while simultaneously connecting them with nearby emergency shelters and domestic violence hotlines.
And in 2020, Aspirant and the WC&S started the initiative titled "Aspire to Your Full Potential." This initiative provides WC&S with funds to assist women and children gain freedom from abuse through transition-related expenses, including relocation fees, transportation costs, moving expenses, education, legal fees, utilities, furniture, and even security systems.
Aspirant is proud of what it has achieved. But it's more excited about the future. It continually seeks new ways to improve how and what it delivers for clients. Aspirant RPO is a collaborative and innovative RPO partner that works smart to find the best solution that fits your company's hiring situation.
Recommended webinar by Aspirant: Learn how to use the power of storytelling to recruit candidates more effectively