The talent shortage remains complicated, causing significant price hikes due to unprecedented talent challenges. The peak in pricing is near, but it's hard to gauge it because the economic environment looks pretty different from other similar situations. What's the impact of the talent shortage on outsourced recruiting pricing, and what's the outlook for pricing in 2023? Does moving to alternate commercial models result in genuine cost savings?
In a recent Everest Group webinar, analysts discussed the evolution of demand for outsourcing services in 2022, factors causing changes in BPO pricing, the impact of commercial clauses on pricing, and the outlook for pricing in 2023. While EG's experts talked broadly about BPO (business process outsourcing) pricing, their valuable insights can help recruitment process outsourcing (RPO) providers know what to expect in 2023 regarding pricing. This post is a recap of their discussion
The Evolution of Demand for Outsourcing Services in 2022
Prateek Gupta, Vice President at EG, pointed out that demand for outsourcing services started to increase during the second quarter of 2021 and continued an excellent trek at the start of 2022. He attributed the positive trend to enterprises continuing to embark on digital transformation journeys, leading to portfolio diversification and pricing expansion in the first quarter of 2022. However, he noted that geopolitical conflict and inflation caused central banks to raise interest rates, signaling an increased likelihood of a recession. And this led to a slowdown in buyer decision-making in some industries during the second quarter of 2022. He explained that the third quarter of this year saw mixed sentiments within outsourcing services--easing of employee attrition and overall decent demand, but a decrease in net new digital transformation initiatives.
Rahul Gehani, an EG partner, remarked that all enterprise stakeholders expect global economic problems to continue, and recession is now almost a certainty. He shared that there will be new priorities for spending from enterprises, with more impetus on initiatives that drive cost takeouts as opposed to modernization or transformation-related initiatives. He related positive news, "The overall growth reported by major providers has been in the range of 17 to 19 percent." And he said that service providers have been reporting robust growth, with the industry growing upwards of 12 percent.
Kunal Verma, Practice Director at EG, gave a cautious observation from the signals of some service providers. He explained that providers expect to end the year with solid momentum and higher net new business, providing a good foundation for next year's growth. However, he pointed out that enterprise clients exhibit cautious behavior, which may impact next year's growth potential. Specific areas that could fuel future growth include digital transformation and cyber security.
Abhishek Sharma, an EG partner, explained, "Any conversation about demand needs to cover the service models as a whole." He observed that GBS or in-house models had consistently increased over the past 12 years, with a slight change in 2021-2022. The pandemic may have affected the setup of new centers and expansion.
Gehani attributed the increase in the use of GBS or in-house models "to the strong demand for the next-gen skills such as Cloud AI, Ml, and analytics." He said, "On the one hand, we see a lot of demand for all these areas. On the other hand, you know, the supply of talent was constrained." He pointed out that as a result, GBS centers are finding it challenging to fill the needs of organizations, so enterprises are giving more work to service providers. He believes that this issue is specific to the current year. And he concluded that a recession could lead to stabilization in the talent equation and a resurgence of GBS centers.
Watch the webinar: Outsourcing Services Pricing: What to Expect Next
Factors Causing Change in BPO Pricing
The speakers all agreed that pricing doesn't exist in a vacuum. There are always factors creating context to the changes in pricing. So the panelists laid out some factors causing the change in BPO pricing.
Verma observed that companies have mainly followed the demand and supply of talent to reduce prices. In 2022, demand for talent escalated too high, and supply shrank, especially in the technology sector. From this action, he said that across the board, they're seeing high wage inflation and elevated levels of attrition that have propelled an increase in rates to align with higher expectations of service quality or digital innovations.
From an RPO perspective, Everest Group tracks the parameters mentioned in the chart below and advises Enterprises on their outsourcing efforts and service providers by benchmarking pricing, solution sizing models, and SLAs.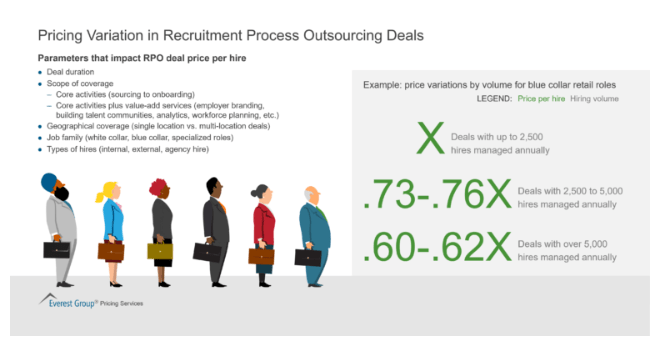 With that said, Gupta agreed that the talent demand has been significant over the past one and a half years, and the talent crunch has been playing spoilsport for providers. The talent shortage issue, he added, has been further exacerbated because of geopolitical issues, especially with the ongoing war in Eastern Europe impacting global delivery from nearshore Europe. He explained that this has increased demand for other established geographies, such as India. There have also been delays in processing US visas, which has resulted in higher usage of subcontractors (who are more expensive). Providers have been trying to pass on the increased cost to their clients due to all these factors.
Verma explained that BPO pricing has increased by 3 to 5 percent. He attributed this to the worry of an upcoming global economic slowdown. However, he noted that the slope is expected to taper due to the global downturn and higher competitive pressure, forcing freezes on outsourcing spending and slowing down demand.
The Impact of Commercial Clauses on Pricing
Sharma shared that commercial clauses also impact pricing. The panelists discussed five clauses affecting pricing. Those clauses include the following:
Cost of Living Allowance (COLA) Clauses

Service Management Clauses

Benchmarking Clauses

Volume Discounts

Termination Fees
COLA Clauses
Gehani explained that providers and enterprises commonly waived COLA clauses in contracts signed at the end of the last decade. He said that the reason for the waiver, enterprises thought the overall operating costs only had a slightly inflationary trend between 2010 and 2020, despite stable wage inflation rates.
However, Gupta observed that COLA is now being included with greater force and intensity than before based on recent deals. There has been an increase in deals where COLA is included and a decrease where COLA isn't included. This practice is a departure from the earlier trend, possibly due to wage inflation rising at unprecedented levels. He noted that while offshore providers were saved by Forex depreciation, overall inflation increased significantly.
Service Management Clauses
Sharma shared that historically performance management has evolved from fixed commitments to a more flexible approach. He added that over the years, these performance clauses have become flexible but linked to accountability to counteract the watermelon effect. The watermelon effect is when one party games the system for their benefit.
Gehani observed that traditional SLAs and SME regimes need to meet business user needs in many deals and relationships. Organizations are adopting trust-based initiatives and next-gen contractual metrics to improve service quality. He explained these include joint reviews of SLA aims, undigested data around actual performance against the SLAs, and experience level metrics (linked to mechanisms that penalize or reward providers).
Benchmarking Clauses
Regarding benchmarking clauses, Gupta explained that their presence in contracts, or the benchmarking itself, is not new. The earlier issue was about the definition itself, which was vague. This conflict was primarily due to the need for more adequate benchmarking clauses. What has changed, he added, is that in the past few quarters, we are seeing parties agreeing for more detailed and prescriptive execution guardrails and consequences in the contracts. He shared that their understanding of an excellent benchmarking clause details the scope, roles, and responsibilities for each party's tactical execution. And lastly, but most importantly, the parties should describe the consequences of benchmarks in the clause.
Verma said that benchmarking clauses can help clients validate and pinpoint areas where skills, location, and function price increases justify the increase.
Volume Discounts
Verma shared that enterprises expect an accommodative stance on the service providers' behalf. He noted that volume discounts play a significant role in enterprises' expectations of service providers helping them. He explained that they see volume discount levels remain similar to earlier years. However, Indian contracts are witnessing volume discounts, even in relatively more minor terms, for example, less than five years to two months, which is receiving pushback from the enterprises. He added that this trend is nothing new because they saw this happening in previous years.
Gupta provided some reasons for the pushback. He shared that enterprises are refusing the on-back mechanicals due to inherent flaws and the business impact of poor performance. He added that they're still seeing some enterprises agreeing to an on-back mechanism in cases where service providers decided to use less stringent SLAs or fees at risk. The rationale given by the parties is that the reward penalty mechanism should be equitable and fair.
Termination Fees
Regarding termination fees, Verma observed that fees are popping up even after three years into the contract, with a manual termination fee. He has seen multiple cases where there was no termination fee in the last year of the contract. He also noticed that the notice period for terminations of convenience is reduced from 90 days to 60 days or less.
BPO Pricing in 2023: What to Expect
Regarding pricing in 2023, Sharma cautioned against making assumptions based on previous economic downturns because the current situation looks different.
Gehani noted that the current impact on pricing could be more sudden and arbitrary. He said that given the market's talent situation, discretionary spending would likely slow down in the coming months. The demand for specialized skills will stabilize, and pricing for outsourcing services could even go down.
Verma explained that enterprises and providers had seen hyperinflation. Every dollar wage increase mathematically impacts the fair pricing of labor base models. However, he shared that the latest models in managed services or unit-based models have seen more flex in absorption due to the usage of resources for the week.
Gupta spoke to pricing model shifts in 2023. He observed that the change to newer pricing models is driven by the realization that increasing rates do not guarantee talent access. Outcome-based conversations are becoming more common because enterprises have become comfortable rebalancing risk and control.
Sharma emphasized that it's key to remember that advanced pricing models are more than just a way to reduce cost or increase flexibility for one party. "Both parties need to be aware of this fact to have smooth and helpful discussions around potential changes in the pricing model," he said. "There is some inertia on both the enterprise and provider side when making these changes."
Gehani pointed out that traditional service providers keep their contracting models the same while newer entrants try to change the game. He said, "Some traditional providers are moving away from fixed-fee pricing, but we didn't see much difference in what they were ultimately using on the ground." He added that some new players are linking a portion of their fee to end outcomes, which is different from what they've seen before.
Verma surmised that clients would expect more from service providers in innovation, performance management, and continuous improvement. Talent shortages and the COVID-19 pandemic have impacted outsourcing contracts. There needs to be more clarity between what service providers pitch in terms of innovation and business outcomes. "Last year saw sudden talent shortages, and this year there is a continuation and exacerbation of the talent shortage," he said. "Next year will be an important conversation around the gap between the innovation story pitched by service providers and what business outcomes transformation benefits are being seen."
Sharma believes enterprises are noticing the importance of internal and external steps to create successful innovation. He stated that he's disappointed that, in many cases, there needs to be more communication and coordination between what providers pitch and what is delivered. However, he said he sees this change for the better.
Gehani said service delivery experience had recently hit due to the unprecedented attrition, especially among the tenured resources. He concluded that as things stabilize, enterprises will push for a more value-for-value or user experience conversation over and above constant struggle to get talent within their agreed budgets.
Gupta saw continuous improvement gaining momentum up to 2019 but took a backseat during the talent scramble. "Things have been consistent in standard managed services, but for some of the elements like the number of business, KPIs added, SLA, target improvement, user experience improvements, things have become static," he said. "We foresee many of these themes might take center stage in 2023."