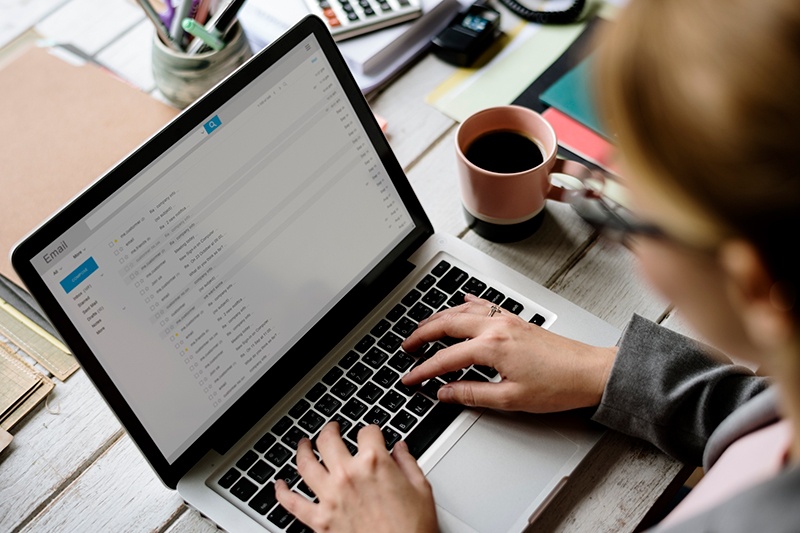 According to the Aberdeen report Welcome to 21st Century, Onboarding!, only 32 percent of companies formally onboard new employees. And Gallup found 88 percent of companies that use an onboarding process don't onboard well. These findings explain why most companies send out welcome aboard letters or emails with instructions about filling out employment forms, and that's all. It explains why most companies don't tell new employees who their immediate manager is or how to contact that person. They also fail to give new employees any idea about their company's culture.
A majority of companies understand employee retention and productivity is vital to their success. And most companies spend large amounts of money on recruiting, hiring, and training new employees; however, many of those companies drop the ball when it comes to onboarding. This post explores the importance of onboard new employees, the vital role of writing and sending a great welcome email to new employees, and how Recruitment Process Outsourcing (RPO) can help HR and TA leaders with their efforts to better onboard new employees.
Why On-Boarding is Important
Companies who make the most out of their onboarding efforts will reap big benefits. With effective onboarding, your company will hire top talent and create a positive candidate experience. From those two elements, you'll improve employee engagement and retention. And Gallup has shown employee engagement to propel growth.
Improves Quality of Hire
When companies formally onboard a new employee, it improves the quality of that new hire. The Brandon Hall Group has reported that a well-structured onboarding process increases a new hire's productivity level by more than 70 percent. Many companies informally onboard new employees, which can lead new employees to feel confused and frustrated. The Brandon Hall Group research suggests that a strategic and formal onboarding process creates an environment where a new employee can begin to thrive quickly.
Duration of onboarding plays a key role as well in the quality of hire. With a longer onboarding process, new hires adapt faster and reach performance goals quicker. An UrbanBound study showed that new employees entirely command their role 34 percent faster from more extended onboarding functions than shorter onboarding processes. The study also showed that 77 percent of new employees who had a formal onboarding experience reached their initial performance marks.
Improves Candidate Experience
Employee candidates will voice their bad onboarding experience to their friends, family, and social media. When a job seeker has a bad candidate experience, GlassDoor reports that 72 percent of them will share that negative experience online. And Digitate found that 20 percent of new employees will likely not recommend their new company to a family member or friend after a bad onboarding experience.
Employing a strategic onboarding system ensures a positive candidate experience. Something as simply telling the new hire who their immediate manager is and having that manager meet the new employee at the office gives the new employee a sense of confidence in their decision to accept the job offer. A positive experience on day one helps new employees engage with their new roles. And an engaged employee will stay with the company longer.
Improve Employee Engagement and Retention
A 2013 Aberdeen report Onboarding 2013: A New Look at New Hires showed that 90 percent of businesses know employees decide to stay or leave in the first year of their employment. Furthermore, the report showed 58 percent of companies look at onboarding to improve employee engagement.
Those companies are correct to look at onboarding as a way to improve engagement. BambooHR surveyed 1,024 employees, and it found that employees who experienced effective onboarding were "18 times more likely" to feel 100 percent committed to their job. The survey also found that 91 percent of employees who received formal onboarding felt a strong connection to their work.
Having a strong commitment and connection to one's work is vital to staying at a job. Onboarding plays a pivotal role in retaining employees. In the same Brandon Hall Group report, companies with excellent onboarding processes have improved their new hire retention rate by 82 percent.
Why the Welcome Email to a New Employee is an Important Part of the Onboarding Process
Will Rogers once said, "You never get a second chance to make a good first impression." Companies only get one chance to make a good first impression with a new employee. A new employee can get an excellent first impression of your company with the smallest part of your onboarding process.
A welcome email to your new employee is the mustard seed of your company's onboarding process. Mustard seeds are tiny seeds that, when planted and cultivated, grow into large, vibrant brushes, and their leaves provide humanity with Vitamins A, C, and K. Likewise, a welcome email is the first and smallest step to onboard your new employee. It's a small step towards giving your new employee a positive impression of your company. It starts the growth of that new employee with your company. It starts to encourage your new employee to thrive and become a valued contributor to your company.
Here are some essential reasons to send a great welcome email to your new employee.
Shows Strength in Your Decision
Strongly confirms your company's dedication to and delight with choosing this new employee. A well written welcome email will make them feel valued as a new member of the team. Remember, when you started a new job, you wanted to feel welcomed and wanted. A welcome email will help your new employee feel welcomed and wanted. As a result, they'll want to put their best foot forward to succeed at your company.
Provides Clarity
A welcome email gives your new employee clarity about their new role and employer. It can restate things already said, for instance, start date, start time, dress code, where to park, how to enter the building, a little bit about the company's culture, and other details the new employee needs to know. With the welcome letter, the new employee gets clear on what to expect on their first day. It gives the kind of information that lessens any insecurities your new hire might have and negates misunderstandings.
Promotes Relationship
As you know, being a new employee is like being a new neighbor in the neighborhood, trying to acclimate to their new surroundings. It cannot be easy getting to know the new neighbors as well as new colleagues. A welcome email can let your new employee know who to talk to on their first day. Whether it be their immediate manager or their assigned mentor, this introduction will make socializing with new colleagues easier.
Complete Paperwork Before the First Day
Everyone can agree that completing paperwork on the first day is not fun. In addition to information that'll give your new employee clarity about the company and their role, HR can include benefit forms and other employment forms. Including the employee handbook further helps your new hire understand what the company expects from them.
Triggers Immediate Manager to Act
When your new hire's supervisor or immediate manager sees the welcome letter, they'll know to review the onboarding plan. It'll remind the supervisor to make sure a computer is sitting on the employee's desk and other equipment needed to ensure the new employee's success.
How RPO Can Help Your Onboarding Efforts
As a reminder, RPO is a form of business process outsourcing where an employer transfers all or part of its recruitment processes to an external provider. Fundamentally, an RPO firm acts as a strategic partner to a company's human resource and talent acquisition departments. RPO providers work with their clients to understand their recruitment needs and business goals. They then customize a solution to meet those needs and goals.
As mentioned above, many companies either don't onboard new employees or don't onboard new employees well. That means companies also do a poor job with their welcome emails. During a Human Capital Institute (HCI) webcast, New Hire Blind Spots Exposing Most Overlooked Barriers Onboarding Success, the panelists pointed out the obstacles that prevent a successful onboarding plan. Some of those obstacles include:
Busy managers with competing priorities
Not enough time to deploy onboarding efforts
No dedicated resources
These obstacles explain why as Urbanbound points out that most companies spend only a month onboarding new employees, 25 percent of companies don't include training in their onboarding, and 60 percent of companies don't set any performance goals for new employees. Furthermore, 30 percent of companies have an inefficient onboarding process they think is unrelated to its purpose.
From an RPO perspective, this shouldn't happen. As a strategic partner, an RPO firm can free up the HR department to dedicate its resources to onboarding new employees. For instance, if there are areas in your recruiting process that prevent your HR department from focusing on onboarding, an RPO partner can take over those recruitment processes to deploy a successful onboarding program.
RPO providers can perform candidate assessments, guide the candidate through the start o the recruitment process, ensure they have the key skills and competencies and are motivated to perform the role. Taking on this part of the recruitment process can provide HR leaders the help they need to employ a robust onboarding program that starts with a great welcome email and ends with a valued employee.
In Conclusion
RPO providers are considered strategic partners. They work hand-in-hand with their clients' to ensure all stages of the talent acquisition process are successful. Some companies don't have the internal sources to deploy a successful onboarding program. What differentiates RPOs from staffing agencies is that they shore up areas in your recruitment process that stop your company from having an effective onboarding program. Onboarding can seem so daunting that a welcome email gets easily overlooked. But, working with an RPO strategic partner, you can focus on an overall onboarding program that includes great welcome emails to new employees. Consequently, they feel welcomed and engaged so that they become the productive employees your company desires.
Please visit our RPO Academy for free resources that'll help you understand how RPO can benefit all aspects of your talent acquisition strategy.
If you have an exciting onboarding story, please share it with us below. We'd love to hear from you.