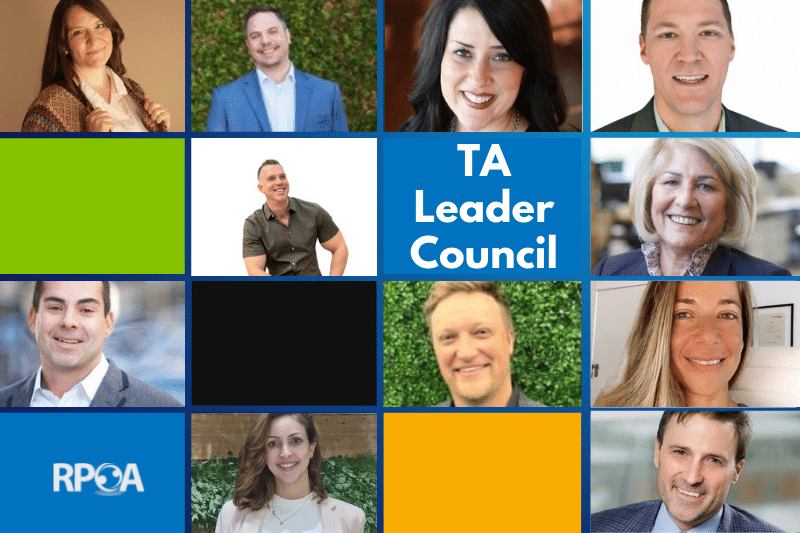 With the looming recession over the United States and worldwide, there is more for business leaders to be concerned about and less to be excited about. Yet, we challenged twelve visionary talent acquisition leaders to share their positive outlook for 2023. The responses covered a myriad of talent acquisition aspects from the emergence of direct sourcing, the increased adoption of global hiring, the role of talent acquisition in supporting business strategy, the role of technology in automating tactical recruiting work, the continued evolution of the flexible workplace, and the impact of Pay Transparency Laws on bridging the salary gap.
This post curates responses from these amazing leaders--TA Leader Council members. Overall, there's a sheer sense of fierce from all these leaders in tackling whatever talent challenges come their way.
RPOA: What are you excited about from a talent acquisition lens in 2023?
Jason Krumwiede, Executive Vice President of Broadleaf
Direct sourcing is a workforce strategy rising in popularity. It leverages technology and an organization's brand to attract and hire quality talent.
At Broadleaf Results, we cultivate a custom talent pool that pulls candidates from a client's applicant tracking system. We identify "silver medalist" candidates who were not chosen for roles, alumni, and recruited talent who have shown an interest in working for our client. We engage contingent workers, including independent contractors, interns, and seasonal workers. The candidate database includes people looking for full-time and temporary work.
Instead of looking for one or the other, we focus on finding the right candidate. We use technology such as AI-based job matching and SMS text messaging tools to engage potential hires. Over time, we grow talent pools with a steady stream of new, interested candidates.
Direct sourcing is an exciting future trend in the talent acquisition space for its many benefits, such as improvement of time-to-fill, candidate quality, process efficiency, hiring visibility, and program cost.
Cynthia Cohen, Global Managing Director and Owner, Mynt Consultants
The world of possibilities in global talent is exciting. One of the new trends we experienced with the onset of the pandemic is the ability of companies to hire great talent without consideration of their geographic location. Continuous globalization allows for a more candid and integrated approach to diversity hiring.
Patty Silbert, EVP and Dir. Talent Strategy and Acquisition, Aspirant
There are some questions I'm excited to see answered. I'm excited to know:
Will the recession increase or reduce turnover, and will the market open up more supply as a result?
How will technologies continue to evolve and improve the screening of candidates?
How pay transparency will improve offers to acceptance rates?
Trent Cotton, Senior Director of Global Talent, HatchWorks
It's hard to get excited about 2023 as we continue to face a competitive talent market combined with global recession indicators. I will say most recessions force innovation, so I am excited to see how the trials waiting for us in 2023 continue to force the TA industry to evolve and innovate.
Curtis Grajeda, Founder & CEO, LevelUp HCS
I believe 2023 will be an important year for us as we help our clients be more intentional about recruitment and staffing and how TA can support business objectives. With hiring volumes stabilizing, companies can take advantage of a cooler market and optimize talent strategies and processes. 2023 will be an opportune time for companies to examine and refine their employer brand, hiring process, DE&I strategies, pipelining activities, and retention strategies.
Kurt Trost, VP, RPO Strategic Solutions, Manpower RPO
Demand for talent is still strong! It's shifting verticals, but the demand overall is high. I'm excited for technology to take over some of the BORING parts of the job. Get away from all the heavy processes and get back to conversations with candidates. Screen them in instead of screen them out. I'm very excited to see new leaders flush out the old and in with the new.
Kelly Burlage, VP, Talent Acquisition, Lineage
That is just it, talent acquisition is ever-changing. I am excited to see new technologies emerge. I am looking forward to supply and demand becoming more reasonable. Over the last 3 years, I have found myself saying, '2020 was a year like no other, 2021; was a year like no other; 2022; was a year like no other.' We have moved from a scarcity of jobs to a plethora of jobs, and now inflationary headwinds jeopardize some of the salary market adjustments. There are also recessionary concerns looming.
I am looking forward to tackling what 2023 brings with technology and a strategic approach to how we will solve for candidates being more concerned about leaving their jobs and how we will alter our strategy.
Letícia​ Valente, Associate Director, Page Outsourcing
The talent shortage is driving companies to look into their internal talent. Internal mobility is becoming an important topic on HR's agenda–how to find and retain talent that is already at home. Hiring external talent is often based on competencies and potential and not primarily proven skills. Hiring internal talent has the added advantage of candidates being aligned with the organization's culture and values. I see internal mobility as a growing trend in 2023.
Derek Carpenter, Executive Vice President, Hueman RPO
Organizations are beginning to understand the importance of engaging the entire organization in recruitment. This means driving more strategy through talent acquisition, both with human resources and across the enterprise, including operations, finance, marketing, etc.
NES Fircroft Team
We're watching how today's market uncertainty (energy security/transition, increasing protectionism, inflation, and potential recession) will impact talent acquisition. In particular, we're watching a few trends that have percolated lately in the talent market around.
Flexible work models and how they will continue to evolve in a candidate-driven market.
How employers will drive employee engagement given a distributed workforce (at home and remotely in other geographies).
Recruitment initiatives for diversity, equity, and inclusion (DEI).
How economic uncertainties will impact hiring and how candidate priorities will evolve in this environment.
Zach Coffey, Director of Strategic Partnerships, Hueman RPO
The last two years have felt like a rebirth of the talent acquisition function. HR and TA leaders are being called to help drive strategy and efficiency within their organizations. More than ever, they have the attention of other strategic business leaders within their organizations, giving them the platform to innovate and drive change that leads to healthier budgets and a stronger, more dynamic employee culture.
Paula Antonelli, People Director, Trafilea
I'm excited to see how Pay Transparency Laws in the US will impact the rest of the world, mainly in those countries where sharing salary information is still grounds for dismissal. I have no doubt it will have an amazing impact on bridging the salary gap, which is exciting on its own. But I am curious to see how this will impact the company's culture, talent attraction, and other aspects we may not even think will be impacted.