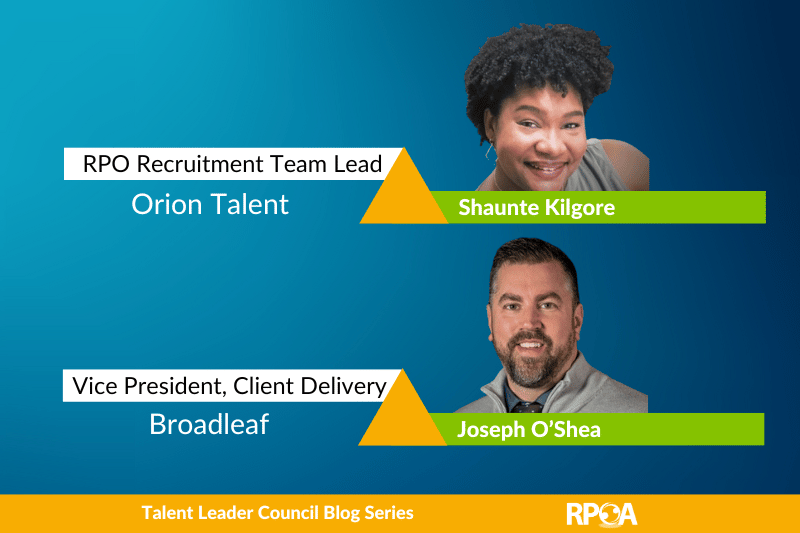 How did candidate behavior change post-pandemic, and how can employers overcome these challenges? Shaunte Kilgore, RPO Recruitment Team Lead at Orion Talent, and Joseph O'Shea, Vice President, Client Delivery, at Broadleaf, say that candidates are being deliberate in their job search. In addition, candidates seek greater flexibility and autonomy in their paid time off to maintain a work/life balance.
In a three-part series for RPOA's Talent Leader Council, experts share new trends in candidate behavior and show how recruitment process outsourcing can help employers hire top-quality candidates. The following is an edited version of council members Kilgore and O'Shea's interviews for the series.
RPOA: How did candidates' behavior change post-pandemic?
Kilgore: We are finding candidates who are placing value on different aspects of employment opportunities. Paid time off has always been important; however, more recently, 'when and how can a candidate use their time. Coming out of the pandemic, paid time off has become a benefit that is a larger piece of candidates' considerations.
O'Shea: Candidates have become more selective and discerning in their job search. They are looking for companies that align with their values and offer a positive work culture. This change has led to a shift in the power dynamic between employers and job seekers, with candidates having more bargaining power in the hiring process.
What is causing these shifts?
Kilgore: Discussions are happening in many industries stressing mental health's importance. According to an article written by understood.org, a nationwide employee survey found that what people want the most in the workplace is training and more easily accessible information about where to go or who to ask for mental health support. One of their top 5 recommendations is to "promote well-being by encouraging employees to use their vacation time. Some companies do this by limiting the amount of vacation employees can roll over into the next year."
O'Shea: The rise of technology and social media has made it easier for candidates to research and evaluate potential employers. They can read company reviews and learn about the company culture before applying for a job. This rise in technology and social media use has increased the emphasis on employer branding and reputation management.
The COVID-19 pandemic has also had a significant impact on candidate behavior. Many people have reevaluated their priorities and are seeking more flexible jobs and remote work options. The pandemic has also highlighted the importance of job security and benefits, leading many candidates to prioritize companies that offer stability and comprehensive benefits packages.
How can recruitment process outsourcing providers (RPOs) help employers adapt to a changing candidate landscape?
Kilgore: At Orion Talent, our goal is to be trusted advisors and partners to our clients. We must be the candidate's voice and keep our clients abreast of the needs of the candidate profile. We must keep track of trends and share feedback from the candidates we interface with daily. We are great at finding raw data to support initiatives and changes, but this type of data cannot be found.
O'Shea: RPOs provide talent intelligence and analysis to help their clients stay up to date on market trends and changes in candidate behavior, which can offer valuable insights on adapting to changes in the hiring landscape.
At Broadleaf, we work with our clients to improve their employer branding and create a positive candidate experience by optimizing job postings, creating engaging recruitment marketing campaigns, and ensuring a smooth and efficient application process.
Additionally, RPOs streamline the recruitment process and improve candidate engagement to include implementing AI-powered chatbots for candidate screening and scheduling, using predictive analytics to identify top talent, and leveraging social media platforms to connect with candidates.
For more insights from top talent acquisition experts, check out our Talent Leader Council on the RPO Voice blog.