Storytelling is one way recruiters and talent acquisition(TA) leaders can instill purpose in their recruitment marketing. Integrating purpose into your recruitment marketing strategy is important because some 4.4 million Americans quit their jobs. Most of these workers quit because their current work lacked meaning. So, companies must ensure their recruitment marketing reflects a meaningful work environment.
In our recent 30-minute RPO Leadership Forum webinar hosted by RPOA Executive Director Lamees Abourahma, talent acquisition visionaries Patty Silbert and Alicia Curran of Aspirant show how storytelling creates meaningful recruitment marketing. Their powerful presentation speaks explicitly to how design thinking in storytelling transforms how your recruiting team members reach their audiences. Below is a recap of their presentation.
Access the webinar to see how design thinking in storytelling creates meaningful recruitment marketing
Why is Storytelling Important to Recruitment Marketing
With many employees quitting their jobs, Silbert points out that companies must ensure they have a solid employer value proposition(EVP). Storytelling is essential to recruitment marketing because it humanizes your employer's brand and enhances your EVP so that you can attract and hire the right talent. And show that your company will provide candidates with meaningful work.
"Storytelling captures the imagination of people and for that reason superb storytelling can drive engagement with candidates," Silbert said. "Storytelling in recruitment has the power to move candidates from passive status to active status and convert them quickly to hires."
Storytelling also puts purpose into your recruitment marketing efforts. When you have meaningful recruitment marketing, you'll better engage candidates looking for meaningful work.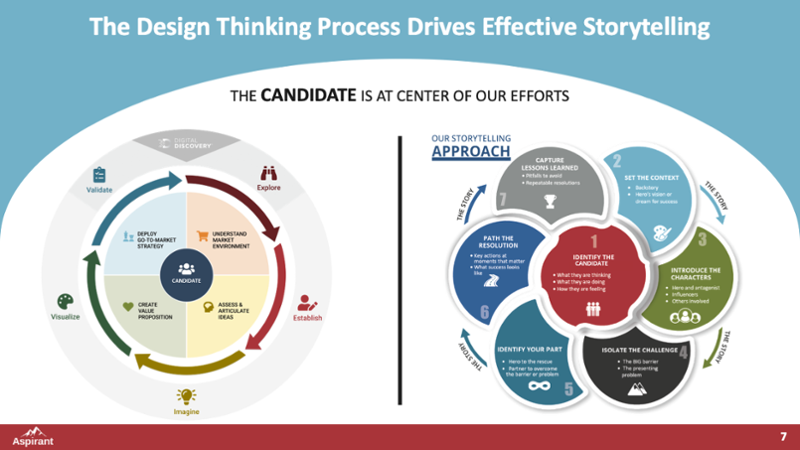 Design Thinking in Storytelling
Overall, when recruiters use design thinking in storytelling, they get new insights into candidates, build empathy and reach them emotionally. Recruiters can create personas representing the candidates with whom they want to connect. They can then add conflict to stories highlighting candidates' journeys and problems. Recruiters using design thinking in storytelling can better understand what candidates desire and need from their company.
The challenge for recruiters is engaging candidates and converting them into hires. Silbert and Curran understand that all candidates have concerns and objections about why they would think of talking with a recruiter.
And Silbert believes empathy drives engagement with potential candidates to overcome those concerns and objections. She shared that an essential first step to connecting with potential hires is understanding their points of tension, feelings, and actions. In other words, they are connecting with the pain points of a potential new hire. And "empathy at the end of the day is where people start to connect with you to understand what you're looking for to solve that problem, that critical pain point," she said.
At this point, design thinking in storytelling plays a prominent role. Curran explained that design thinking is a methodology that Tim Brown, CEO of IDEO, created and applied to innovation and development in IT and engineering. Design thinking is a human-centered approach to design. It's an approach to design that focuses on the big picture, and the end product's user is at the center of that picture.
Curran and Silbert have incorporated design thinking into their storytelling. From a design thinking approach to storytelling, they can understand what's causing a passive candidate to desire to change jobs. And this human-centered design approach helps them know what's essential to the candidates with whom they connect.
How Design Thinking Happens in Storytelling
Design thinking in storytelling happens in five stages. Those stages include:
Exploratory

Establish

Imagine

Visualize

Validate
Curran pointed out that the exploratory stage allows recruiters to understand behavior changes within the labor market. For instance, in this stage, recruiters would come to understand the behavior changes driving the current great resignation. And as Silbert pointed out, recruiters would see that it's vital for people to have meaningful careers or meaningful work.
Then from there, Curran notes that the recruiter would establish and articulate ideas, visualize and imagine what success looks like for the candidate, create a value proposition from that vision, validate that vision and then deploy the strategy.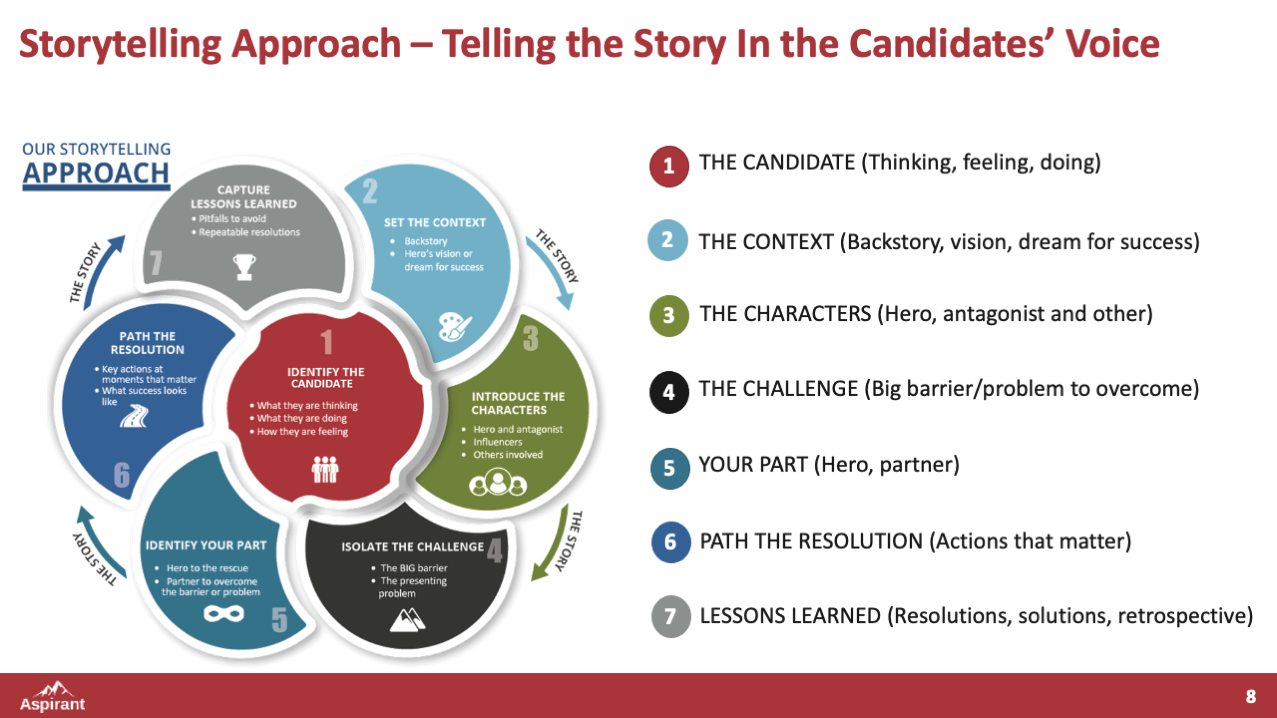 The Design Thinking in Storytelling Approach
Curran then shared a seven-step approach to design thinking in storytelling. Through these steps, Curran emphasized that recruiters can engage candidates in the story because, after all, it's their story. Those steps are:
Step 1) Identify the Candidate
In this first step, you want to know what a candidate is all about. Curran pointed out that it might seem easy to figure out, but sometimes recruiters get resumes with information that tells them what someone can do. But recruiters need to find out that person's motivation because that will change the course of action for the candidate and recruiter.
Download your Free Guide to Candidate Personas to help you make a meaningful connection with your ideal candidate.
Step 2) Set the Context
Understanding the motivation of the candidate is all about understanding the context -- what is their backstory? What is their dream and vision for success? And how can you help them achieve that dream and vision?
Step 3) Introduce the Characters
The story's characters will include antagonists, influencers, and supporting people. As recruiters, you are the hero. Curran observed that sometimes the antagonists are the most surprising characters in the story. But overall, you help the candidate reach their dream and vision.
Step 4) Isolate the Challenge
Curran pointed out that making changes can be tricky. People know this, and it is a big challenge. But we need to try to change anyway. To change, we need to tell the right story and give people guidance so they can see the path ahead. At this point, storytelling in recruiting is beneficial.
Step 5) Identify Your Part
As the recruiter, Curran emphasized that you are the hero and partner. That is your role. Recruiters will need to play the hero role to instill in the candidate the belief that they should change their life and career.
Step 6) Path the Resolution
And that story, Curran said, is the story of the path to resolution and how you can make success happen for the candidate so that they realize the changes they desire and need.
Step 7) Capture Lessons Learned
Curran observed that capturing lessons entails reflection and feedback from the candidates. Embracing lessons learned is vital so that process experiences a full circle evolution and you can improve upon your process. This step also allows the candidate's story to continue and flower into the future.
From this approach, "you start to peel back the onion," Curran said. "You can truly understand what the candidate is hearing and processing -- what they're saying to you. And potentially what others around them are saying," she said.
Curran shared, "you develop that sense of empathy for all of the things that are coming into the candidate, and you're able to resolve those issues."
Recruiters should use storytelling in their recruitment marketing efforts to find and hire the best talent. Design thinking in storytelling provides a helpful framework for engaging candidates emotionally and reaching them where they are. By humanizing your employer brand and enhancing your EVP, you can attract top candidates who may not have considered your company.
This powerful 30-minute webinar is available on-demand, so check out how design thinking in storytelling can help your recruiting team convert potential candidates to new hires.