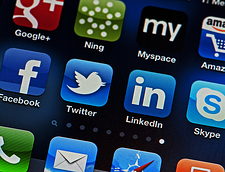 Social media recruiting is still a very new arena for many organizations. Not only is measuring your investment somewhat difficult, but social media does have rules regarding appropriate behavior with candidate profiles and the information you find online. If you're interested in starting social media recruiting, or want to know if you can do it better, then here are the three major best practices for hiring through social media:
Keep Candidate Research Legal
Although there is nothing wrong with using social media to research a candidate, the rule of law can be confusing when you discover certain types of information about the candidate. When it comes to characteristics such as gender, age, religion, or sexual orientation, you need to keep your decision making and your interview questions within legal limits. This would include information such as learning that a candidate has a two young kids at home. Asking about this candidate's family plans, or how they would balance work and family, would get you into trouble.
From time to time, you may happen to find any information that suggests a person may not be appropriate for an open position i.e. photos show their arm in a cast, but they are applying for a position that requires a lot of heavy lifting. The best thing to do in these scenarios is to meet the candidate face-to-face and reserve judgment until after the interview. You don't want to assume something about a candidate only to lose out on someone great
Think about Your Own Social Media Presence
It's easy to judge the profiles of your candidates, but understand that they are researching you on social media also and forming their own judgments. Social media is a two-way street, so you need to present your company as a great place to work with awesome corporate values. Your social medal presence should be active, should be completely filled in (bio, contact information, photos, web address should all be on the profile), and should align with the corporate and marketing messaging of the company.
You also need to consider the social media profiles of your employees, as candidates will do their best to learn the identity of their interviewers ahead of time. They are also a reflection of the employment brand, so it wouldn't hurt to ask that they keep their profiles clean and refrain from bad-mouthing the boss. Just like how a company can turn away a candidate, candidates can turn away an employer because your employees don't see like the type of people with whom the candidate may want to work.
Use Social Media Fairly
The first way to do use social media fairly is to do candidate research at the same point in your recruiting process every single time. If you want to use it before you interview a candidate, then every single candidate should have their social media reviewed prior to the interview. If you want to use it afterward, then use it after the interview every single time.
Also, it's courteous to let your candidates know that you will be reviewing your social media profiles. You don't necessarily need them to sign a waiver or to hand over their passwords, but it's also a good indicator about the seriousness of a job candidate. A serious job candidate is likely to marketing their social media profiles already, and shouldn't need prompting to clean them up or to use social media effectively.
Are you prepared to hire for the new year by using social media? Think you're prepared for 2014 when it comes to your recruiting process? Erase your doubt with our upcoming RPO changes webinar! This 30-minute webinar will show you where the industry is headed next year and the questions you ought to ask about service & suitability. Register below!