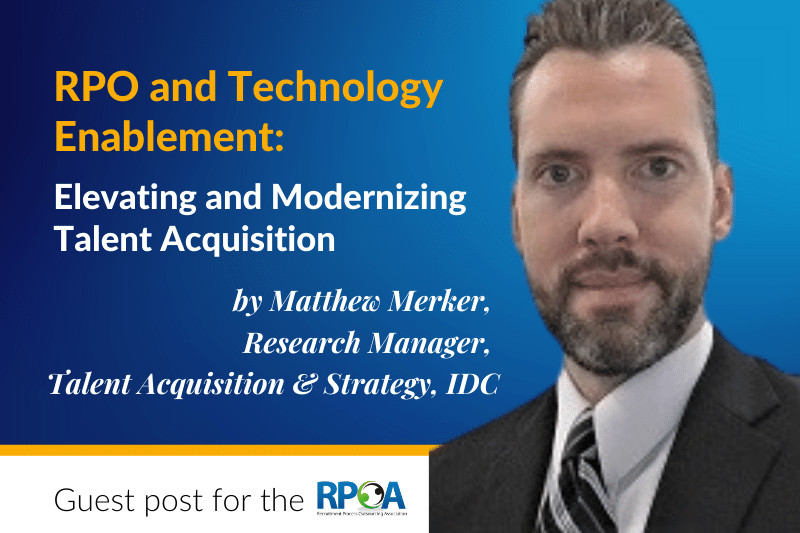 The impacts of the COVID-19 Pandemic and the Great Resignation continue to reverberate across the talent landscape. The pains endured through deep furloughs and layoffs and the subsequent efforts to rebuild workforces have brought talent acquisition into the spotlight and has elevated the recruiting function as a strategic imperative.
Capitalizing on the growing demand, talent acquisition technology vendors are innovating at a rapid pace, for both strategic reasons and out of necessity. The pace of technology innovations and new solutions in the space demand rapid and frequent change in capability to remain relevant to the trends of the time. Long-standing applicant tracking systems and talent management suites are joined by newcomers offering niche capabilities in areas such as talent intelligence and onboarding, furthering the complexity of the ecosystem.
For organizations with internal talent acquisition functions, the burden of choice in technology selection is challenging. The multitude of options presented in conjunction with the elevation of the function has led to greater complexity in decision making. "Approval by committee" has become commonplace, with leaders such as CMOs, CXOs, CIOs, and Chief Diversity Officers joining the traditional talent acquisition leader or CHRO as a deciding voice in vendor selection. Consequently, competition within the recruiting technology ecosystem is fierce.
For recruitment process outsourcing providers, the challenge is two-fold: adapting to the elevated status of recruiting as a C-suite level strategic priority for clients while also grappling with the fragmented and constantly shifting technology ecosystem. Fortunately, solving for the latter will enable the former. A strong toolkit of technologies to complement RPO services will yield greater adaptability and responsiveness to client needs, removing recruiting as a pain point and shifting to a function aligned with long term corporate strategy from a product delivery and skills match perspective.
As mentioned, there is no shortage of choice in the technology landscape, with providers eager to penetrate and expand presence in the RPO market. But what technologies will resonate most for clients? Alignment with client culture and identification of end goals will be key, but there are some common applications that are ubiquitous across most industries that are easy to discern from the outset. Examples of impactful technologies include:
Advanced Recruitment Marketing – There has been a significant movement toward improving passive candidate flow and keeping a robust top-of-funnel with an eye on mitigating some of the need for expansive and costly active job board posting. Dynamic and engaging career sites that draw in targeted skill sets while showcasing organization culture are resonating with clients as they shift spending to more expansive branding campaigns.

In-depth Analytics – Beyond the base metrics of time to hire or time to fill, organizations want to dive deeper into areas such as demographic data across the lifecycle from top-of-funnel through to hiring to improve DEI outcomes, compensation intelligence to prepare for mandatory pay transparency, and skills analysis to identify existing gaps to fill either through hiring or internal professional development initiatives. Alignment of critical workforce data points with corporate strategy furthers the imperative to elevate the recruiting function.

Robust Internal Mobility – The Great Resignation brought the retention discussion into the spotlight, as organizations struggled to keep existing workforces at a level that did not negatively impact productivity. Resultant from that focus was the increasing attention paid to internal mobility capability. Moving beyond simple internal job boards, the creation of opportunity/talent marketplaces are creating shared collaborative spaces for both employees and recruiters. Employees are exposed to new opportunities within their organization and shown career paths to get there through mentorships, gigs, and learning. Recruiters are provided with dual views of external and internal candidates to not only hire for hard-to-fill positions but also identify opportunities to improve diversity at leadership levels.
These are just a few examples of a long list of innovations arising at rapid in the TA tech ecosystem. In subsequent articles, I will dive further into each of these solution types and how they can be leveraged by RPO providers to delight their clients with robust recruiting outcomes.
Matthew Merker is a Research Manager for Talent Acquisition & Strategy at IDC. Mr. Merker's core research coverage includes the evolution of ATS platforms, candidate relationship management, recruiting services, and talent acquisition technology strategies. Blending services and technology, Mr. Merker's research focuses on the improvement of candidate and recruiter experience as the war for talent continues to adapt to the new paradigm of work.