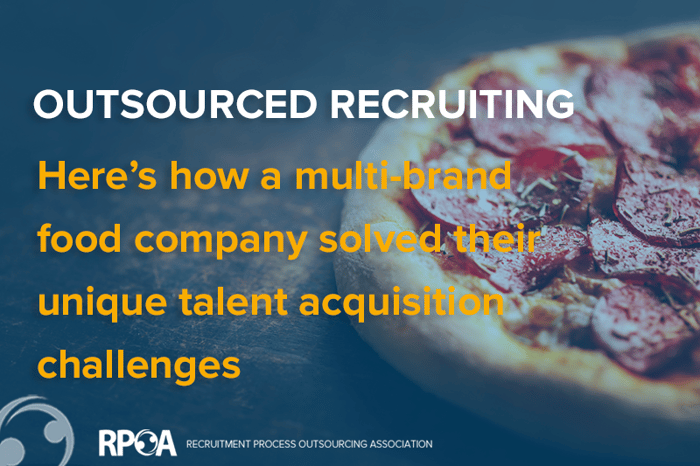 Lumina Foods, a Nashville, TN based food services and distribution company, was growing year after year with little sign of slowing down. Their two subsidiaries had unique and completely different challenges. TBHC Delivers, Lumina's food distribution arm, is one of the nation's largest distributors of Hunt Brothers Pizza, with distributors across 21 states. Pedestal Foods, their contract food management business, provides food service in private education facilities, colleges, and universities.
As Lumina grew, so did its need for talent – whether it was for the continued growth of TBHC Delivers or the fluctuations in hiring needs for Pedestal Foods – something Mandy McPherson, Vice President, Human Resources at Lumina Foods knew would need to be addressed.
What Was Lumina Looking For?
When reviewing her options, McPherson was unclear what path would make the most sense. She had previous experience with recruitment process outsourcing (RPO), but that prior experience was for a company that required high-volume recruiting, leading McPherson to believe that RPO was only viable for high-volume recruitment needs.
On top of that, the recruiting needs at Lumina were unique: their accounting managers needed to take on responsibilities typically expected of two employees, so the skills needed by the candidate were very specific – "it was like looking for a unicorn," says McPherson.
"It was taking an enormous amount of time and putting a huge strain on our operations. In order for us to tackle that internally, it required a lot of money and a lot of different systems that really didn't make a lot of sense for us to invest in, for a fairly low amount of positions in terms of volume," she explains.
On the other side of the coin, subsidiary Pedestal Foods was expanding fast, but still very much a startup. They had a high number of positions to fill but could not afford a per rep cost model for the volume of jobs they had. And at the end of the day, Lumina wanted to move away from the "post and pray" model of recruiting for these positions.
Other Unique Challenges
Lumina had another unique problem specific to their business, one that was harming their overall recruitment efforts: a problem of branding. Lumina and its subsidiaries serve well-known brands of food, including Hunt Brothers Pizza and Starbucks brand coffee. Unfortunately, these brands often overshadowed the Lumina brands that were distributing them.
"Hunt Brothers Pizza is a very well-known brand, but when the account manager leaves the store, Hunt Brothers is in the store, but TBHC Delivers is not," explains McPherson. "We knew we needed to solve that problem…but we weren't sure how to best do that."
What started as a simple goal of eliminating a "post and pray" recruiting method soon revealed itself to be a larger puzzle. However, as fate would have it, Newton Talent reached out to McPherson through the Recruitment Process Outsourcing Association and the two began discussing how RPO could help.
More Than Just Recruiters
As McPherson soon learned, RPO isn't just a solution for high-volume recruiting. A proper RPO relationship can serve as the backbone of a business partnership dedicated to improving multiple aspects of your business. Newton Talent approached Lumina as a business partner, discussing the goals, culture, and long-term strategies Lumina wanted to stand by as they moved forward with the partnership.
"It really was the key thing that set the tone for our partnership. We never had a vendor approach us the way that [Newton] did," explains McPherson.
Newton not only helped develop recruiting strategies for Pedestal Foods and TBHC Delivers, but supplied additional ideas and strategies to allow Lumina to continue to grow: employee value propositions, candidate engagement, and exit surveys following interviews were all value adds above and beyond what McPherson had previously thought an RPO relationship would provide.
Thanks to the help of Newton Talent, Lumina Foods has gone from a reactive recruiting program to a proactive one that gathers metrics on it's performance. Between four national brands under the Lumina Foods umbrella, nearly 300 employees have been hired in the year since partnering with Newton Talent.
"I know we wouldn't have been able to do that had we not implemented an RPO model," says McPherson.
McPherson offers a few pieces of advice for organizations looking to make the most out of their business partnerships (and particularly, their RPO partners):
"First and foremost, make sure you've got clearly identified challenges that you're trying to solve. You need to figure out which are nice to have accomplished, and which are non-negotiable. Without knowledge of this, the research and journey can become pretty daunting pretty quickly," McPherson advises.
"Secondly, have some clear questions in your mind that will help you determine the fit and how well you'll be able to truly partner with your RPO. If you don't feel that the RPO team is truly part of your organization, things will feel like you're trying to climb a mountain. Our culture values relationships so much – it was very important to our culture and our partnership."
Lumina's problems were challenging, but Newton Talent's commitment to becoming a part of Lumina's culture and purpose created a foundation and partnership that functioned like Newton Talent had always been a part of the Lumina team. As McPherson notes, "we ended with a result that was OUR process – but better."
To learn more about how an RPO forms a true partnership with your organization to achieve your business goals, look for our next article, where we hear from Newton Talent's President Patty Silbert, who describes in more detail how Newton Talent worked with Lumina to meet their goals as a team.
You might also want to listen to McPherson in this on-demand webinar as she describes the five "surprises" she discovered upon partnering with Newton Talent on implementing recruitment process outsourcing for her organization.