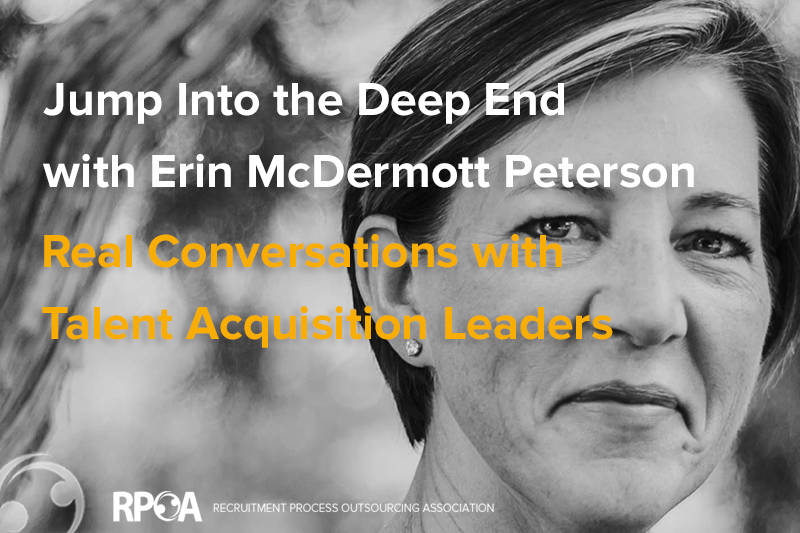 If you love RPO, great stories, and all of the joys and challenges that come with large scale recruitment, then you'll love "Big Fish in the Talent Pool". The Recruitment Process Outsourcing Association (RPOA) is thrilled to partner with Erin McDermott Peterson on this new podcast.
Peterson is that recruiting leader who has been fortunate (or crazy) enough to lead recruiting from all sides — campus, mid-level, and executive, in both corporate and RPO organizations. She designed, sold, managed, insourced, outsourced and globalized recruiting as a corporate leader, Solution Architect, and General Manager. Along the way, she has worked with interesting people all over the world — including clients, bosses, and team members — and used that opportunity to continue to learn.
On her Podcast, Big Fish in the Talent Pool, Peterson captures her coffee conversations with current Fortune 500 Global Heads of TA to pay it forward to the next generation of TA and RPO professionals through the magic of podcast technology.
Tara Noonan Amaral is Peterson's first "Big Fish" on the podcast. Amaral ran the Hewitt Associates RPO organization before Peterson and has gone on to leadership within ADP, and most recently, Fidelity Investments. With an amazing list of accomplishments and a whole lot of grit, you will love hearing Tara's stories about recruiting, RPO, AI, women in leadership, and much more.
Below you'll find some insight highlights from Tara's interview. And even though she recently left Fidelity, her comments are timeless!
Increasing Technology Footprint
Like many businesses, talent acquisition operates alongside the looming presence of emerging technologies. While many talent acquisition professionals are no longer looking at technology as something that will eliminate their jobs, there is an understanding that the role of the recruiter will shift, something that Amaral recognizes.
Despite the abundance of helpful technology and the trend of many businesses to adopt these new tools as soon as possible, Amaral warns that companies should take care not to adopt new technology unless there is a clear need. Fidelity Investments takes a measured approach to their adoption with regular diagnostics to review what has been purchased, what is working, and what might need to be improved upon. Bringing on some external help such as an RPO or other technology consultant to collect and sift through such data can yield big results – with members of Fidelity Investments noting that the feedback they received from the external source being among the most helpful actionable advice they've ever received, Amaral noted.
Rather than jumping for the newest tech, organizations can make better use of the technology they already have – like texting. Fidelity Investments have been testing texting between recruiters and candidates to speed up particularly slow aspects of the recruiting process, such as responding to questions or scheduling interviews.
"Even though it's more work the recruiter has to do, everyone seems more satisfied with the increase in response time. We're talking minutes from days. That ultimately has an impact on time to fill," Amaral explains.
And of course, for millennials and other younger workers, texting has become the communication method of choice. "Studies tell us texting is now the preferred medium of communications for candidates ages 18-44. And we have seen first-hand that there are many candidate pools in which texting makes a definitive difference in our ability to attract candidates," noted Patty Silbert, President of Newton Talent, a recruitment process outsourcing company based in Pittsburgh, PA, in an interview reviewing the outlook of hiring in 2018.
Fidelity has also made great use of digital interviews, says Amaral. Though feedback from candidates has shown a love-hate relationship with them, they undeniably speed up the hiring cycle time, she explains. This kind of interview process can "even the playing field" in terms of location when it comes to candidate interviews and can also allow for easier interview "do-overs" for the right candidate.
Artificial Intelligence
Amaral also stresses the need for the talent acquisition industry to understand what AI actually entails when it comes to talent acquisition and to prepare appropriately. In the immediate future, AI will largely play a role in identifying candidates and collecting pertinent candidate information, a task that still requires a recruiter's oversight at the end of the day, she notes. As we've heard from other experts, artificial intelligence is shaping up to become more of a supplement than a replacement.
"Once you get beyond the personal information, we have to figure out where the hand off is from the AI chat bot to a live recruiter," Amaral explains to Peterson. "We still need recruiters to pick up that phone and call at the end of the day. It may be later in the process, but we still have to give candidates a feel for the company."
The Candidate Experience
Candidate experience is also discussed during the conversation, with many organizations looking to revamp their application and onboarding experiences. Amaral notes a particularly interesting practice at Fidelity Investments: recruiters are encouraged to apply for job positions at other companies that they are personally recruiting for at Fidelity. Amaral likens this practice as Fidelity's version of mystery shopping.
"I wanted them to understand whether their process easier than ours. It's a big learning moment for the team that not everybody does it our way. Some were fast and simple, and others were more onerous than ours. It was a reminder that we have to think like the candidate," explains Amaral.
To hear more about Amaral's career and her insights into the talent acquisition industry, head over to Erin Peterson's podcast and start listening. There are more thought leaders, or "Big Fish", on the way to the Talent Pool and we'll be sure to keep you abreast of all of the latest challenges and need-to-know news regarding RPOs and the talent acquisition industry.