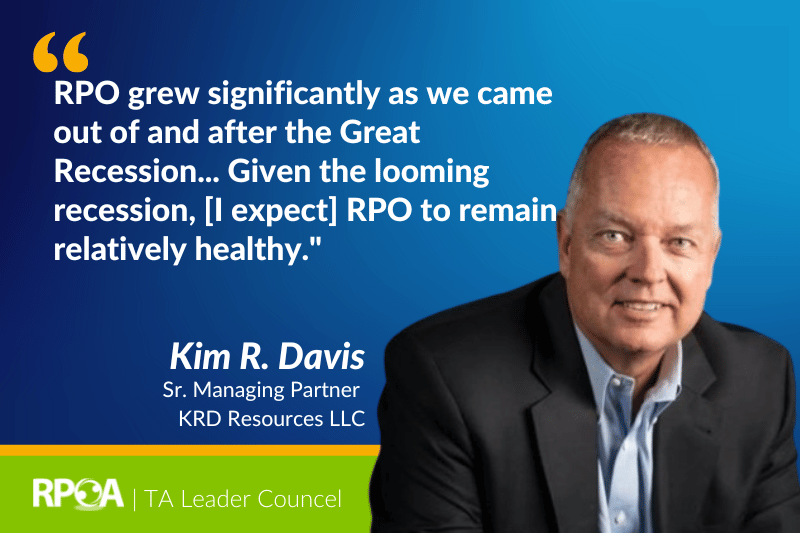 Recruitment Process Outsourcing (RPO) began in the late 1990s as a full talent lifecycle solution. From then to now, its definition has expanded to include pilot projects, flex solutions, and more. The industry also weathered two economic downturns; in 2002 and the Great Recession of 2008. Kim Davis, a serial entrepreneur and talent acquisition and outsourcing subject matter expert, has lived and thrived through it all. In this post, Davis, the newest member of the RPOA's TA Leader Council, discusses RPO before and after the Great Recession and provides sound advice to RPO leaders as to how to weather the impending economic downturn in 2023.
Davis successfully started and sold three talent acquisition firms, helped two major corporations (Pontoon/Adecco and Sourceright/Randstad/Spherion) start their RPO practices as industry global leaders, and led Yoh RPO in getting recognized as only 1 of 4 global RPO providers as a "shining star" and "leading contender" on the Everest Group RPO PEAK Matrix report. He has significant experience in M&A, coaching and leadership consulting. A former Vistage Chair, he helps CEOs and senior executives become better leaders, make better decisions, deliver better results, and grow professionally and personally.
RPOA: What was the impact of the Great Recession on companies hiring in general and outsourced recruitment in particular?
Over 60% of the recruiters were displaced during that period. Recruiting and talent acquisition halted; people just put recruiting on hold.
The Great Recession impacted recruitment process outsourcing providers, staffing firms, traditional recruiting agencies, and employers. Almost all businesses experienced a decline. My RPO business did not experience a decline. The reason for that was we won enough new business to offset our other accounts. But most RPOs experienced a decrease.
What was the impact of The Recession on the emerging recruitment process outsourcing industry?
I served on several boards that provided guidance and direction for RPO back then.
The definition of RPO changed after The 2008 Recession. Before The Recession, the definition of RPO was too narrow. After The Recession, the meaning became broader. The broader definition is a win for the employer and the RPO provider.
Prior to The Recession, everybody thought it could only be a full talent lifecycle. Companies had to outsource the entire recruitment process to qualify as RPO. Select process and contract recruiters were not considered as RPO. And certainly, projects and pilots were not considered RPO.
However, coming out of that recession, the definition of RPO changed. RPO providers started to add service offerings. Providers added select process, pilots and projects, and contract recruiters as part of the RPO solution. A contract recruiter is outsourcing by definition. RPO providers augment the employer's current team with contract recruiters. In that scenario, providers are doing more than just transitioning activity, which qualifies as an RPO. They're just not providing a body and then walking away; they're still helping and partnering with the client to get those jobs they're responsible for filling at the end of the day. And that is part of the definition of RPO. They're exclusive, seamless, and responsible for all jobs or the designated jobs with the client and filling those positions.
What are some of the lessons from the Great Recession that RPO leaders can learn?
From an employer perspective, they learned during that recession, they had too many fixed expenses in recruiting. They did it in-house. The biggest competitor to RPO is the employers doing it themselves.
Employers were recruiting in-house. And they could not scale down effectively without laying people off. They had just too many fixed expenses. They asked themselves. What are we going to do with these idle recruiters? Are we going to keep them in the organization but have them work elsewhere? Are we going to displace them? And that's why 60% of the recruiters were displaced during that two to three-year time period.
Now, the education from an employer perspective was when things started to come back up. They had to ask themselves another set of questions. Do we want to rebuild our internal recruitment machine? Add a bunch of staff back, and in turn, have less fixed expenses? Do we want to outsource? Select Process Outsourcing became a very popular term after that recession. Meaning employers augment their internal resources with a third-party provider.
Employers were not going to build their internal teams back up to the same level they did before. For one major reason, it's not scalable, up or down. Using a third-party firm created scalability. And I can tell you that RPO grew significantly as we came out of and after that recession. The biggest growth area was select process recruiting or hybrid RPO, where employers outsource pieces and parts of the process.
How do you see the forecasted recession (in the US and globally) different from the Great Recession?
Certain industries are going to get hit harder than others. One industry that's gotten hit hard so far is the tech industry. The IT space is the first area hit. It will also be one of the first areas to come back significantly.
Given the talent shortage in the marketplace, it will be a mild recession. You talked about 10 percent unemployment rates back in 07, 08, and 09. We're not going to come close to that number this time. I've seen numbers around 6 percent. We're all speculating at the end of the day, but I think it's going to be a mild recession because there's still lots of demand out there, there's still a huge talent shortage out there, and that's not going to go away with this recession, and it's still hard to recruit.
Given that dynamic, RPO is going to remain relatively healthy. Certain RPO providers are going to get hit harder than others. Some RPO providers have not felt the pain at all. While others have experienced some significant change because they were in the IT vertical. Looking at health care, I don't see that being impacted at all during this period. There will be certain verticals that don't get hit at all. Others will get hit mildly. And then there will be some, like in the tech vertical, that will experience pain. But it's going to be short-lived at the end of the day.
What is Your Best Advice for Current RPO Leaders to Weather This Recession?
For every issue, I look at it more like an opportunity. This recession is an opportunity to fix some things in-house. Because the period is slowed down, it's an opportunity to evaluate the verticals you serve and narrow your focus. It's tough for an RPO provider to be all things to all people and gain the visibility necessary to deliver a great solution. They need to look in house. Look at what markets they want to serve, their service offering, enhancements, and where they can invest.
They [RPO providers] need to invest more dollars in business development and marketing during this time. During a slowdown or recession, people often cut back on sales, business development, and marketing. That's the area that needs more attention, not less. And when this thing comes back, it will come back in a big way. What you do during this time period is going to allow you to take advantage of that new marketplace. And if you're still getting ready, you'll miss that window of opportunity. This is the time to invest, the time to look in-house, and the time to position yourself for that growth when it does come back.
Do not withdraw, do not panic, but invest.
I started an RPO business in 2002. And, you know, we talk about the recession of most of 2007 through 2009. But there was a big recession due to 911 back in 2001, 2002. And everybody said that I was crazy about starting an RPO business then. But it was the best time to start an RPO business because I had to build it before delivering it. As the market started to come back, I had a great service offering to provide. I focused on the right vertical: healthcare. The company was able to build a strong reputation in a short period of time because of what we did during the recession.
RPO leaders need to reevaluate. The worst thing that can happen to an RPO provider is that they provide a bad solution or oversell and under-deliver. Avoid over-promising. Reputation is everything, and bad news travels faster than good news. What hurts the industry more than anything else is a bad solution where someone overpromised, oversold, and under-delivered.
I advise RPO providers not to worry about getting new business during a slowdown; it can lead to overpromising and underdelivering. Also, RPO Providers shouldn't take on a client trying to shift risk; the client isn't looking at partnering with a third-party provider. They're setting themselves up for failure. They're going to give the industry a bad name. And that news travels fast, and what happens? Employers withdraw and say, 'God, I don't want to outsource talent acquisition. It's just too important when it's not their core competency.'
For more insights from other Talent Acquisition Experts, check out our TA Leader Council on the RPO Voice blog with interviews with top talent acquisition experts.