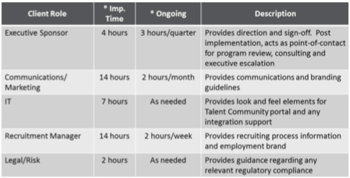 When you're considering implementing a recruitment process outsourcing (RPO) solution for your company's recruiting needs, finding the right provider is only half the battle. For an RPO relationship to succeed, you need to make sure that you have the support of company leadership and other involved parties. In this article, based on an RPOA webinar entitled "RPO Implementation: Laying the Groundwork for Success" given by Heather McGotty of Welch's and Ryan Baca of About Talent, we look at how to garner internal support for an RPO engagement.
According to Ryan Baca, cofounder of About Talent, "deploying a successful RPO solution requires more than a relationship between a hiring manager and the service provider." The internal relationship between the driver of the RPO engagement and everyone at the company that the engagement will affect is just as essential for the success of the RPO partnership. An RPO provider can do excellent work, but if they don't get enough information or feedback from the company they work with, the engagement will not be successful. Baca suggests that to gain internal support for an RPO engagement, it's essential to involve affected parties from the beginning. To maximize the benefit of involving internal parties, companies should develop an involvement plan that formalizes how each stakeholder will be involved in making the RPO engagement a success.
"deploying a successful RPO solution requires more than a relationship between
a hiring manager and the service provider."
To create an effective involvement plan, the RPO engagement driver needs to identify everyone at the company who will be affected by the RPO engagement. These individuals and departments may vary from company to company, but some likely examples include the executive sponsor, IT, communications, the recruitment manager, and the human resources department. Once the affected parties have been identified, determine what their involvement will look like, how long it will take, and whether or not it will be ongoing. Making people who could otherwise have a problem with them engagement stakeholders in the success of the RPO relationships is an effective way to gain ongoing support.
An example of how internal support can be garnered for RPO engagements is how Heather McGotty, director of human resources at Welch's, suggested and developed support for an RPO solution at her company. McGotty's road to RPO engagement support was to approach RPO as a natural solution to issues that the rest of the HR department had with recruiting. By identifying existing internal problems and taking the issues of the people in her department seriously, then building a case for change, she ensured that the conversation centered around how to outsource an important part of the recruiting process, rather than whether the change needed to happen at all.
Since recruiting and sourcing are core processes for companies, it's important to be careful not to step on any toes when engaging an RPO provider. Recruitment and sourcing are essential practices for businesses, and leadership and internal recruitment personnel may be concerned about whether outsourcing the process will allow them to maintain any ownership or oversight in bringing on new talent. By involving leadership and other internal personnel in the RPO engagement as soon as possible, and formalizing the involvement with an involvement plan, you can turn doubters into supporters, and increase the chance of your RPO engagement's success.
View this webinar to learn more about how Welch's garnered leadership support for their RPO implementation.