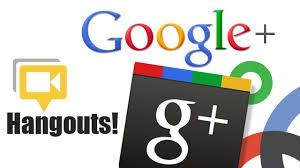 Social media is taking traditional recruiting tasks and activities and accelerating and evolving them into more useful, more effective, and more wide-reaching tools for busy recruiters and all types of job seekers. LinkedIn is no longer the only social media platform in use for recruiting and job search.
Employers announce jobs and source candidates and job seekers research and interact with companies they are interested in working for in a variety of ways through social media besides LinkedIn, including Facebook, Twitter, and Google Plus. Within Google Plus, the video conferencing feature Google Hangouts is not just a fun way to video chat with friends. It's turning into a versatile avenue for recruiting and job search, as well as other business applications including marketing and customer service. Even President Obama had a live Google Hangout live from the White House.
Recruiters and job seekers alike find value in Google Hangouts. Recruiters are who incorporate Hangouts into their staffing solutions and job seekers who use Hangouts to "do their homework" on the companies they are interested in working for have a fast, fun, easy-to-use tool. Use it on a desktop, laptop, tablet, or smart phone, for cost-effective recruiting and job search communications from almost anywhere. It's easy to learn with Hangout Helpers sessions that are held every Saturday and show new users how to use Hangouts.
Announce and Highlight Job Openings
When you have new job openings, announce them with Google Hangouts to attract job seekers. Hold weekly or monthly Hangouts and invite top candidates or hold public Hangouts to announce and highlight jobs. Invite hiring managers to participate by discussing the work environment and company culture. Record your regularly scheduled job announcement Hangouts and post them on your blog, website, or social media profiles.
Hangouts for Interviews
An effective way to use Google Hangouts for recruiting is interviews. Save time and money on your recruiting process by using Hangouts for interviewing without the need for interviewers or candidates to travel. Invite candidates to Google Hangouts to discuss their skills and experience for screening and pre-interviews. Record screening and pre-interview Hangouts to show hiring managers and find out which candidates they want to bring in for face-to-face interviews or further Hangouts interviews. Use Hangouts to hold individual interviews in private conference rooms. Hold panel interviews with Hangouts that include hiring managers, existing employees, and candidates.
Recruit On-Campus from the Comfort of your Desk
On-campus recruiting can become a big-ticket recruiting budget item with event registration fees, setup materials like displays and tables or exhibition booths, and the cost of travel to and from events. That doesn't even include the time away from the office. Go on-campus without the travel expense by using Google Hangouts to meet with top students in programs related to your open positions. Hold Hangouts to introduce students to your company's intern program, discuss positions, and give career advice on resumes and interviews. Encourage existing employees who are alumni to join the Hangout and discuss their positions and why they chose your company.
Live YouTube Broadcasts
Google Hangouts is great for announcing and promoting your openings. Stream job announcement Hangouts live on your YouTube channel with Hangouts on Air to communicate openings and candidate searches, discuss the work and the company culture, build your employer brand, and build your candidate pool. Other things to stream live include asking for referrals, describing specific skills needed for niche openings, and giving your contact information so viewers can reach you easily.
Use it in Job Search
There are many ways to use Google Hangouts in job search:
Make yourself marketable by sharing your video resume on live or recorded Google Hangouts to showcase your skills, experience, and interests.
You can invite an employee of a company you are interested in working for to a Google Hangout to discuss their work and their companies with you.
You can find companies you want to work for in Google Plus and see if they hold Hangouts for applicants.
Use Google Hangouts to connect with employers, hiring managers, and recruiters directly by inviting them to Hangouts to view your video resumes, recorded interview answers, or demonstrations of work samples.
You can promote your recruiting Hangouts on your social media profiles in LinkedIn, Facebook, and Twitter and post recordings on your blog or website. Hangouts can bring together hiring managers, professors and college advisors, and top students and candidates to discuss the work and the businesses who are hiring.
Google Hangouts has the potential to cut through a lot of recruiting and job search time and expense and connect people to jobs in better ways than ever before. Use this creative new social media tool to enhance your sourcing and recruiting or job search strategies.
About the author: Andrew Greenberg has over 17 years of experience in Talent Acquisition. Industry-educated with a Master's Degree in Personnel Psychology, Andrew draws upon a background that is rich with experiences from both Corporate and Agency staffing environments.
He is the founder and Managing Partner of The Recruiting Division, a leader in U.S.-based RPO-style recruitment solutions. Learn more about The Recruiting Division.
Related resources:
When recruiting becomes fun and game
Recruiting senior-level executives with LinkedIn and video
Upcoming webinar: Unique Challenges and Solutions of IT Recruiting
No one IT recruiter can know everything about the work that their diverse candidates must perform when recruiting database developers, software testers, Java developers, and other IT professionals. The challenges of IT recruiting can be met with a range of tools and strategies, including Technical Pre-Screening, Networking, Social Aggregation tools, and Social Media platforms. Register for webinar on October, 23rd.