It's tough for good candidates to find good jobs.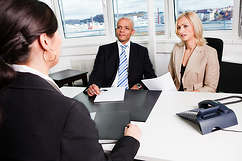 And guess what? It's not always the candidate's fault! Sometimes, the traditional hiring process fails them in a variety of ways, primarily by emphasizing the wrong things and making it hard for good candidates to find the positions they are truly fit for, and vice versa. In this two-part series, we will cover why traditional hiring fails and why recruitment process outsourcing prevails from "the way we've always done it."

Job Descriptions Suck
- They really do, because they come with arbitrary numbers and needs like "five years experience in the SEO marketing field" (has SEO marketing even existed for five years?), and "experience in the plumbing industry required". However, recruitment process outsourcing can not only help in
creating better job descriptions
, but in actually determining the criteria and qualities you really want and need for the position. In this case, you would need someone who has had proven success in taking sites to the first page of search engine results, not necessarily someone who's been in SEO marketing for five years and has worked in the plumbing industry (which is probably one person in the whole world, at best).

Traditional Hiring Doesn't Have any Metrics
- If you're asking what these metrics are and why you need them, then you've found
why traditional hiring fails
. Metrics such as candidate quality, employee engagement, time to find a candidate, turnover rate, goals etc. measure the success of your hiring process. However, most organizations don't have these numbers, and can't gauge the success of their traditional hiring techniques.
"[Hiring managers] have the tools, but those tools are typically aligned with performance management once an individual is on board," said Hank Stringer, CEO at Stringer Executive Search. He said that organizations often don't have tools for improving the hiring process, such as assessments in order to find and to fill gaps in the hiring process.

Failure to See a Cultural Fit
- One of the biggest reasons why hires fail is that they don't fit with company culture. Often times, this is something that isn't checked during the hiring process, where resume-writing and interviewing skills are rewarded. Neither of those determine whether the person can do the job, and whether or not they'll fit in with the rest of the company. Recruitment process outsourcing, however, considers company culture and the
employment brand
when finding the right people.
"Even when traditional hiring gets results, it doesn't mean it's the right hire," said John Younger, CEO of
Accolo
, an RPO provider and member of the
RPOA
.

Candidates Fall Through the Cracks
- How often does your organization get back to candidates, letting them know they didn't get the position, or that something has changed about the job (hours, location, salary)? Probably not very often. This makes the
hiring process
very uncomfortable for potential hires, and makes it too easy for good candidates to slip away. Take too long to get back to them about a job offer, or an interview, and another company may get to that person first.